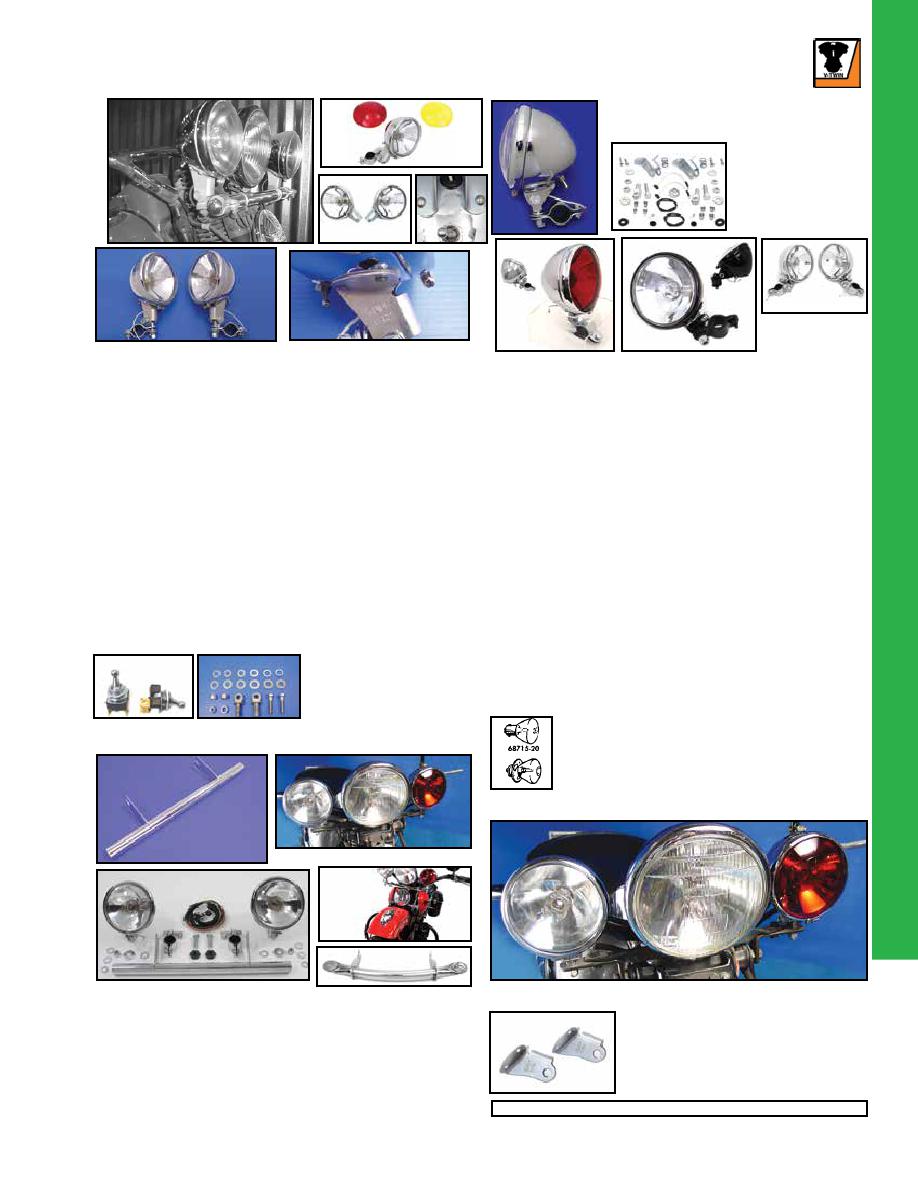 1113
MULTI FIT/CHOPPER
Vintage Spotlamp
Early Spotlamp Bulbs, single filament.
VT No. OEM
Type
Volts
U/M
33-0164 68715-20 1938-48
33-1981 68715-49 1949-64
33-1980
33-1437 68715-49 1947-64
VT No. 33-0022 Spotlamp shown with optional red lens 33-2002
Spotlamp Brackets Only
31-0203 11369-38
Black bracket set, ride control
31-0204 As Above
Chrome bracket set, ride control
49-0411 68616-46
Cross bar, chrome for shock
33-2032 Kit
Kit with Cross Bar, 49-0411
33-1733 Kit
49-0223 68620-46
Nuts for Above, Parkerized
2757-6
2758-6
Bolt and Nut Kit, Cadmium
33-1404 Kit
49-0380
31-0203, 31-0204
49-0411
33-2032
Lamps listed on this page are for show or off road use and not D.O.T. approved.
Replica Spotlamp Parts.
VT No. Item
32-0792 Switch Set
33-0167 Swivel Set
33-0167
32-0792
Brackets
Chrome Early Spotlamp for 1938-57 Spring Fork and 1949-
63 Big Twin Glide. Spotlamp is complete with clamps and
toggle switch. Brackets are for mounting to ride control, or
shock assembly on Spring Forks.
VT No. OEM
Item
Type
33-1041 Set
33-0022 11366-38
33-1613 Set
33-0021 11366-38
33-1610 Set
33-0063 Amber
33-0064 Amber
33-1421 Red
33-1422 Clear/Clear Black Lamp
33-1420 Clear/Red Chrome Lamp
33-0113 68692-38
33-1222 68660-38
33-2002 68668-38
33-0062 Pair
33-1979 68668-38 Bezel
33-1434 Bracket
49-0479 Bracket
31-0416 Clamp
31-1574 Clamp
VT No. 33-0022 and 33-0021 are
33-1434
33-1420
33-1422
33-1613
49-0380
49-0380
Installed
1938-48 Replica Chrome Spotlamp Set is a duplicate of the
early Guide RH-5 model including factory markings, swivel and
hardware. Order cross bar separately. Replica swivel set avail-
VT No. OEM
Item
33-0099 Kit
33-1520 Set
33-0038 Set
Spotlamp Assembly, 6V with swivel
33-1621
33-0167 68694-38 (Kit) Swivel Set with Hardware
33-1981 68715-49
33-1437 10 pk
33-1979 68668-38
33-1222 68660-38
Clear Glass, Order lens gasket 15-0541
33-2002 68662-38
15-0541 68673-38
37-0858 —
32-1430 —
31-0416 68702-38
15-0542 —
2568-24 Rebuild
33-0038
33-0099
33-1520
VT No. Item
31-0028 Spotlamp Bracket, Cadmium
31-1276 Guide Stanchion Set, Cadmium
31-0028