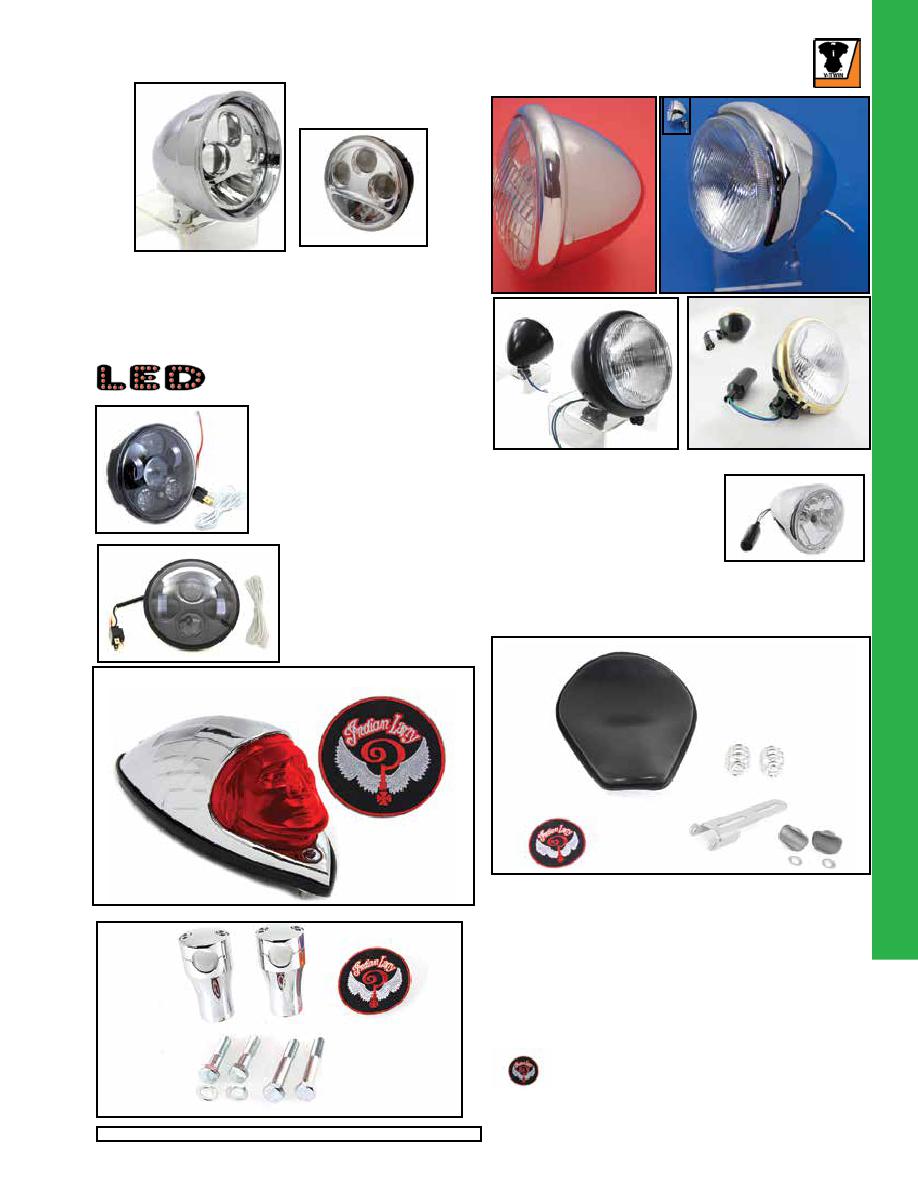 1101
MULTI FIT/CHOPPER
5¾" Teardrop Headlamp
Teardrop Headlamp includes mount eye bolt. Complete with
bulb.12 volt.
VT No.
Type
33-2155* Paughco
33-2178
33-2250
33-0358 Black w/brass plated rim
33-0200
Lamp Unit with glass lens for VT No. 33-2178
33-0085
33-0536
*Note: Does not include mounting eye bolt
Tail lamps/Headlamps listed are for show or decorative use only, and not D.O.T. approved.
5³⁄₄" LED Headlamps. These universal tear drop lights are
machined from billet and feature LED lighting installed.
VT No.
Finish
33-1014 Chrome
33-1015
33-1015
33-0085
33-2155
33-2250
33-2178 Halogen H-4
33-0358
5³⁄₄" Daymaker Projector LED
Headlamp Unit fits FXD and
FLH models with dual headlamp.
Headlamp includes black backplate
and features two "D" shaped optical
lenses. Replaces 67700145A.
VT No. 33-1029
5³⁄₄" LED Daylight headlamp
unit with black shaded reflector
and daytime running light LED
ring. Fits1985-up.
VT No. 33-1043
33-1014
Signature Indian Larry Chopper Build Components.
Indian Larry's have very minimalist choices in designs. Larry
was true to his craft since age sixteen to his passing in 2004.
VT No. Item
47-1949 Solo Seat includes a leather bates solo seat, nose
bracket, pivot block, 3" springs and spring perches.
33-1182 Tail Lamp
33-1720 Headlight
17-0284 Kick Arm
25-0155 Riser Set
47-1949
33-1182
25-0155
Indian Larry Patch. VT No. 48-0208