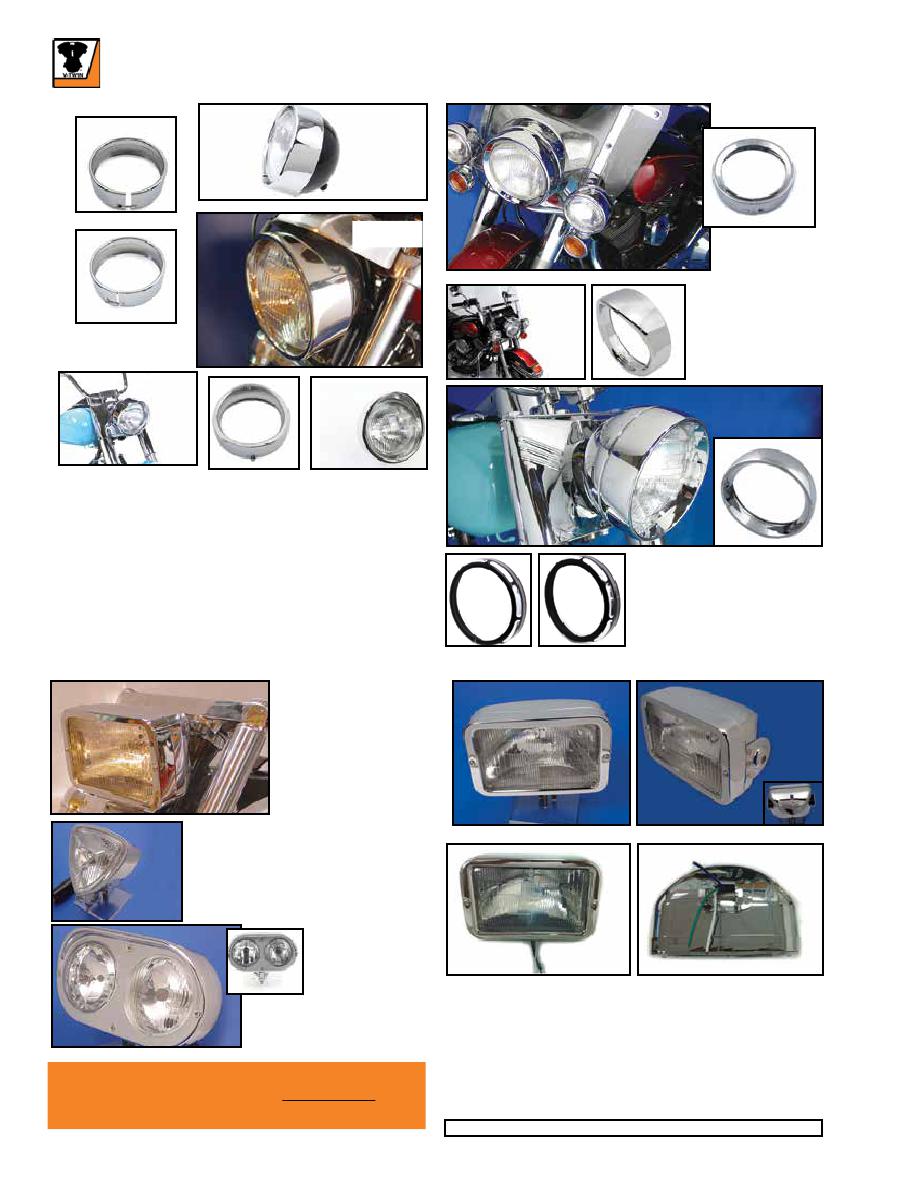 1090
Chrome Caddy Type Rectangular 12V Beam Headlamp has
bottom or side mounting, measures 4¹⁄₂" x 7¹⁄₂" outside. Includes
sealed beam bulb and high beam indicator light on bulb type
lamps.
VT No.
Item
33-1323 Bottom Mount
33-1211 Side Mount
33-1212 Replacement Bulb
Caddy
TM
Headlamp
Chrome "Frenched" Headlamp Rims offers with recessed look
of the 1950's. Also available with built in visor.
VT No. Type
Year/Model
33-0547 Frenched 1986-up FLST with Headlamp Nacelle only
33-0812 Frenched 1994-up FLHR

33-0548 Frenched 1994-up FLST
33-0813 Frenched As Above
33-0545 Frenched 1994-up FXST, FXD
33-0607 Frenched 1971-up FXE, 1982-up FXR
Lamps listed are for show or decorative use only, and not D.O.T. approved.
33-0547
Installed
33-0548
Installed
Frenched Headlamp Rims
Warranty
All Lighting (Headlamps, Tail lamps, Signals, Spotlamp, Marker) sold as individu-
al pieces or in kits are covered under our warranty "Replacement Only" Provision.
All item part numbers begin with a 33 prefix. No credit will be issued for these
items as they are exchange only.
5¹⁄₄"Tri Angle Headlamp includes lower
mount and 12v 35/35w H-6 bulb. Sold
each.
VT No. Beam
33-1122 2
33-4077 1
33-1323
33-1211
33-1211
33-0545
33-0607
33-0813
33-0812
33-0548
33-0547
33-1323
33-1323
33-0812
Installed
33-0813
Installed
33-0545
Installed
33-0607
Installed
Dual Headlamp
measures 9" x 5"
x 4" deep. Unit
includes twin bulb
at 60/55 watt, each.
VT No. 33-1134
33-1477
33-1479
7" Headlamp Burst Trim Ring
for FLHT, FLHX
Chrome Black Year
33-1476 33-1477 1993-2013
33-1478 33-1479 2014-up
33-0813
Installed