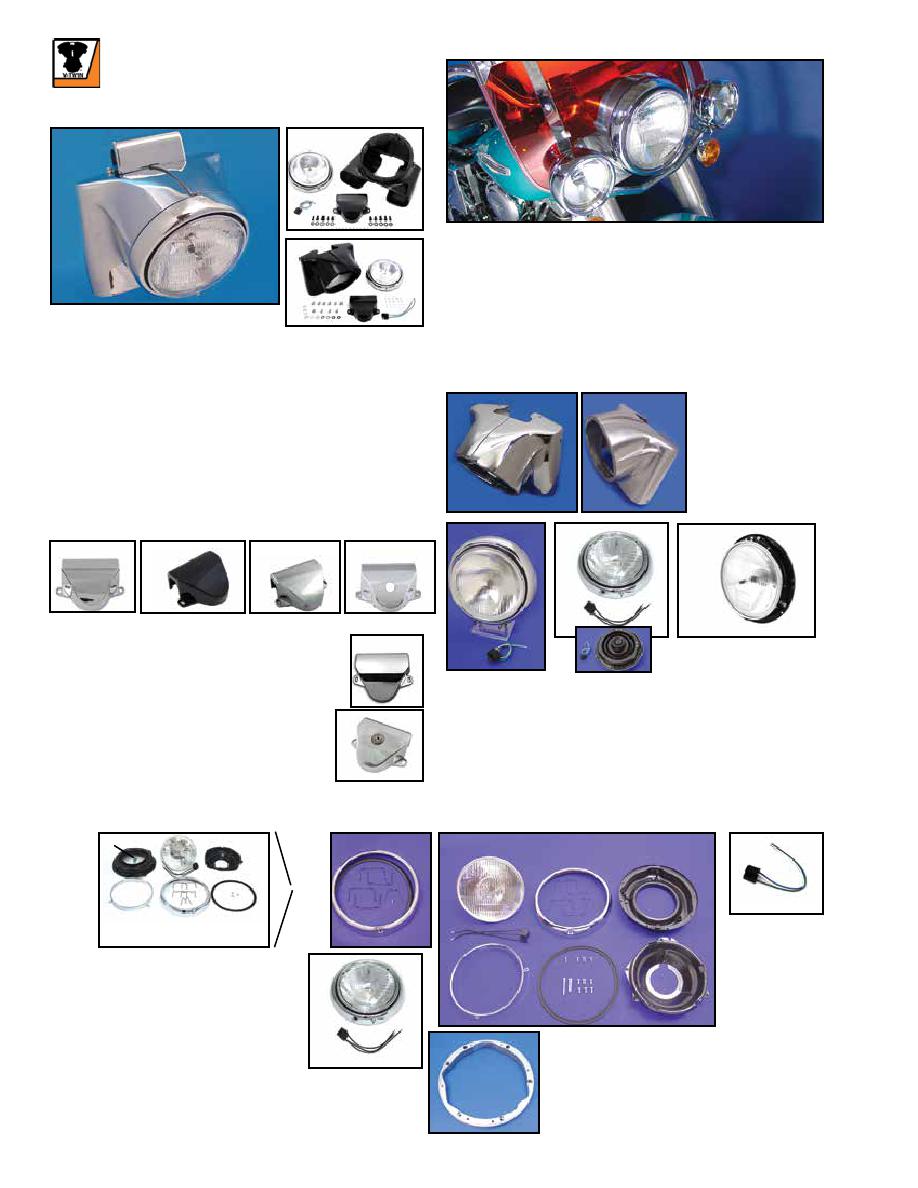 1088
1960-84 FLH Headlamp Cowl Kit available with complete
lamp assembly with rim, chrome or polished housing set with
matching top handlebar cover as pictured.
Bulb H-4 Item
24-0500 24-1565 Chrome Kit
24-0501 24-1566 Polished Kit
24-1964 24-1960 Black Kit
37-0808
Screw Kit, Stainless Steel
37-0815
37-0949
Slider Cover Sets
24-0190
24-9962
1960-84 FLH
Headlamp Cowl
Complete 1960-84 FLH Headlamp Cowl Assembly includes
chrome or polished cowl set, top handlebar clamp cover, com-
plete headlamp assembly with chrome rim and spot lamp, signal
lamp set. Kit includes the hardware necessary for installation.
VT No.
Item
24-0502
24-0503
33-2028
Spot Lamp Kit, 12 volt complete with signals
24-0281
Handlebar Cover, Polished
24-0250
Handlebar Clamp Cover replaces original type FLH 1960-84
VT No. Year
Type
24-0250 1960-79 Chrome Smooth
24-1862 1960-79 Black
24-0281 1960-79 Polished Smooth
24-9963* 1960-79 Chrome with Damper Hole
24-0330 1980-84 Chrome Smooth
24-1470 1960-64 Polished Lighter
37-8701 1960-84 Chrome Screws for Above
*Note: Uses 24-0202 Damper Kit.
FLH Headlamp.
VT No. # Note
33-0036 A Headlamp Body
33-0525 B Chrome Rim
33-2003 C Headlamp Mounting Ring
33-0527 D Retaining Ring
37-8921 E Adjuster Screw, pair
33-2004* F Complete Light Unit
33-2014 F Complete Light Unit with Seal Beam
15-0303 G Gasket, 5 pack
13-9256 H Door Spring
*Note: Includes all items and is Halogen.
7" Round Internals
Headlamp Wire
Connector
Block for
Hi-Low beam
headlamp.
VT No. 32-8037
Headlamp Adapter Ring is of cast construc-
tion to fit 1960-84(VT No. 24-0255) Headlamp
cowl to allow use of adjustable triple trees
(raked) for headlamp adjustment.
VT No. 33-0156
24-0503
Installed
1960-84 FLH
Headlamp Cowl Set
are die cast replicas
in polished or chrome
finish.
VT No. Finish
24-0251 Chrome
24-0255 Polished
24-0255
24-0251
FLH Headlamp Assembly includes parts pictured to fit hous-
ings on 1960-84 FLH. Available Halogen, standard sealed
beam or H-4 unit.
*Note: Rim not included.
VT No.
Type
33-2004 H-4
33-2014 Sealed Beam
33-3041* H-4
33-1458 Assembly with bulb
33-2004
33-2004 Complete Kit
A
A
E
B
B
H
H
D
D
C
C
G
G
33-0525
F
33-3041
33-2014 Assembled
33-2014
24-1960
24-0250
24-0330
24-0281
24-1862
24-1470
24-0500
24-1964
24-9963