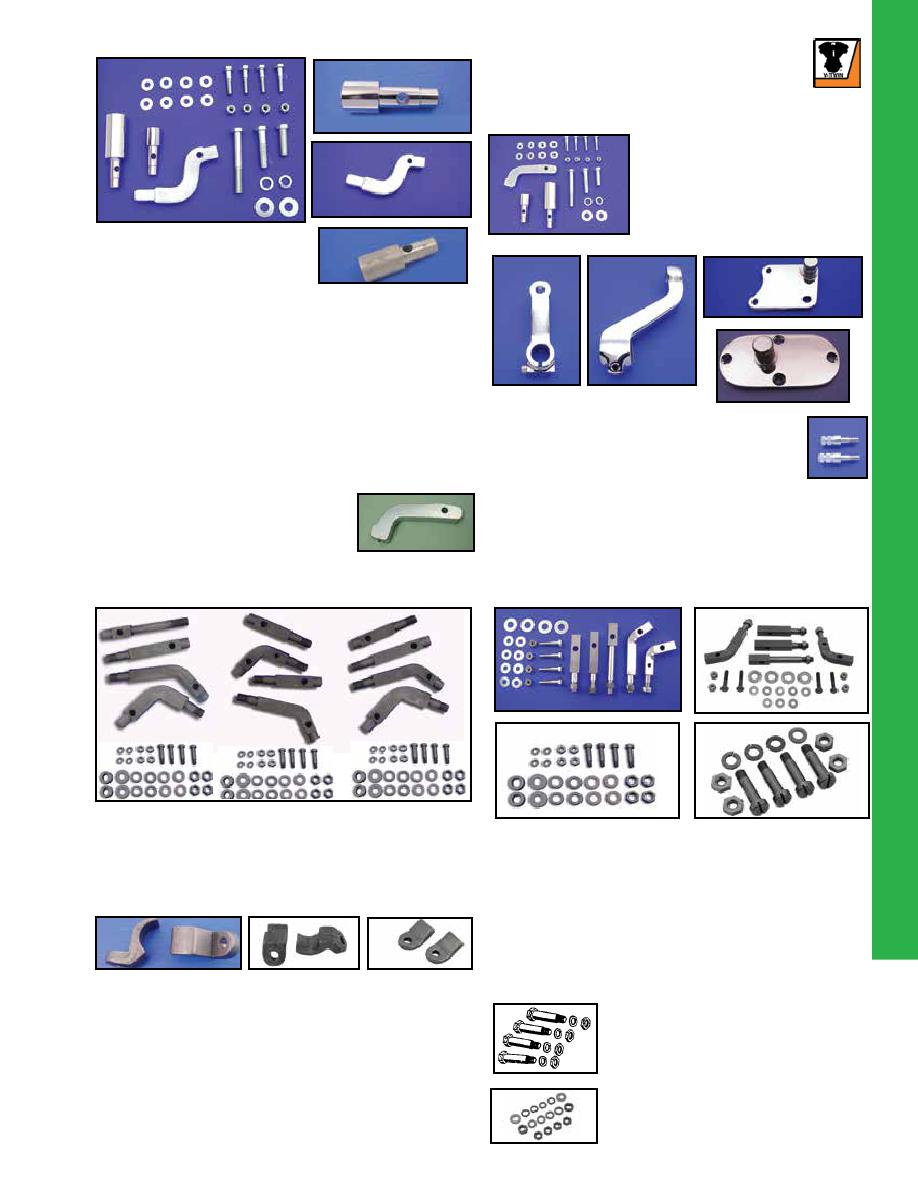 1079
MULTI FIT/CHOPPER
27-0606
27-0636
27-0596
27-1621
Rear Footboard Brackets fit 1970-84 FLH, 31-0098 is for
use with drag or custom pipe sets when footboards are used.
Zinc plated.
VT No.
Type
27-0596 Stock
31-0098 Custom Drag Pipe
Footboard Mount Kit for aluminum
primary models 1965-84 FL-FX, when
using custom pipes, includes extend-
ed front footboard bracket for needed
clearance.
VT No. 27-0599
Footboard Bolt Set. Four piece set of hinge
bolts with nuts. Replaces 50635-14.
VT No. Type
8773-12 Cadmium
9685-12 Parkerized
31-0098
Footboard Bracket
for 1965-84
27-0605
27-1702
Footboard Mount Bracket Kit fits 1936-64 Big Twin models
with stamped steel primary. 5 Piece Kits include both brackets
for mechanical or hydraulic brake models.
VT No.
Finish
Years
Pieces
27-0605 Chrome 1936-64
27-1702 Parkerized 1936-64
8773-12* Cadmium Bolt Set, Hex
9685-12* Parkerized Bolt Set, Hex
9886-12* Parkerized Bolt Set, Slot
27-0704 Parkerized Bolt Set, Hex
*Note: Mounts footboards to brackets
1936-57 Rigid
27-0704
Chrome Splined Footpeg Supports for FX-FL.
VT No. Side/Item
Type
27-0055 Right, Support
27-0045 Right, Support
27-1563 Right, Bracket
42-0630 Left, Chrome Inspection Cover With spline
37-0155 Chrome Screws
27-0046* FXR Stud
12-0201 Key for Above
*Note: Stud is keyed for positive mount.
27-0055
27-0046
27-0045
27-1563
42-0630
Footboard Tabs can be welded on 1936-84 Big Twins.
Available in stamped or authentic forged steel construction for
custom or stock frames. Sold in pairs.
VT No. Dia. Type
27-1560 1¹⁄₈" Forged, exact
27-0311
27-0664 1" Forged, exact
27-1133 1" HM
27-1560
27-0664
27-0311
Footboard Bracket Stud Nut and Washer
Kits, parkerized. Fits 1936-57 Big Twin
VT No. 9905-16
Aluminum Primary Footboard Mounting Kit fits Big Twin
1965-84 FLH-FXE models equipped with FL type forward con-
trols and primary cover with footboard tab.
VT No.
Item
Fits
27-0606* Complete Kit
27-0636 Stud, short
27-0596 Rear Bracket
27-1621 Front Stud, zinc
Note: Includes extended rear footboard bracket when using
custom drag or muffler pipes.
Replica Footboard Mount Bracket Kits include four brack-
ets and related mount hardware for Big Twins.
VT No. Fits
27-1722 1936-54 Rigid
27-1724 1955-57 Rigid
27-1721 1958-64 Swingarm
3168-16 1965-69 Footboard Mount Kit
27-1721
27-1722
27-1724
9986-12