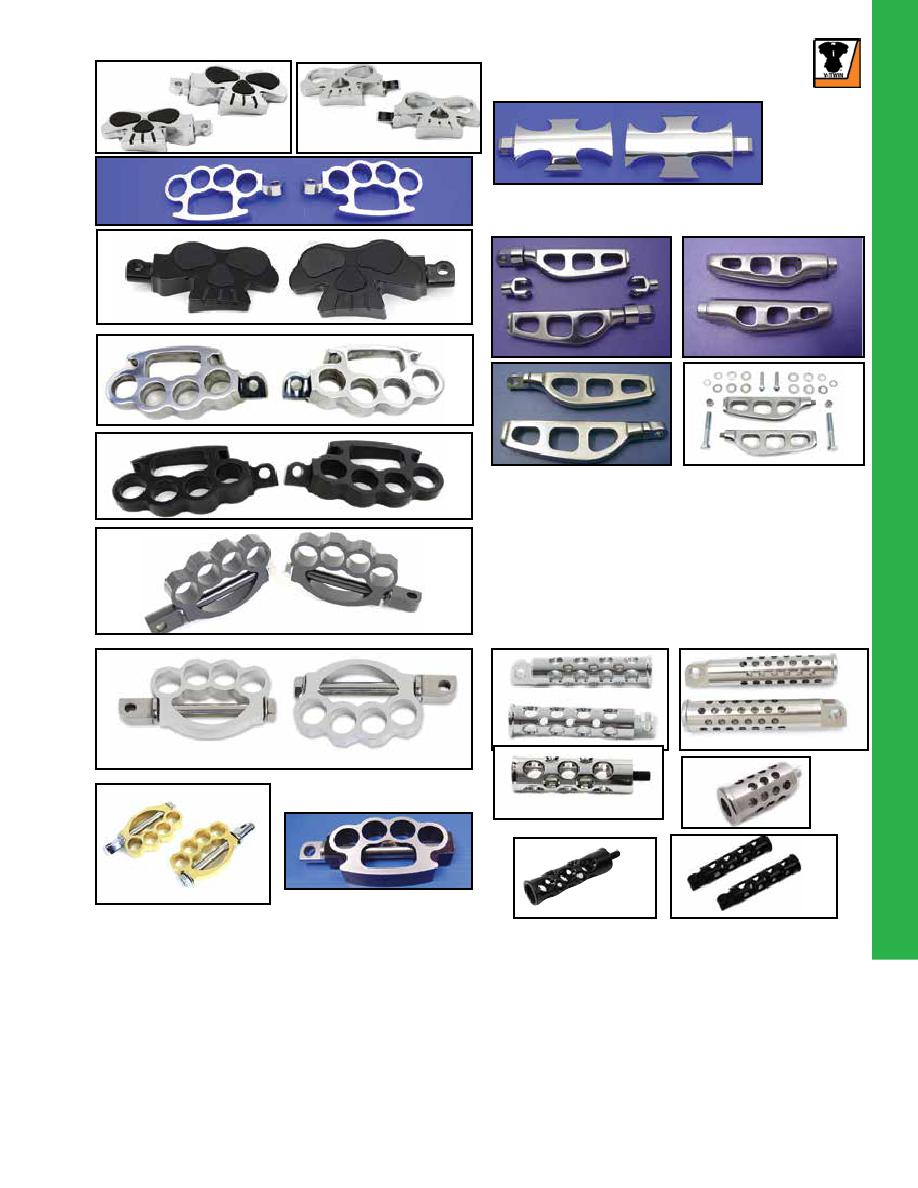 1063
MULTI FIT/CHOPPER
Billet Machine Footpegs, Shifter and Brake Pedals can be
used as replacements on billet controls or adapted to other
kits. Footpegs include pivot yokes with ³⁄₈" bolts, shift brake
pedals have ⁵⁄₁₆" threads. Sold in pairs.
VT No.
Type
27-1657
27-1658
27-1659
27-0435
Footpeg Set with hardware
27-0942
Footpeg Set without hardware
27-1659
Billet Footpeg Set
27-1657
27-1658
27-0621
27-0620
Billet Footpeg Sets.
VT No. Item
Style
Finish
Skull
27-0620 Peg Set Skull
27-0694 Peg Set Skull
Chrome with black rubber inserts
27-0846 Peg Set Skull
Knuckle
27-1207 Peg Set Knuckle Polished
27-1208 Peg Set Knuckle Black
27-0621 Peg Set Knuckle Chrome
27-0770 Peg Set Knuckle Black
27-0771 Peg Set Knuckle Chrome
27-0773 Peg Set Knuckle Brass with a sand cast
17-0386 Kicker Knuckle Alloy
17-0386
Red Baron
TM
Footpeg Set features billet construction with
steel shaft and male peg ends.
VT No. 27-0954
27-0694
21-0355
Chrome Hole Shot Billet Footpeg Set features male style
Hole Shot Hole Shot Shooter
Item
Chrome
Black
Nickel Plated
27-0585
27-1051
27-0745
21-0674
21-0355
27-0585
27-0745
21-0749
21-0674
27-1208
27-1207
27-0435
27-1051
27-0846
27-0770
27-0771
27-0773