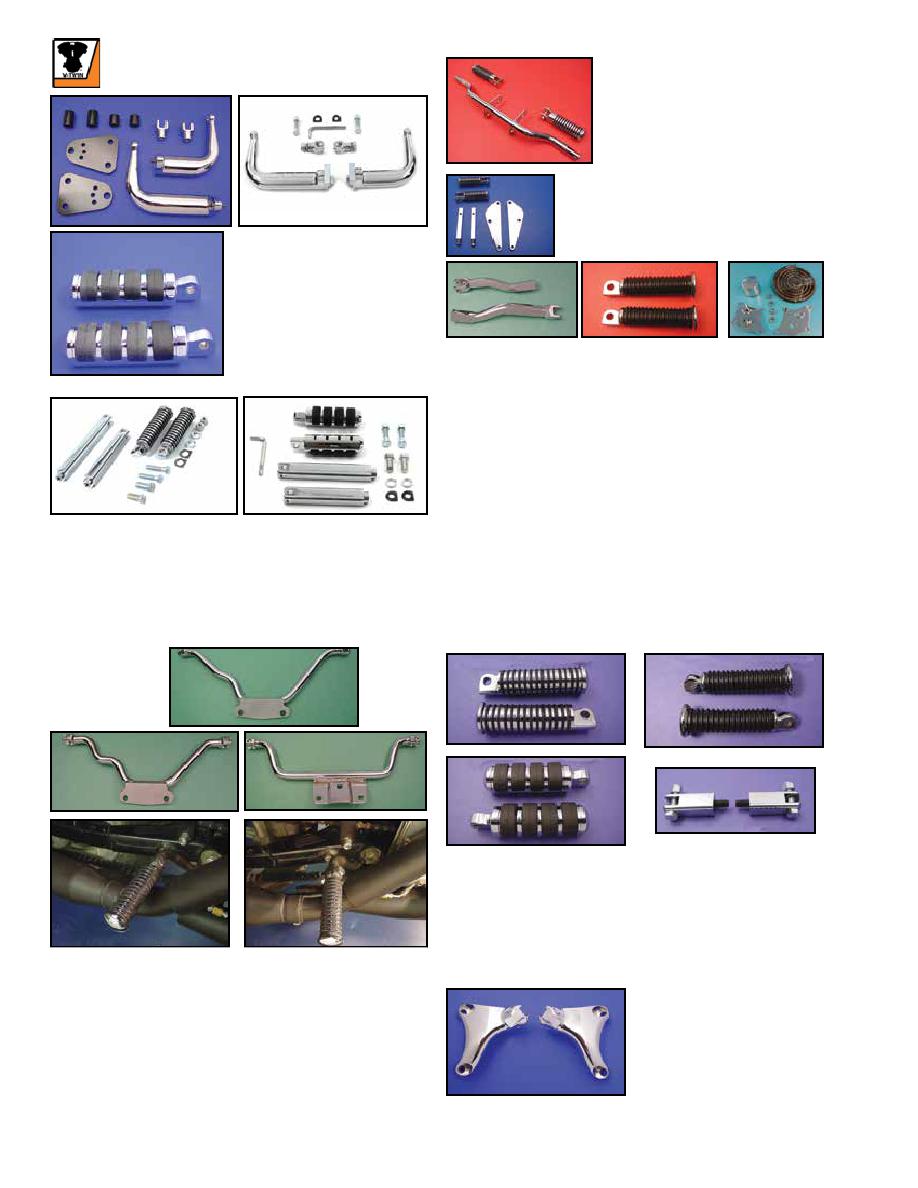 1054
Forward Footpegs for Sportster.
Chrome one piece design, bolts to
motor mount bolts for firm mounting,
features O-ring pegs for all 883, 1100,
and 1200cc.
VT No. 27-1572
Hi-way Bars for Evolution Sportster. Chrome pair mounts to
front motor mount factory style. Includes O-Ring pegs for 1985-
2003 883-1100-1200.
VT No.
Type
27-0611 O-Ring Style
27-1630 Cats Paw Style
Adjustable Hi-way FootPeg
Kit for XL models with mid
mount brake and shifter controls.
Adjusts quickly into 3" height
positions and can be used with
engine guard. Order soft pegs
separately, 27-1582.
VT No. Fits
27-1712 1984-03
27-1728 2004-up
Hi-Way Bar for XL
27-1630
27-1728
Chrome Foot Rest Support Bars Set. Right and left support
bar set for use on all XL's with welded square insert on motor
mount plate which has a filter for 1983-Early 84.
Foot Rest
Support Bar is a set of 2 for Hi-way Bars on FX-FXRS, 1977-
up heavy duty and chrome 3¹⁄₄" long.
VT No.
Item
27-0604 Support Bar Set
27-0635 Bar Set
27-1227 Peg Set
8851-4
13-9185 Spring Washer
40-0301 Engine Mount with filter
27-1227
27-0635
27-0610
40-0301
Hi-Way Bar Kit includes chrome mount
plates, peg extension bars and O-Ring peg
set. Fits 1982-84.
VT No. 27-0610
27-0611
27-1712
27-1582
Rear Passenger Footpeg Mounts (D) Replaces 50610-86
on 1986-2003 models, to mount rear passenger pegs to swing
arm. Choose pegs to complete or order kit.
VT No.
#
Item
27-1686 C-A Kit
27-1685 C-B Kit
27-1687 C-D Kit
27-1561
27-1686
27-1685
B
C
D
A
27-1687
27-1561
Chrome Passenger Peg
Mount Bracket Sets Only.
Use with male style peg.
VT No. Fits
27-1564 2004-13 XLH
27-0485 2014-up
27-0633
27-0631
27-0634
VT No. 27-0634 Shown on motorcycle
Rear Footpeg Mount for XL
Chrome Rear Footpeg Brackets bolts to rear motor mount
bolts, for use on Rigid or Swing Arm frames.
VT No. Fits
27-0633 1957-78 Sportster, uses large female

Driver pegs 27-1215, 27-1220 and 27-1581
27-0634 1982-90 XL use 27-1227 Small Male Pegs
27-0631 1957-81 except 1979 use 27-1227