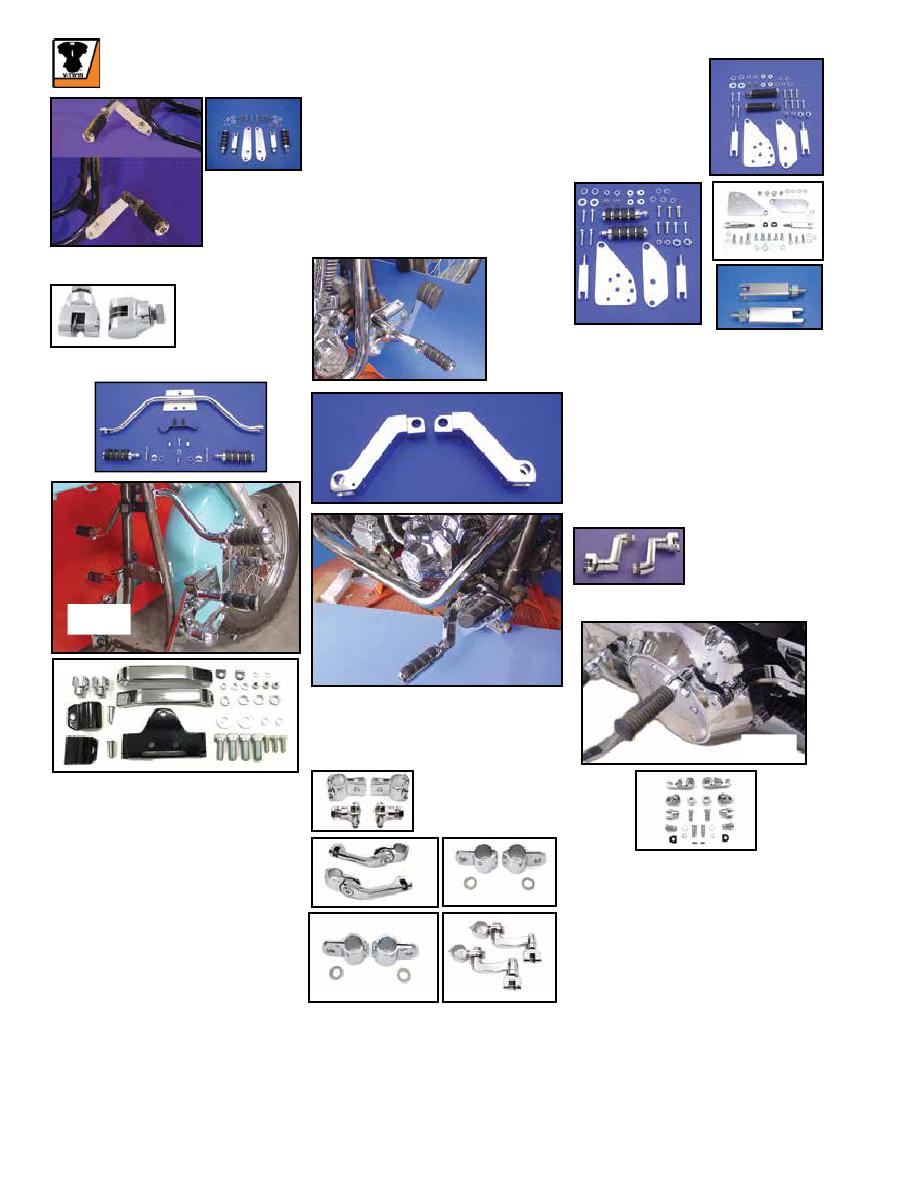 1052
Big Twin Hi-Way Bar
FXD Hi-way Bar Kit with pegs fits 1991-up.
VT No. 27-0571
27-0571
27-0571
Clamp On Peg Mount Kit fits 1¹⁄₄"
engine bars. Order pegs separately.
VT No.
Item
27-1452 Kit
27-0666 Clamp Set
27-0673* Clamp Set
27-0661 Clamp with mounts
27-1005 Clevis
*Note: 1¹⁄₈" Inner Diameter
Chrome Offset
Footpeg Mounts are
2" offset with 3" exten-
sion. Set accepts ¹⁄₂" x
13 bolts. Use with 3 piece clamp for 360°
rotation.
VT No. 27-0617
Mini Footpeg
Clevis Set accepts
all male end pegs.
Smooth design with
flush allen screws.
VT No. 27-0671
Hi-way Bar Kits include 2 chrome
plates, chrome extension bars and
pegs. Fits 1971-84 models. Available
with either O-ring, stock rubber peg with
chrome end caps or cats paw style fea-
turing soft rubber inserts.
VT No.
Model
Peg Type
27-1537 FXE
27-1642
27-1792 FXE
27-0604
Chrome Mustache Bars include a Cats
Paw Peg Set. Bars are not to be used
with a front engine bar.
VT No. Fits
27-0625 1986-99 FLST, 1986-up FXST
27-0626 1958-84 FX-FL
27-1277 2000-up FLST, FXST
27-0649 Bracket
27-1537
Installed
27-0625
27-1642
27-1792
27-0604
Chrome Footpeg 4" Extension places
peg position on FXST 3
forward. Shown installed on 22-1001 for-
ward controls.
VT No. 27-1589
27-1589
27-1589
27-1452
27-0666
27-0673
27-0661
3 Piece Engine Bar
Clamp Set with 1¹⁄₄"
engine guards.
VT No. 27-0072
27-1277
Chrome Adjustable Passenger Footpeg
Mount Kit
• Helps maximize your passenger's riding com-
fort.
• These adjustable mounts raise and lower the
passenger footpeg to accommodate taller and
shorter passengers.
• Easy to adjust with common tools, the mount
adjust through a 360° range (depending on
model), allowing both fore and aft and up and
down height adjustment.
• Kit includes left and right adjustable support
assembly and require mounting hardware.
Footpegs sold separately male pegs and has
a chrome finish. This mount kit will raise or
lower pegs through a 360° range depending on
the model and also lift up and down for height
adjustment for taller or shorter passengers.
Fits models with male mount-style passenger
footpeg supports. Does not fit rider position.
VT No. 27-1523
27-1523
Installed
27-0753 Highway Bar
Footpeg Mount Set