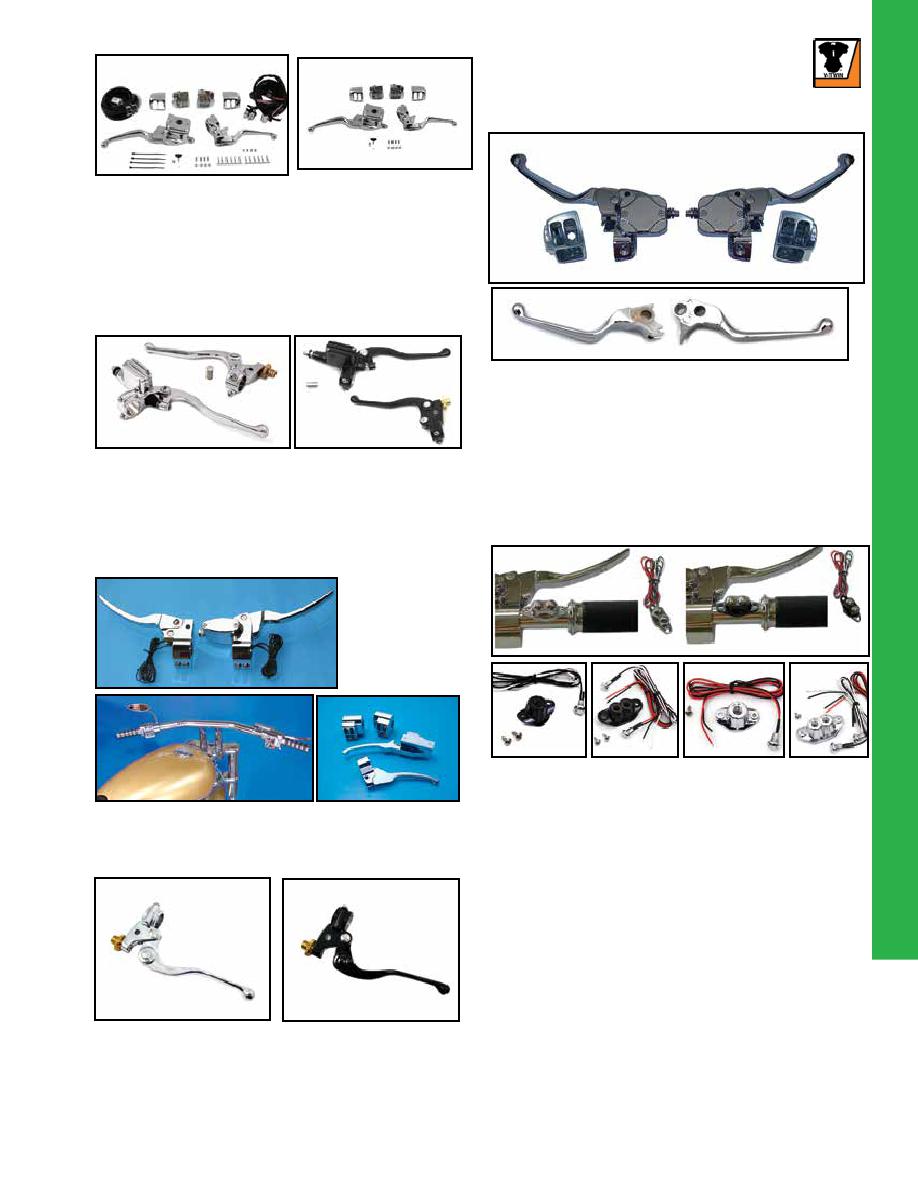 1049
MULTI FIT/CHOPPER
Chrome Handlebar
Control Kit includes
⁵⁄₈
cylinder and micro
switches on right and
left sides.
VT No. 26-2210
Chrome Billet Handlebar Control Kit fits 1982-95 and 1996-up
with the purchase of 1982-95 style switches and some modifica-
tion. Master cylinder is ⁵⁄₈" bore. 23-0631 includes top and gasket.
VT No. 22-0759
Custom Handlebar
Control Kit
Chrome Smooth-Contour Control Kit features a hidden
underside mounting on the switch housings for an unobstructed
smooth, rounded surface on the top housing. Switch housings
use stock or chrome rounded switches (introduced on 1996
models). Complete kits include clutch and brake levers, master
cylinder, hydraulic clutch, switch housings, brackets and hard-
ware. Both master cylinders have ¹¹⁄₁₆" bore for single or dual
disc.
VT No.
Style
22-0378
26-0590
26-0590
22-0378
26-2210
Vintage Style Control Kits are available in black or chrome
finish.
9/16"Bore
Chrome Black
26-1012 26-1013
23-0006 23-0007
26-0886 26-0887
23-1026 26-1026
26-0057 26-0058
26-1012
26-1013
32-0263
32-0264
32-1360
32-1364
32-1378
32-1380
22-0822
Chrome Smooth Contour Handlebar Control Kit with 5/8"
bore master cylinder and chrome switches. Handlebar control
kit features a hidden underside mounting on the switch hous-
ings for an unobstructed smooth, rounded surface on the top
housing. Kit includes brake and clutch lever, master cylinder,
switch housings, brackets and hardware for single disc applica-
tion. Fits 1996-2006 FXST-FLST.
VT No. Type
22-0816 Without Wires
22-0822 With Wires
22-0816
Custom Handlebar Switch Kits feature a CNC cut billet
housing that are available in duet or old school styles. Kit
includes stainless steel all weather mini switches, colored
wiring and mounting hardware. Available in black, chrome or
copper plated finishes. Duet style has a more modern square
style shaped housing and old school style has a rounded
shape hosing like old style original horn switch.
Duet Style
VT No. # of Switches Finish
32-0263 2 Chrome
32-0264 2
Old School Style
32-1378 1 Chrome
32-1360 1
32-1379 1
32-1380 2 Chrome
32-1364 2
32-1381 2
Vintage Clutch Handle Assembly fits custom applications.
Assembly Lever Set
Finish
26-0057 26-0886 Chrome
26-0058 26-0887 Black
26-0057
26-0058