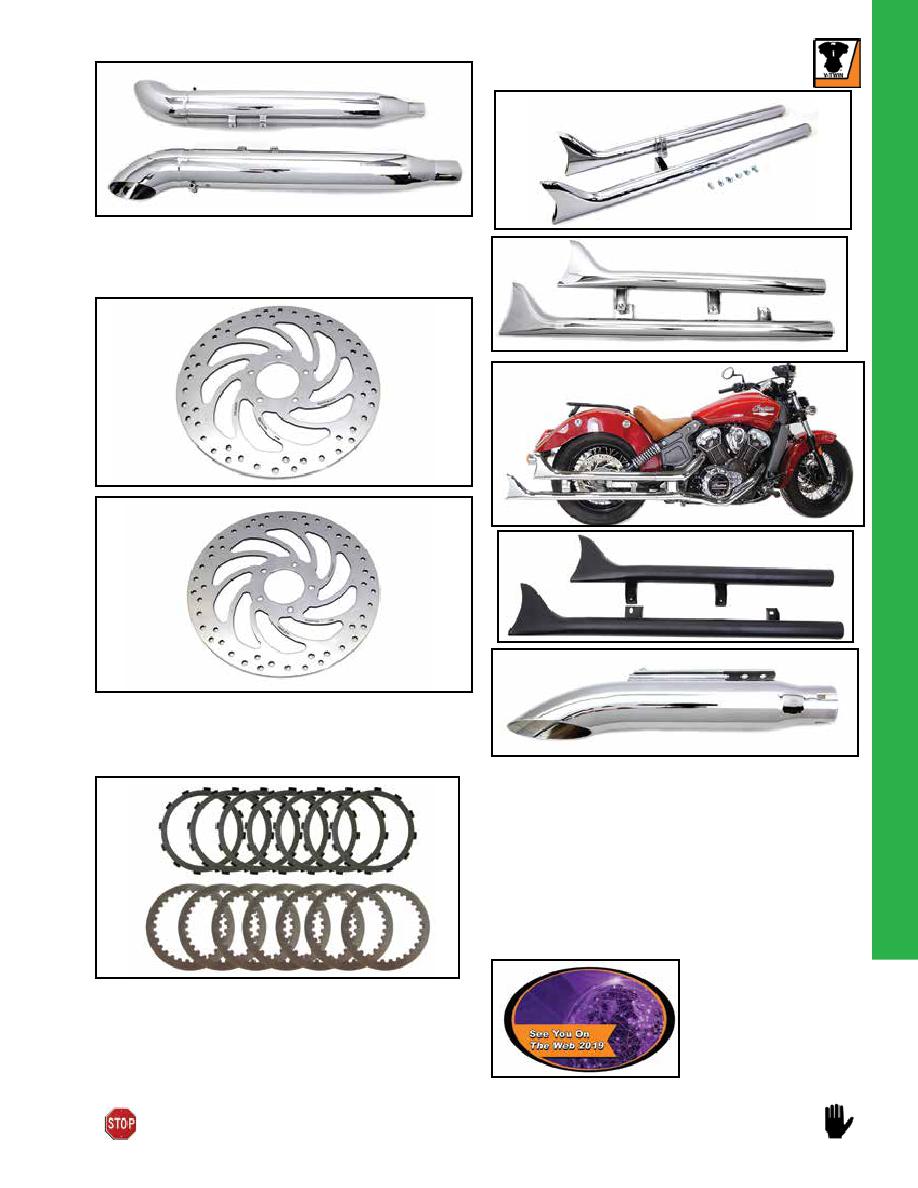 1041
MULTI FIT/CHOPPER
For Indian
Components for Indian
Scout
VT No. Item
45-0520 Rear Wheel Hub
45-0479 Front Wheel Hub
Indian Turnout Muffler Set fits 2017-up Chief. Chrome
mufflers featuring adjustable turn out ends have a 4" diameter
body, with inlets to connect to stock header pipes on the new
Indian models for 2017. Baffles are removable.
VT No. 30-1751
Important Note: Some items on this page may be emission-related parts subject to California or other emission control laws. Please
see note for important information regarding emission control regulatory compliance and warranty information.
Chrome Black Size Style
Year/Model
30-3049 30-3052 36"
30-1761 30-1762 26"
30-1370 30-1372
30-1371 30-1373
30-0784 30-0771
30-1379
30-3049
30-1761
30-0784
30-1762
Muffler Set for Indians.
• Fits 2015-up Scout, unless noted.
• Turnout Set features a 1³⁄₄" inlet diameter with a channel
mount on the back side for right or left side mounting. The
baffles are non-removable because they are welded in place,
which provides a solid core.
30-1761
Installed
Indian Scout front brake disc features a polished stainless
steel finish. Fits 2015-up Scout.
VT No. Item
23-0071 Front Brake Disc
23-0072 Rear Brake Disc
23-0072
23-0071
45-0520
Alto Indian Scout Clutch Friction and Steel Plates for
2014-up. Friction plates are available in Red Eagle or Aramid
compounds.
VT No. Item
18-0597 Red Eagle Friction Plate Set
18-0598 Aramid Friction Plate Set
18-0599 Steel Plate Set
45-0479