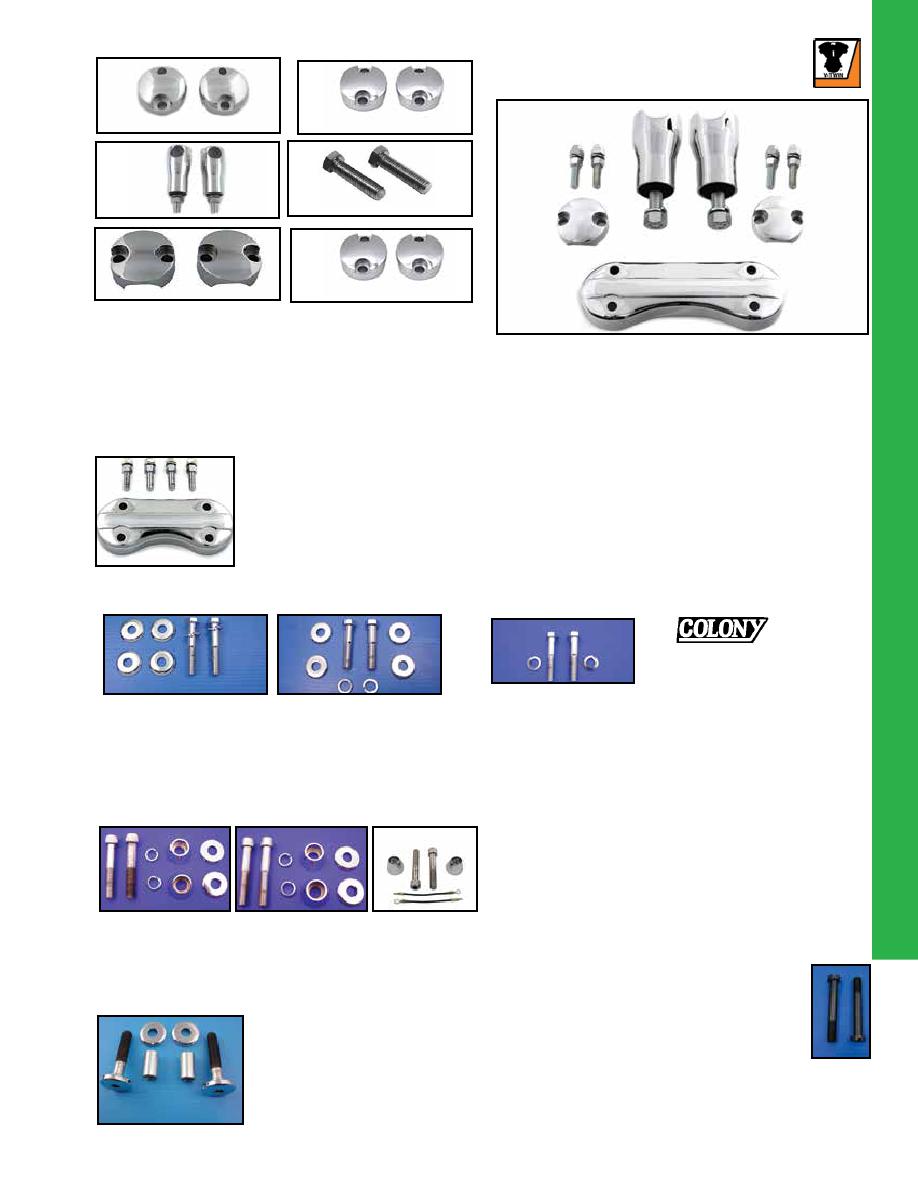 1033
MULTI FIT/CHOPPER
VT No. Item
25-2175 Kit
25-2137 Zinc Riser Top Set
25-2226 Chrome Riser Cap Set
25-2227 3" Riser Set (new production)
25-2117 3" Riser Set
37-8820 Bolt Only
37-9149 Flex Nuts
2680-4 Bolt Kit with nuts
Replica 1949-59 Big Twin Riser Kit includes two chrome
post risers with zinc plated caps, chrome riser link with four
studs and acorn nuts, two rubber bushings, two screws and
two flex lock nuts as pictured.
25-2137
25-2175
Chrome Riser Cap Set for 3" riser set.
VT No. Fits
25-2212 3" Riser
25-2226 1949-59 Taller Cap
25-2212
25-2226
Riser Bolt
Chrome Riser Bolt Sets in allen
or hex style includes lock washers.
Order cup washers separately.
2135-4
37-8820
Chrome Riser Bolt Kit includes bolts
with integral lower flange washer,
and allen flush head for installation.
Includes spacers and chrome top
washers.
VT No.
37-0881 ¹⁄₂ — 13
37-0878 ¹⁄₂ — 20
37-0878
Chrome Riser Bolt Kits for threaded riser and handlebar/riser
combinations. Include four cupwashers and two lockwashers.
VT No.
Description
37-0528
Riser Bolt Kit includes chrome
bolts and lock washers. For FLST models.
37-0529
13 — 2¹⁄₂ Riser Bolt Kit includes chrome
bolts and lock washers. For 1980-up FXWG-
37-0528
37-0529
Chrome Billet Cone Head Riser Mount Kit includes washers,
cones and bolts 3¹⁄₂" long.
VT No. Bolts
28-0950 ¹⁄₂ — 20
28-0951 ¹⁄₂ — 13
28-0744 ¹⁄₂ — 13 Chrome 1973-up (Washers Not Included)
28-0951
28-0744
Handlebar Riser Bolts. Replacement for the stock type riser
bolts. Can also be used with V-Twin risers. Sold as pair.
VT No.
Length
Application
37-8820 Stock Slotted
37-8450 ¹⁄₂ — 20 — 2¹⁄₂
37-8451 ¹⁄₂ — 13 — 3¹⁄₄
37-8452 ¹⁄₂ — 13 — 2³⁄₄
37-8453 ¹⁄₂ — 13 — 3³⁄₄
37-1221 ¹⁄₂ — 13 — 2
37-8454 ¹⁄₂ — 13 — 2¹⁄₂
37-8455 ¹⁄₂ — 13 — 3
37-8456 ¹⁄₂ — 13 — 3¹⁄₂
Hex Allen Length Thread
2135-4
2094-4 2¹⁄₂"
—
2132-4 2¹⁄₂"
—
2133-4 2³⁄₄"
—
2095-4 2³⁄₄"
—
2129-4 3"
—
2134-4 3"
—
2130-4 3¹⁄₂"
2139-4
2131-4 3³⁄₄"
Glide Riser Set
25-2226
25-2117
37-8820
Handlebar Riser Links cover top of
glide type risers on both FX, 3¹⁄₂" cen-
ter. Studs and acorns included.
VT No. Fits
49-0418 1973-up FX-XL
37-8810 4 Studs and 4 Acorns, Set