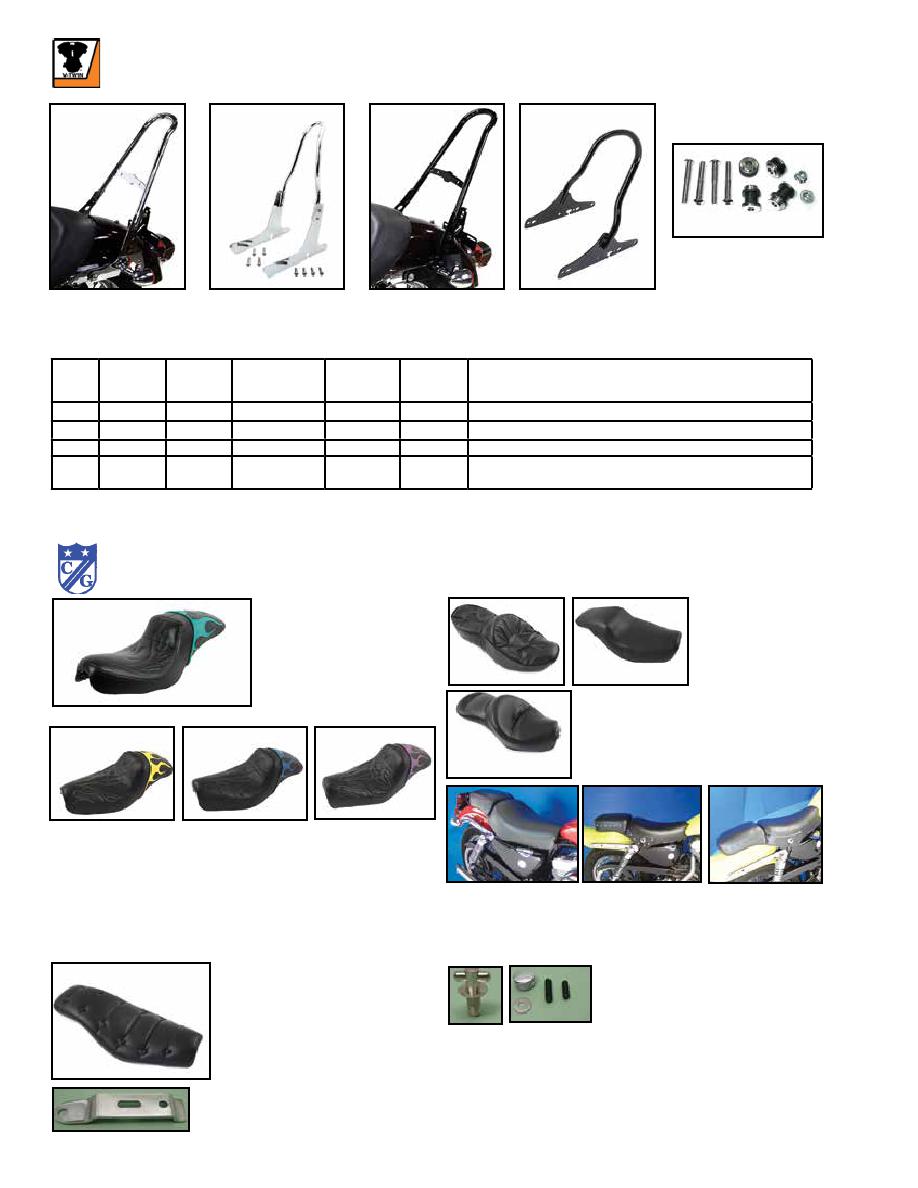 1008
Seats for 1952-06 Sportster
Chrome Rear Seat Tab. Fits 1979-96.
VT No. 31-4018
47-0864
Invictor Flatlander Saddle with
buttons features low frame hugging
design. Fits 2004-06.
VT No. 47-0864
Invictor Series
Saddles fit 2004-06
XL models.
VT No. Type
47-0990 Bucket
47-0861 Smooth
Voyager Series for 2004-06 XL's fea-
ture full comfort design for the longest
ride.
VT No. 47-0270
47-0270
A
B
Seat Mount Pins available as quick
release push pin in stainless steel in
natural finish with O-Ring and extra
stud. Thread into existing seat mount
hole with ¹⁄₄ - 28 threads. Replacement
pin available for 37-8902.
VT No.
# Type
37-8902 A Quick Release with Pin
37-9179 B Chrome Knob
31-0348 Kit
Invictor Smoothie Saddles are a solo and pad on a single
piece steel baseplate.
Original Chrome Black

Spot Spot Year
47-0866 47-0867
47-0868 2004-06
47-0866
Installed
47-0990
47-0856
47-0855
47-0852
47-0868 Installed
One Piece Sissy Bars
47-0867 Installed
Hustler Flame Gunfighter
Seat.
VT No.
Style/Color
47-0590 Teal Flame
47-0582 Aqua Flame
47-0582
Invictor Gunfighter Saddles feature sewn inlay of colored
flames on rear pad area with matching flame stitch and thread
in front driver area. Original style includes textured top panel in
driver area and silver chrome accent to separate the driver and
tail area.
2004-06 Color/Style
47-0851 Black Flame
47-0856 Yellow Flame
47-0855 Purple Flame
47-0852 Teal Flame
47-0854 Aqua Flame
VT No. OEM #
Finish
Type
Docking
Hardware
Directional
Relocation
Kit
Fits
50-1507 52300040A Chrome
50-1622
50-1542
50-1511 51146-10A Gloss Black Detachable
50-1622
50-1226 52300403 Gloss Black Low Profile
2016-up XL 1200CX - models w/ OE 2-up seat
2007-up XL - models w/Solo or Badlander 2-up Seat
50-1511
50-1507
50-1622
50-1226
50-1542
One piece construction
backs are welded into place.
One Piece Sissy Bars are available in black or chrome finish and
either detachable or non-detachable. Detachable type will require
separate purchase of correct docking hardware and direction relocation
if noted.
47-0861