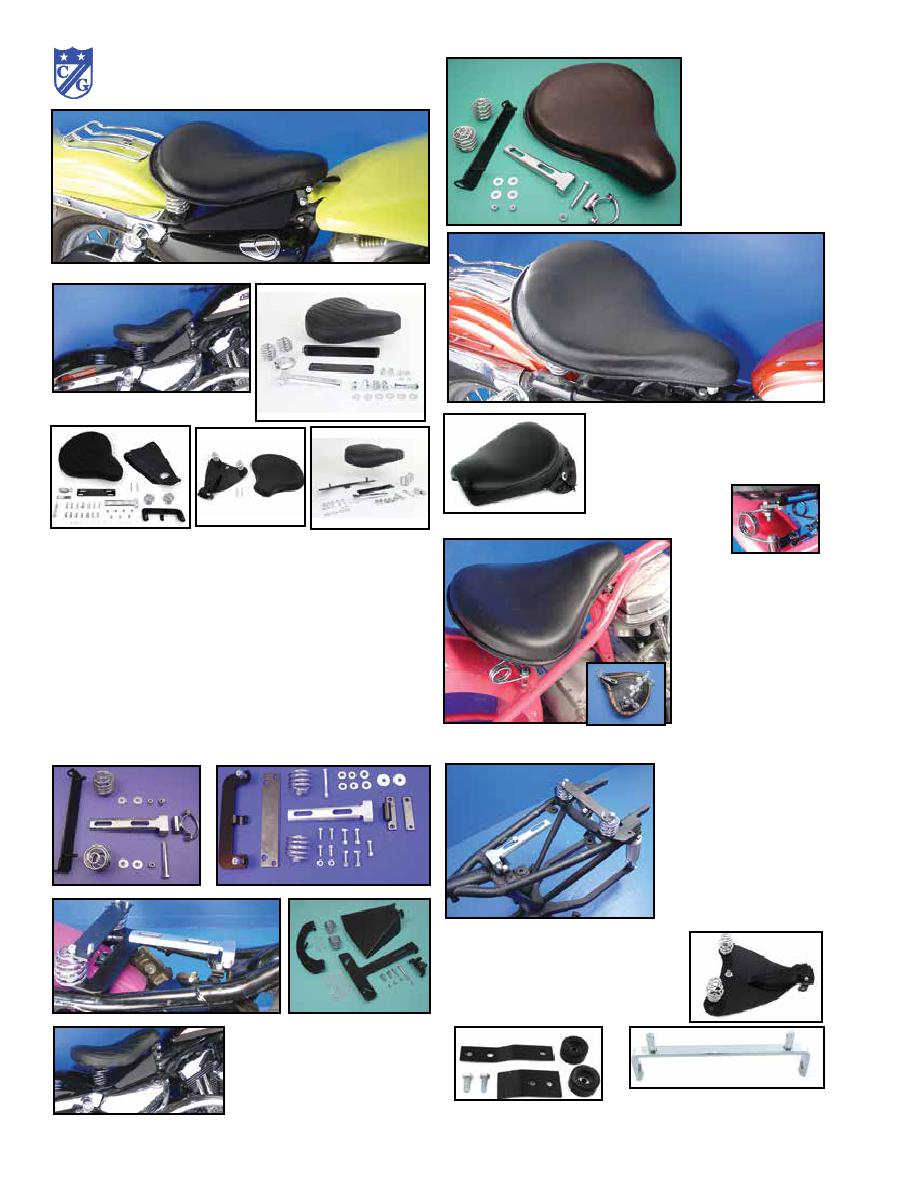 1006
Leather Solo Seat Kits for XL models includes K-model seat,
chrome 2" springs and mount hardware.
Smooth Bates
Kit
Item
Cover
47-0131 47-0813
—
47-0132 47-0814
—
47-0133 47-0810*
—
42-0979
47-0134 47-0811
31-4063 2004-06 Included
—
47-0812
Bates Style Solo VT No.
47-8655 Shown Mounted
47-0134 shown with 50-0246 luggage rack
47-0131
Solo
Solo Seat Mount Kits for Sportster
Chrome Swingarm Rear Spring
Support Bar for 1952-78 only.
VT No. 31-0501
31-4086
Solo Hardware Mount
Kits include nose brack-
ets, springs and rear
brackets. To fit police
style solos purchase cross
bar 31-0473. 2" spring.
31-4063 includes black
frame lower.
VT No.
Model
Frame Cover
31-4044
31-4045 1982-2003
42-0979
31-4063 2004-06 Included
31-0433
31-4086 2010-up Included
31-0433
Installed
31-4045
31-4045 Kit
Installed
Bates Solo Shown
Mounted with
31-4063 Mount Kit
31-4044
Classic Black Solo features premi-
um Naugahyde with skirt decorated
with midnite spots, order seat pad or
fender tail available separately. Fits
2004-06
VT No. 47-0881
Solo Seat Kit includes replica genuine leather solo seat with
complete mount kit. Frame cover is included with this kit. Replica
seat is as offered on original 1957 Sportster 50 years ago. Fits
2010-up.
VT No. 47-0803
Rigid Frame Solo Seat
and Mount Kit includes
chrome 3" hairpin
springs. Mount kit and
seat are also sold sepa-
rately.
VT No. Item
47-0130 Seat Kit
31-0608 Mount Kit Only
47-0110 Seat Only
47-0810
47-0803
47-0813
47-0814