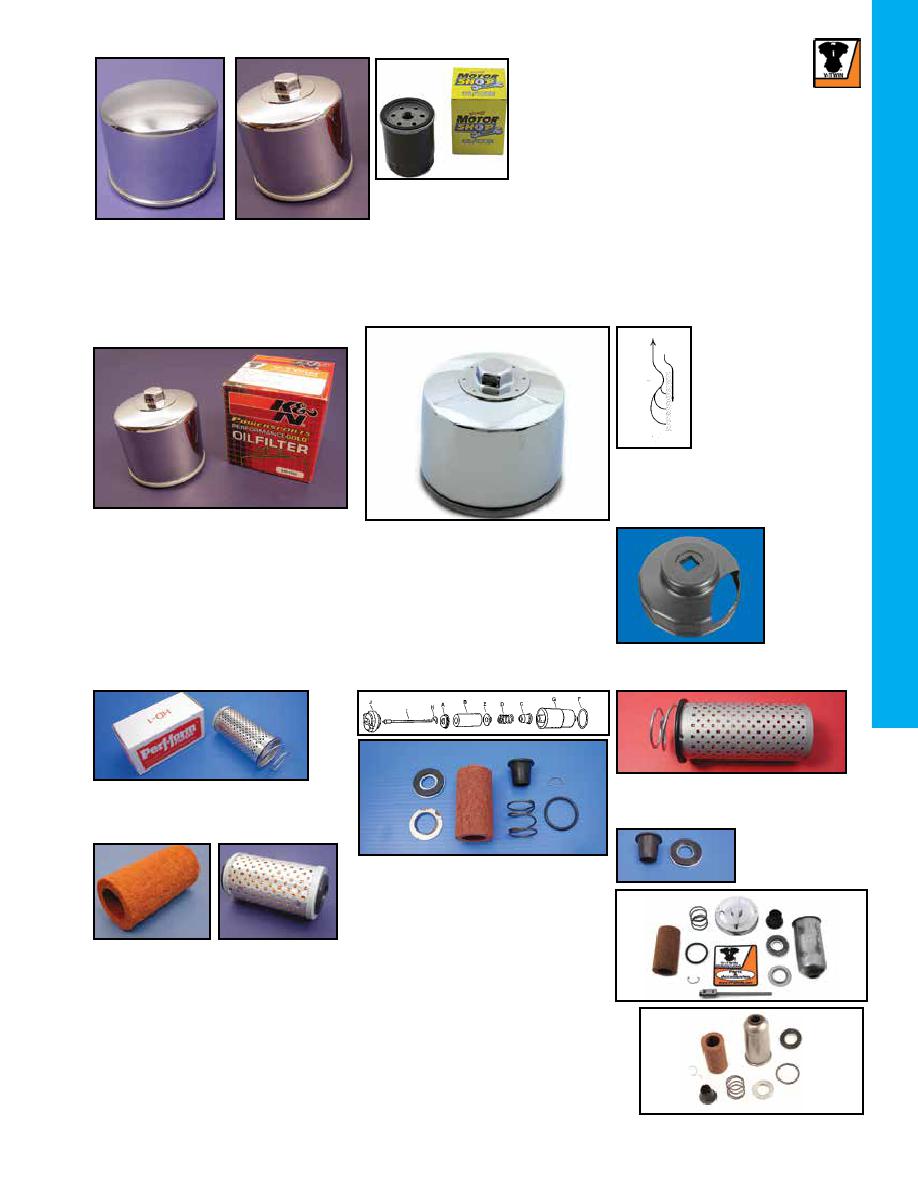 999
XL
Spin-On Oil Filters replaces stock units in chrome or black, Perf-form or V-Twin
Brand in stock or with hex nut style. Perf-form Tall Chrome Filter is ³⁄₄" longer
than stock and will not fit fuel injected models. All filters listed are low restriction
type.
Magnetek
TM
Oil Filters feature a mag-
netic ring in center tower to trap particles
less than 10 microns which could have
escaped thru the filter wall.
Hex
VT No. OEM Fits
Lgth
40-0865 40-0851 63782-80 80-E84 2.5"
40-0864 40-0852 63796-77 84¹⁄₂-up 3.75"

Oil Filter
Hex
VT No.
Perf-form OEM
Finish Length Year
40-0857 40-0711 40-0363
40-0871 40-0710 40-0379
40-0860 40-0708 40-0378
63805-80T Black 3.75" 1984¹⁄₂-up
40-0872 40-0709
63796-77T Chrome 3.75" 1984¹⁄₂-up
K&N Spin-on Oil Filters are available
in chrome or black finish and feature hex
nut end for easy removal and installation,
improved pressure relief valve and anti-
drain back valve.
VT No. Finish Fits
Length
40-1720 Chrome 1980-84 2.5"
40-1710 Chrome 1984¹⁄₂-up 3.75"
40-1711 Black
40-0363
40-0857
Oil Filter
Wrench fits all
spin on filters.³⁄₈"
drive.
VT No. 16-0743
Oil Filter Elements are original style.
Fit 54-78 XLH models. Replaces 63888-
53.
VT No. Type
40-0700 Felt
40-0705 Metal Perforated
Oil Filter Hardware for 54-78 XL models.
VT No #
OEM
Item
40-0714
40-9953
40-9954 G
40-0700 B
40-0122 E
13-0207 D
40-0125 A&C 63881-67 Upper Seal Kit

14-0526 F
12-0940 H
40-9955 I
40-0504 J
Perf-Form Filter Unit is a complete
drop-in replacement. 1954-78 XLH.
Spring included.
VT No. 40-0380
Drop In Filter Unit includes spring,
O-ring and one piece filter.
VT No. 40-0172
VT No. 40-0714 includes internal compo-
nents A-H as illustrated.
40-0700
40-0705
Note: Chrome and Black Spin On
Filters are 3" outer diameter.
40-0865
with nut
1954-78 Filters
Oil flows in around the
outer diameter, through
the filter media and out
passing by the magnet.
The magnet captures
particles less than 10
microns which could
have escaped through
the filter wall.
40-0125
40-9953
40-0709
40-0845