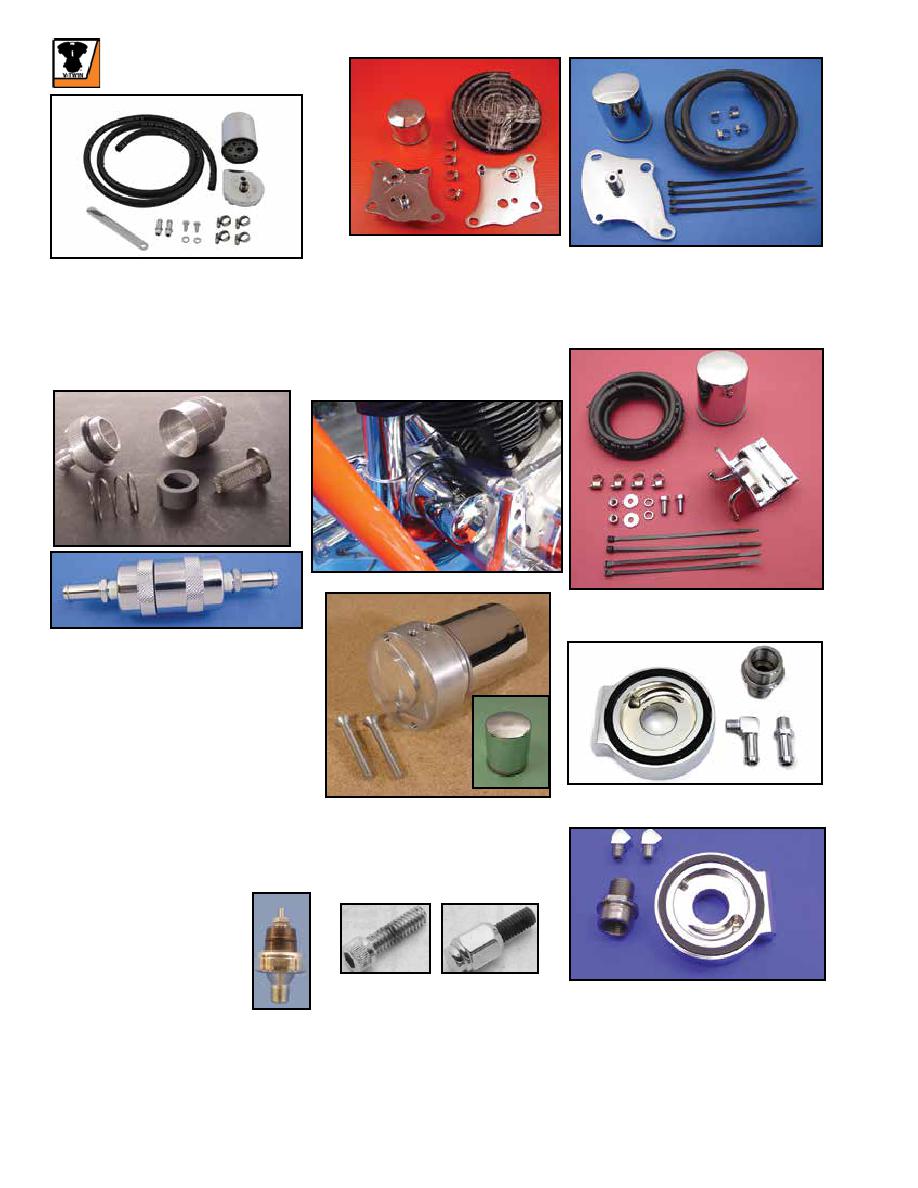 998
Oil Filter Kit
Universal Oil Cooler-Filter Kit includes
chrome spin on filter, finned aluminum
mount flange, with hose and clamps.
VT No. Item
40-0098 Filter Kit, Alloy
40-0952 Filter Kit, Chrome
40-0709 Filter Only, Chrome
31-2131 1" Frame Clamps
XLH-XLS Oil Filter Kit installs as engine
mount plates and oil filter unit on all
1982-84 except Evolution. Accepts late
peg assembly. Includes chrome filter,
hose, clamps and chrome motor mount
plates 16210-81 and 16213-81.
VT No. Item
40-0301 Complete Kit
40-0711 Replacement Filter
27-0635 Late Type Foot Rest Support
Pura-Flow Oil Filter Kit fits 1957-77.
Kit includes left side motor mount plate,
chrome filter and hose with clamps.
VT No. Item
40-0097 Kit
40-0709 Replacement Filter
Pura-Flo Universal Clamp On Oil Filter
Kit includes filter and hose.
VT No. 40-0850
Oil Filter Adapter Screw Kit fits
all 1986-92 models.
VT No.
Type
8864-4 Acorn
9752-4 Allen
Allen
Acorn
1986-99 Oil Filter Hardware.
VT No. OEM
Item
37-9195 6016 Washer
14-0556 11148
13-9182 26002-86 Spring
14-0517 26433-77 O-Ring for

13-9180 26436-86 Spring
32-0428 26554-77 Oil Pressure Switch
40-0315
40-0709
40-0097
Sifton Oil Pre-Filters are constructed of
machined alloy with a #40 mesh screen
installed to trap large debris and a circular
magnetic collar to collect the ultra fine
ferrous particles before they reach the
engine. Unit can be installed in the follow-
ing locations for
" inner diameter oil line:
Supply line before the engine, all models.
Return line to oil tank on XLCH and models
without a factory filter, External oil return
on high performance heads. Any pressure
supply or return (use the prelifter with the
¹⁄₈
VT No.
Type
Hose
40-0388
40-0387 Barbed end
40-0388
Mesh
Screen
Magnet
Spring
40-0388
Exploded
View
40-0850
40-0315 Installed
Sifton Oil Filter Adapter for 1986-90.
VT No. 40-0540
Oil-Filter Adapter for 1984-up XL
alternator models, use 40-0709 filter.
VT No. Item
Finish
40-0315 Adapter
40-0316 Adapter
40-0709 Chrome Filter
Oil Filter Adapter use with 40-0709 filter.
For 1986-2003 XL.
VT No. 40-0273
40-0952
40-0540