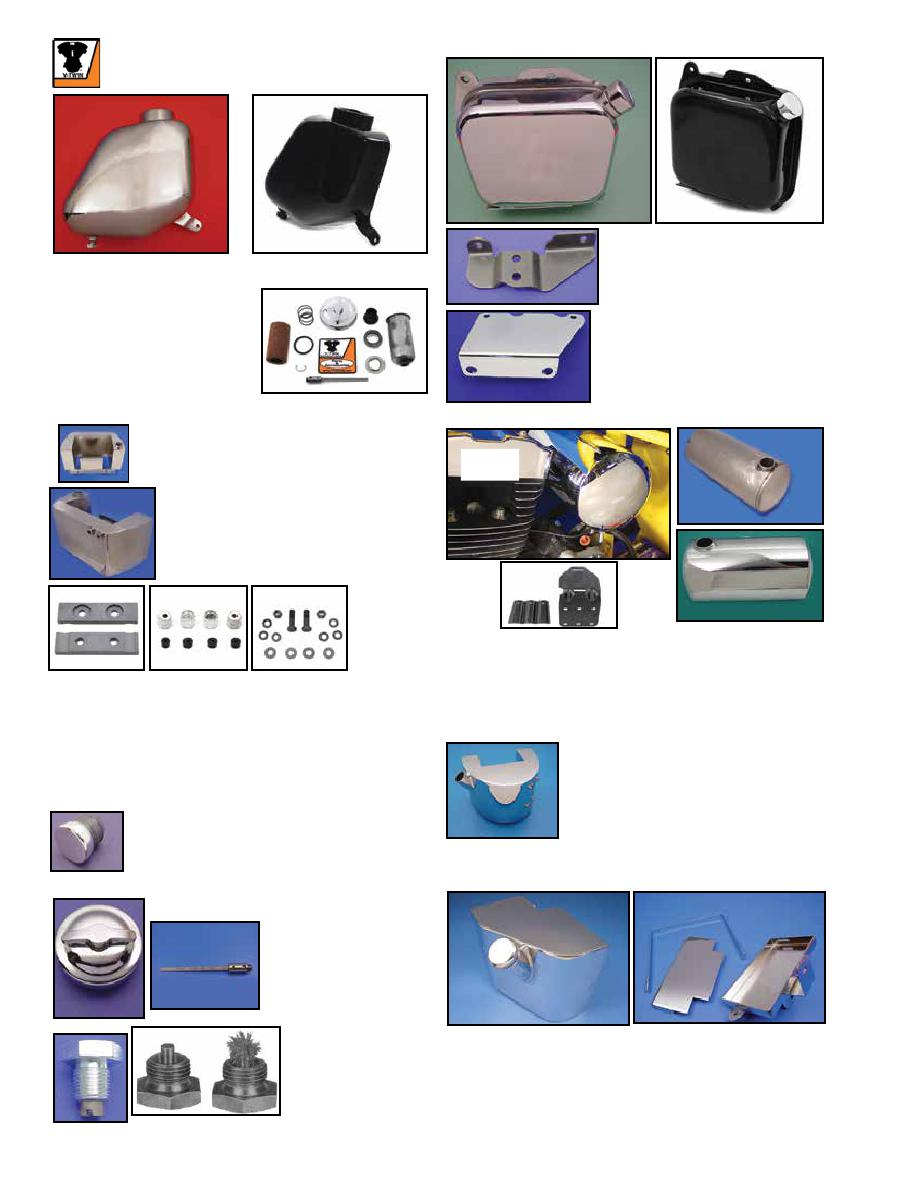 996
XLCH Chrome Oil Tank fits 1970-78
with kick start in rigid or stock frame.
Includes chrome fill plug. Top mount
and lower mount available separately.
VT No. Item
Finish
40-0425 Tank
40-0612 Tank
40-0324 Tank
31-3975 Lower bracket Chrome
31-3965 Upper bracket Zinc
37-0826 Mount Bolt Kit Zinc
Chrome Electric Start Oil Tank fits electric
or kick starter models 1967-78. Tank utilizes
stock mounts for installation. Measures 12"
x 6" x 6". Some 1973-78 models may require
strut brace modification. Battery compartment
measures 7¹⁄₂" long x 4¹/₄" wide.
VT No.
Type
40-0403 Electric
40-0622 Magneto, Raw
Chrome Magneto Horseshoe Tank for
Sportster features side fill spout with a
capacity of 3³⁄₄
quarts. Fits 1957-78 kick
starter applications. No provision for a
battery. Use mount kit to attach 40-0404 to
single tube XL rigid frame. Includes cap.
VT No. Item
Type
40-0404 Tank
37-0098 Drain Plug
XLH Chrome Side Oil Tank fits electric start Sportsters
1954-E78. Cap not included.
VT No.
Item
40-0400 Chrome Tank
40-1254 Black Tank
40-0504 Cap Assembly
40-0845 Cap Kit
37-0827 Mount Bolt Kit
15-0200 Cap Gasket (1952-65)
15-0201 Cap Gasket (1966-78)
Oil Tank
Oil Tank Plug is constructed of rubber with
chrome cap for tanks which accept a push in plug.
VT No. 28-0219
Chrome Oil Tank Cap fits
the stock type oil tank on
1952-78 XLH. Replaces
62610-52A
VT No. Item
40-0504 Cap
15-0329 Cap Gasket
15-0341 Cap Washer
40-9955 Dipstick
12-0970 Retaining Ring
Chrome Rigid Oil Tanks fit our frames VT No. 51-2174 thru
51-2177. Battery tray accepts 12N164B battery, VT No. 53-0518.
VT No. Item
40-0416 Oil Tank
40-0437 Battery Tray with strap and Top
40-0437
40-0416
40-0400
40-0404
40-0425
40-0403
40-9955
31-3965
31-3975
Magnetic Drain Plug
prevents metal particles
from circulating through
oil tank and time
hole. Plug is ⁵⁄₈ — 18.
OEM#720, 706A.
VT No. 37-0098
Caps
Chrome 5.5" Round Oil Tank fits XL's with Rigid frame
mounts by clamping to center tube or top mount center fill.
VT No. Type
Finish
Brackets
40-0474 Clamp
—
40-1476 Clamp Raw
—
40-0741 Top Mount Chrome
31-1755
40-0742 Top Mount Raw
31-1755
40-0474
40-0474
Installed
40-0742
31-1755
40-1254
40-0845
40-0612
XLCH Oil Tank Mounts
3149-2 Parkerized oil tank mounting plates
3150-4 Rear Oil Tank Mount Kit
3179-8 Nuts and seals for rocker arm cover oil line fittings
3151-14 Front Oil Tank Mount Kit, parkerized
3158-14 Front Oil Tank Mount Kit, cadmium
3149-2
3151-14
3179-8