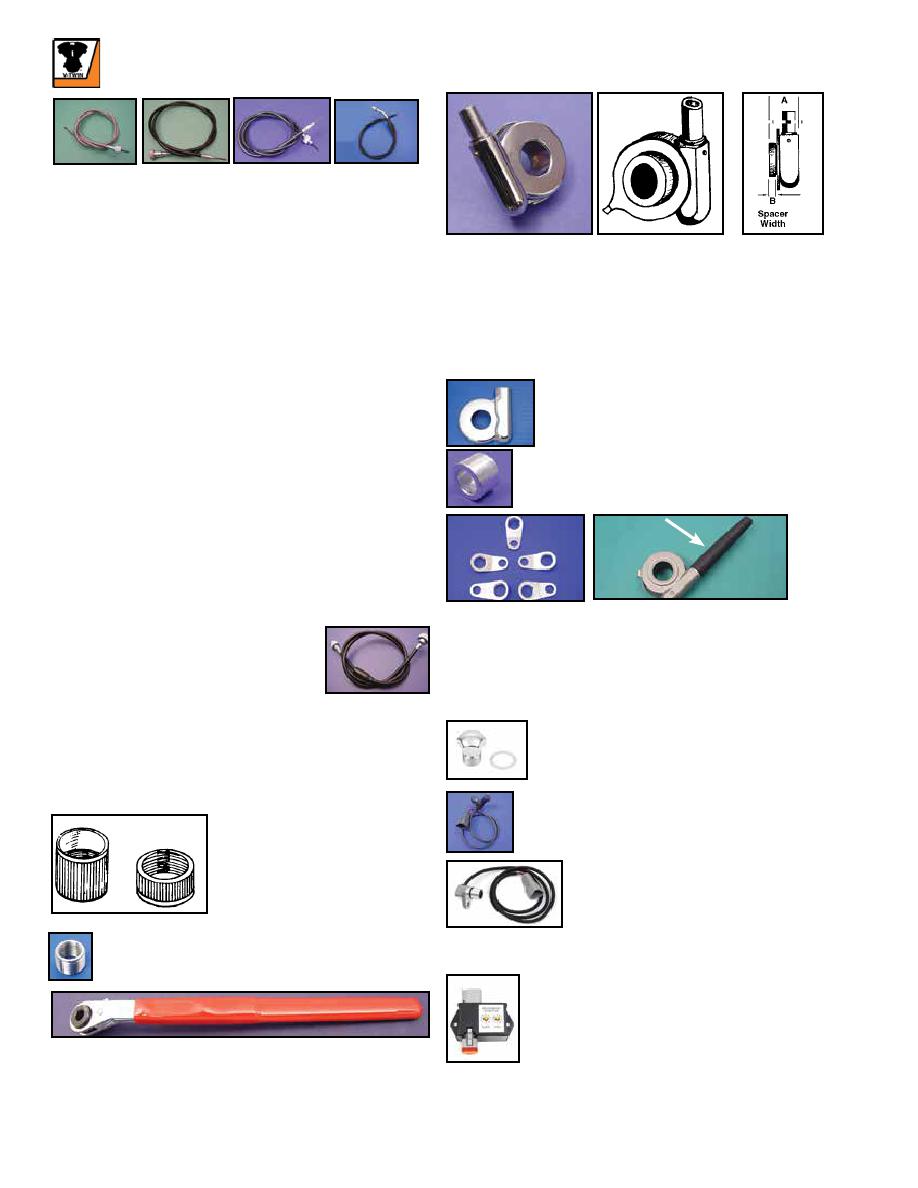 984
Speedo Cable
Transmission Drive Speedometer Cables
Black Metal OEM Lgth Top
Vinyl
Zinc
Nut
1957-70 XL's Trans Drive
36-2570 36-2577 67051-52A
1970-72 XLH Models.
36-0992 —
1952-70 XL, Mini Speedo Kit 39-0365 and 39-0314
36-0512 Custom — 50" 12mm
36-2570
ront Wheel Drive Speedometer Cables
Choose by application or by length and top nut size.
Blk Vinyl Stainless OEM
Length Top Nut
1984-87 XLH, 1986-87 XLH 1100, 1984-85 XL, 1983-85 XR.
Replaces OEM 67078-85A, 67051-73 & 67052-78A.
36-0606 36-2528 See Text 40"
36-0813 — Barnett 40" 16mm
—
36-0120 Coated 40"
1973 XL, 1988-94 XLH, 883 HUG-DLX and XLH 1200.
36-2414 36-2529 67048-83A 43"
—
36-0121 Coated 43" 16mm
36-0815 — Barnett 42" 16mm
36-0608 —
1973 only XL Models.
36-0601 —
36-0602 — +4"
1983 XLS Models.
36-2410 36-2530 67054-83A 46.5"
1974-83 XL Models.
36-0603 —
—
36-0123 Coated 39" 12mm
36-0814 — Barnett 39" 12mm
36-0959 —
36-0604 — +4"
36-0605 36-2534 +6"
—
36-0124 Coated 44.5" 12mm
1979-82 XLS Models.
36-2411 36-2533 67060-79A 38"
Black
36-0959
Stainless
36-0603
Block Off Plug for speedometer drive hole plug
fits 1952-72.
VT No. 2057-2
Speedometer Drive Units fit front wheel only, have .750 axle
hole, for right and left side as noted, spacer length note. (A)
Overall (B) Spacer length. 2.1 Ratio.

Overall
VT No. OEM
Spacer Length Fits
Side
36-0800 67127-73 .268
36-2526 Chrome
36-0802 67127-84A .361
Speedometer Drive
36-2526
Speedometer Sending Unit Wrench features a shortened
3/16" ball end hex bit for removal or installation of hex screw
used on all models equipped with electronic sending units.
VT No. 16-6738
1995-up XL Electronic Speedometer Sending
Unit replaces 74402-95B.
VT No. 17-0589
Speedometer Cable and Cable Mount for front wheel drive
models 1973-95. 5 packs.
VT No.
OEM
Item
31-0149 38623-68 Chrome Bracket
28-1998 66996-85 Cable Boot
31-0149
28-1998
Installed
Programmable Transmission
Speedometer Sensor is a fully adjust-
able sensor assembly for all 5 & 6 Speed
transmissions with electronic drive speed-
ometer. Allows fast and accurate adjust-
ments for any tire size, pulley on gear ratio
change.
VT No. 36-0150
Electronic
Right
Speedometer Drive Spacers replace drive units.
Fits 1973-83 XL.
VT No. 44-0390
Cable Adapter allows use of 5/8" cable on 12mm
threaded speedometers.
VT No. 36-0507
Replacement Speedometer Cable
Nuts for front wheel drive cables
and sold in 5 packs.
VT No.
Size
36-0397 12mm
36-0515 16mm Course

36-0515
Chrome Speedometer Drive Cover fits per-
fectly over the existing drive units. Fits 1987-
95 with 39mm Forks.
VT No. 42-0434
Speedometer Calibrator Corrects readings of
stock electronic speedometers when using over-
sized rear tires or when other drive train modi-
fications have been done that effect final drive
ratio. Use on all Big Twins.
VT No. 36-0422
36-0422
36-0397