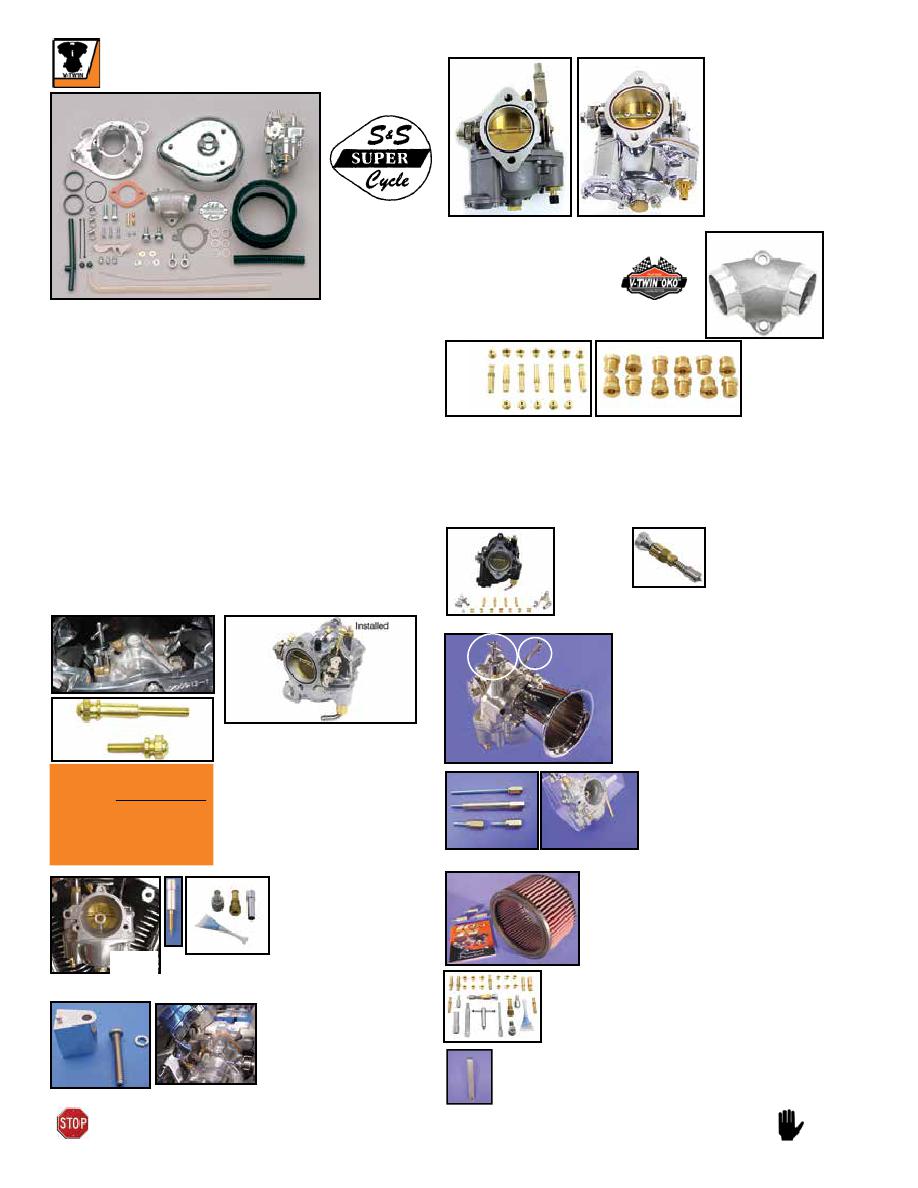 980
Super 'E' & 'G'
35-0009
S&S 1⁷⁄₈ & 2¹⁄₁₆ Super 'G' feature adjustable volume pump,
enrichment device for ease of starting and a throttle spool
assembly designed for late 2 cable operation. Supplied with
tear drop air cleaner, mounting bracket and black fuel line.
Super 'E' Carburetor is approximately 1⁷⁄₁₆" shorter than the
Super 'B' carburetor, making installation length of the Super
'E' the same as stock. The 1⁷⁄₈" is for street stock applications,
" for big bore and race use. Intake manifold clamps or
flanges must be purchased separately when they are required.
1⁷⁄₈ 'E'
2¹⁄₁₆
'G' Fits
35-0005 —
—
35-9207 1986-90 XL Evolution
35-0009 —
35-9368 —
2596-13 —
35-0970 —
Float Needle and Seat Set
35-0850 —
S&S Super "E" Rebuild Carb Kit
35-0849 —
35-0966 —
35-0355 —
1⁷⁄₈" "E"
Black
Carburetor
Only
VT No.
35-1050
Sifton Enricher
for S&S, fits Super
E&G and B car-
buretors, includes
chrome knob.
VT No. 35-0466
Long Float Bowl Screws fit
S&S E carburetors, to facili-
tate easy removal of bowl.
VT No. Finish
35-0025 Brass
35-0029 Chrome
All Carburetors sold as individual
pieces or in kits are covered under
our warranty "Replacement Only"
Provision. All Carburetor related
item part numbers begin with a 35
prefix. No credit will be issued for
these items as they are exchange
Hi-Flow Air Cleaner Element fits S&S
E Air Cleaners. Kit includes washable
3.5" high filter and mount studs. Mount
studs available separately.
VT No.
Item
34-0653
37-0055
Chrome Choke Knob for Super
E&G. Allows use of the stock
plunger and spring. Kit includes
brass plunger nut and chrome
knob.
VT No. # Item
35-0132 A Choke Knob
35-0217 B Idle Screw Set
A
B
Accelerator Pump Adjusting
Screws allow adjustment of idle
and accelerator pumps by these
'T' bar style screws for ease of
adjustment.
VT No. Item
35-0217 T Screw
35-0830 Brass Knurl Screw Set
Throttle Cable Adapter
Block allows use of stock
1996-up throttle cables on
S&S E carburetors.
VT No. 36-0546
36-0546 Installed
35-0026
Installed
35-0830
Jet Assortment for S&S Super 'E', 'G' and 'B' carburetors.
Complete kit includes 7 intermediate jets from .025" to .033"
and a main jet kit only which includes 14 main jets from .062"
to .084".
VT No. Kit
35-0995 Complete
35-0287 Main Only
35-0995
35-0287
Important Note:
Some items on this page may be emission-related parts subject to California or other emission control laws. Please
see for important information regarding emission control regulatory compliance and warranty information.
"E" Series Carburetor
Upgrade Kit. VT No. 35-9191
Sifton Carburetor Hop Up
Kit includes emulsion tube
and bomb sight annular
booster tube for all S&S E
carburetors.
VT No. Item
35-0133 Kit
35-0026 Idle Mixture Screw
Air Cleaner Support Brackets fit S&S Super 'E' and
'G' for 1957-85 XL.
VT No. 34-0337
Shorty "OKO" Carburetor has 1⁷⁄₈" bore.
VT No.
Item
35-0991
35-0992
35-0994
35-1025
35-8033
35-0991
35-0992
35-8033