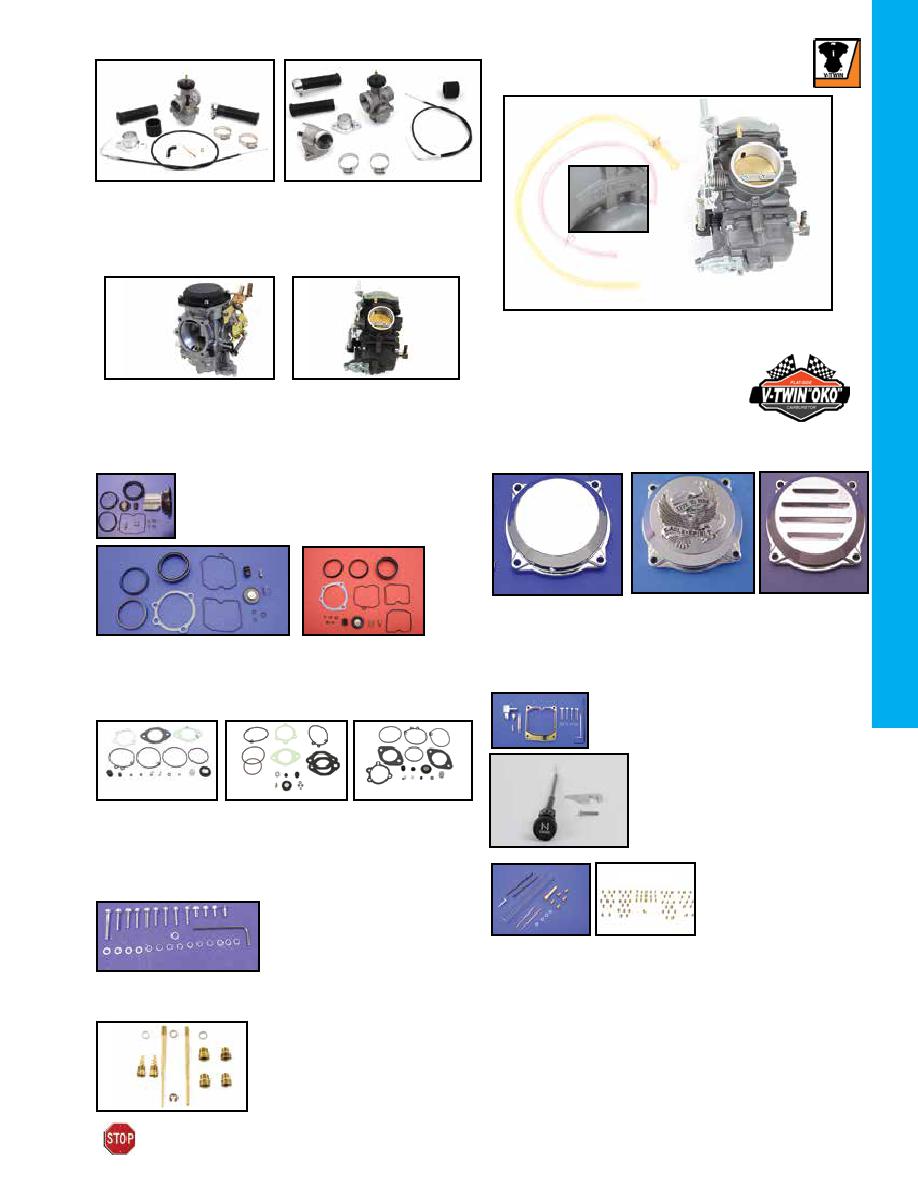 977
XL
CV Tuners Kit By Kinetic-Karb is for 1989-99 Keihin con-
stant velocity carburetors to permit easy tuning after instal-
lation of custom air cleaners, cams and exhaust. Includes
instructions, 3 main jets, needle jet, adjustable needle with
spacers and circlips, a spring and drill bits. This dual purpose
kit fits 1989 models without accelerator pump 1990-99 with
accelerator pump. Jet assortment includes #140-205, 70
piece main jet assortment.
VT No.
Item
35-9075
35-9099
CV Keihin Kits
CV Tuner Kit fits 1988-03 XL.
VT No. 35-6102
35-6102
35-9099
Keihin Screw Kit includes chrome
VT No. Years
Type
35-0206 1976-89
37-9116 CV
2596-13 CV
35-0259
37-9116
CV Carburetor Rebuild Kit includes seals,
O-Rings, diaphragm and vacuum piston.
VT No. 35-0465
CV Carburetor Rebuild Kit for 1989-up models.
VT No. Brand
35-0416 GB
35-0422 James
35-0444 Deluxe
35-0416
35-0444
Chrome CV Carburetor Top replaces black plastic cover on
1988-up XL models.
VT No. Type
35-8025 Smooth
35-8029 Eagle Spirit
35-8032 Ball Milled
35-8029
35-8025
35-8032
Extended Float Bowl Kit fits CV carburetors
for extra capacity, includes Hi-Flow inlet fit-
ting.
VT No. 35-0135
35-9075
Deluxe Carburetor Kits include all pieces shown for 1976-89
Keihin carburetors.
VT No.
Type
35-9172 Stock
35-9176 Viton
35-9279 Replica
35-9279
35-9172
35-9176
Important Note:
Some items on this page may be emission-related parts subject to California or other emission control laws. Please
see note for important information regarding emission control regulatory compliance and warranty information.
TC-38 38mm Flatside Carburetor Kit with built in choke
activator, throttle cable, manifold, twist grip set and carburetor
spigot adapter.
VT No.
Fits
35-0695 1971-85 XL
35-0696 1986-up XL
35-0696
35-0695
CV Rebuild Kit
Choke Cable Assembly Kit includes
bracket and cable assembly to mount
to all CV carb tops. Top mount brack-
et relocates the choke assembly
cable, includes the knob, casing and
inner wire.
VT No. 36-0809
40mm CV Carb Assembly is a accurate reproduction of a
venerable CV Keihin carburetor features a natural finish and
silver top.
Carb
Carb Kit
Fits
35-0715 35-0705
35-0569 35-0611
1340 Reproduction CV Carburetor, Complete. 40mm.
Carb
Carb with bracket Fits
35-0987 35-0571
35-0571
35-0990