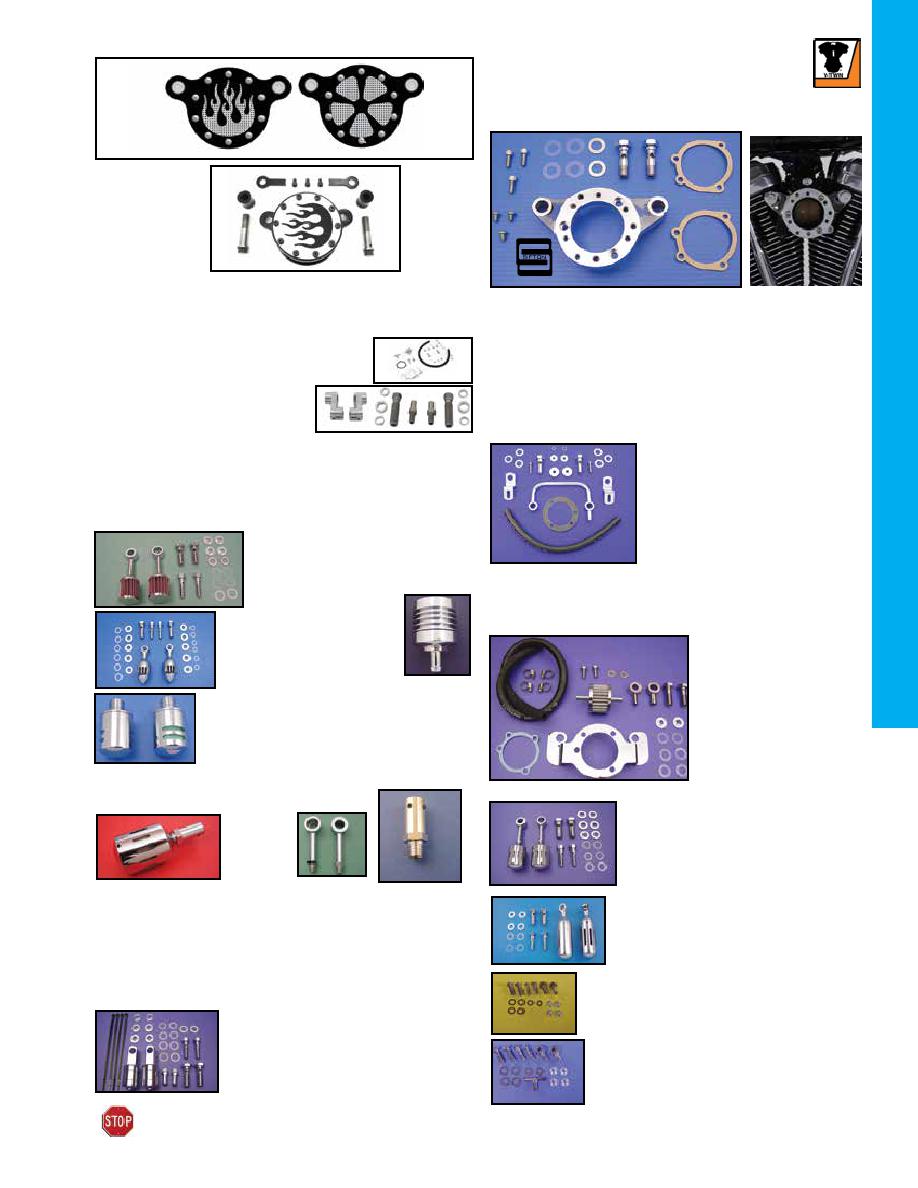 973
XL
Chrome Vented
Breather
Canister accepts
⁵⁄₁₆
VT No. 40-0457
Sifton Dual Breather Kit includes 2
canisters and banjo tubes with hard-
ware for 1991-up XL.
VT No. 40-0451
Sifton Mini-Breather Bolt
Kit. Unique chrome breath-
er cups have built in mount
bolt. Use with carburetor
mount bracket 31-0751 on
1991-up models.
VT No. 40-0453
Sifton Breather Canister features enclosed
breather filter and tube for attaching to breather cross over
lines, which is held in place by set screws. Bottom cover is
removable for cleaning for 1991-up.
VT No.
Item
40-0446
40-0449
40-0450
40-0449
40-0450
40-0446
Billet Air Cleaner Mount Set will mount air cleaners with flat
backing plates to Evolution and TC-88 models. Offset Billet
mounts feature built in breather passage that feeds inside air
cleaner housing. Brackets can be rotated to proper position,
then by drilling the back plate. Threaded breather nipples will
fasten back plate to brackets. Fits 1991-up XL.
VT No. 34-0750
Chrome Billet Canister
Set includes bolts for
1991-up XL applications.
VT No. 40-0346
Sifton Dual Canister Set includes hard-
ware for 1991-up XL.
VT No. 40-0452
Sifton Dual Breather Kit includes 2 can-
isters, banjo tubes and bolts for 1991-up
XL.
VT No. 40-0436
Breather Sets for
1991-up XL's
Sifton Dual Vent Kit includes 2 vent
canisters, banjo bolts for 1991-up with
necessary fittings.
VT No. Item
35-0441 Kit
35-0126 Bolt Kit
Breather Bolt and Banjo Kit includes bolts
for XL applications and 2 banjos to accept ⁵⁄₁₆"
hose.
VT No. Item
34-0500 Without tee
34-0808 With tee
37-0985 Evolution Nylon Washers
37-0986 TC-88 Nylon Washers
34-0808
34-0500
XL Billet Chrome Integral Breather/Carburetor Mount
Bracket includes mount bolts for installation of any 3 bolt CV
type air cleaner or velocity stack to be installed in vertical or
horizontal position.
VT No. Year
Item
34-0694 1991-up Bracket
35-0791
No Hoses Required!
This is the Best Bracket to use, Easy and Secure Mounting!
34-0694
Wyatt Gatling Billet Air Cleaner Kits for 1991-up XL CV models.
Black Chrome
with with
Chrome Black
Screen Screen
34-0239 34-0248 Spoke
34-0241 34-0250 Flame
34-0250
2007-15 XL Air Cleaner Mount Kit.
VT No. 34-0468
Crankcase Breather
and Bracket Kit fits CV
Carburetors to allow use of
aftermarket air cleaners on
models with cylinder head/
crankcase breather systems.
Order air cleaner separately.
VT No.
Fits
35-0121 1991-06
35-0697 2007-up
VT No. OEM
Air Cleaner
Finish
31-0431 29281-91T Teardrop
35-0573
35-0671
1991-up
31-0431
Important Note:
Some items on this page may be emission-related parts subject to California or other emission control laws. Please
see note for important information regarding emission control regulatory compliance and warranty information.
34-0468
Air Cleaner Breather Manifold Kit
for fit custom air cleaners to motors
with the internal breathing system. Kit
includes chrome breather manifold,
chrome banjo bolts, chrome air clean-
er support brackets, gaskets and
instructions. Fits 1991-up air cleaner
noted.
Black
with
Chrome
Flame
Screen
Black
with
Chrome
Spoke
Screen
34-0239
34-0250