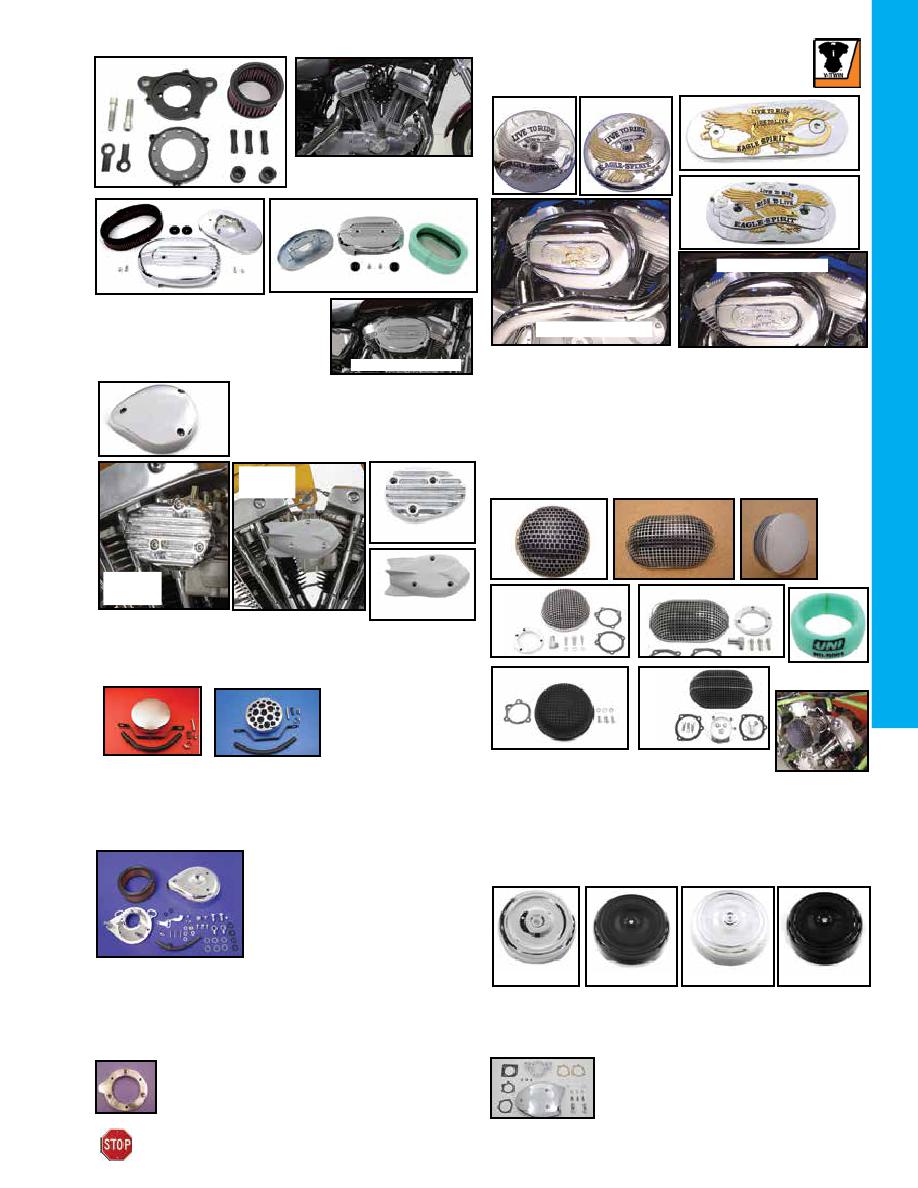 969
XL
XL
5³⁄₄" Chrome Air Cleaners are for Bendix and Keihin 3 bolt
carburetors. Includes foam washable element, 2¹⁄₄" thick.
Bendix CV
Item
34-0510 34-0762 Drilled
34-0512 34-0763 Smooth
34-0915 34-0915 Element Only
34-0512
34-0501
34-0040
34-0506
34-0510
Air Cleaner
Air Cleaner Inserts fit recessed area of round center screw
type units.
Chrome Gold Inlay
Fits
34-0557 —
—
34-0558
34-0986 34-0987 Oval
34-0641 34-0634
*Note: Full outer cover replaces stock 8" type. Does not have
lower cut out for Late 1989-up applications.
34-0557
34-0634
34-0641 Installed
34-0634 Installed
34-0558
34-0987
Oval Air Cleaner Assembly with
backing plate, filter and chrome cover.
Bendix CV
Item
34-1382 34-1374 Assembly
34-0930 34-1350 Backing Plate
34-0732
34-0501
Installed
34-0906
34-0746
34-1382
Chrome Smooth Teardop Air Cleaner
fits 1988-up XL.
VT No. 34-1501
34-1374
34-1374 Installed
Bendix-Keihin Carburetor Cover is 3 bolt style & made of alloy.
VT No. Style
34-1293 Finned
34-1295 Rocket
34-1293
34-1295
34-1295
Installed
34-1293
Installed
Adapter Plate allows installation of CV Air Cleaner
to S&S E carburetors and vertical or horizontal
mounting of 34-0670 tapered cone air cleaner.
VT No. 34-0673
Chrome S&S Super E & G
Replacement Air Cleaners are
available as complete units, or
replacement covers only. Complete
assemblies include backing plate
which have built-in brackets to mount
to 1991-03 Evo heads.
VT No.
Item/Fits
34-1015 Complete Assembly
34-0981 Chrome Cover All Super 'E'
34-1063 As Above with Notched Cover for 5 Gallon Tanks
34-0984 Uni Filter Super 'E' Foam Type
9980-3
Chrome Allen Screw Set for S&S Covers
Air Cleaner Cover Only.
Chrome Black
Diameter
34-1354
34-1355 8"
34-1379
34-1380 7"
34-1354
34-1355
Chrome Wyatt Gatling Air Cleaner
Assembly fits 1991-up XL.
VT No. 34-0473
34-1379
34-1380
Air Cleaner fits 1988-up.
VT No. 34-0493
Important Note:
Some items on this page may be emission-related parts subject to California or other emission control laws. Please
see note on for important information regarding emission control regulatory compliance and warranty information.
Air Cleaners include elements.
Chrome Black Element Fits
34-0501 34-1325 34-0079 Bendix-Keihin
34-0733 —
34-0079 S&S "E"
34-0040 34-1370 34-0078 Bendix-Keihin
34-0506 —
34-0906 Bendix-Keihin w/Chrome Mesh
For CV
34-0732 34-0742 34-0079 Round
34-0746 34-0764 34-0078 Turbo
34-1325
34-0764