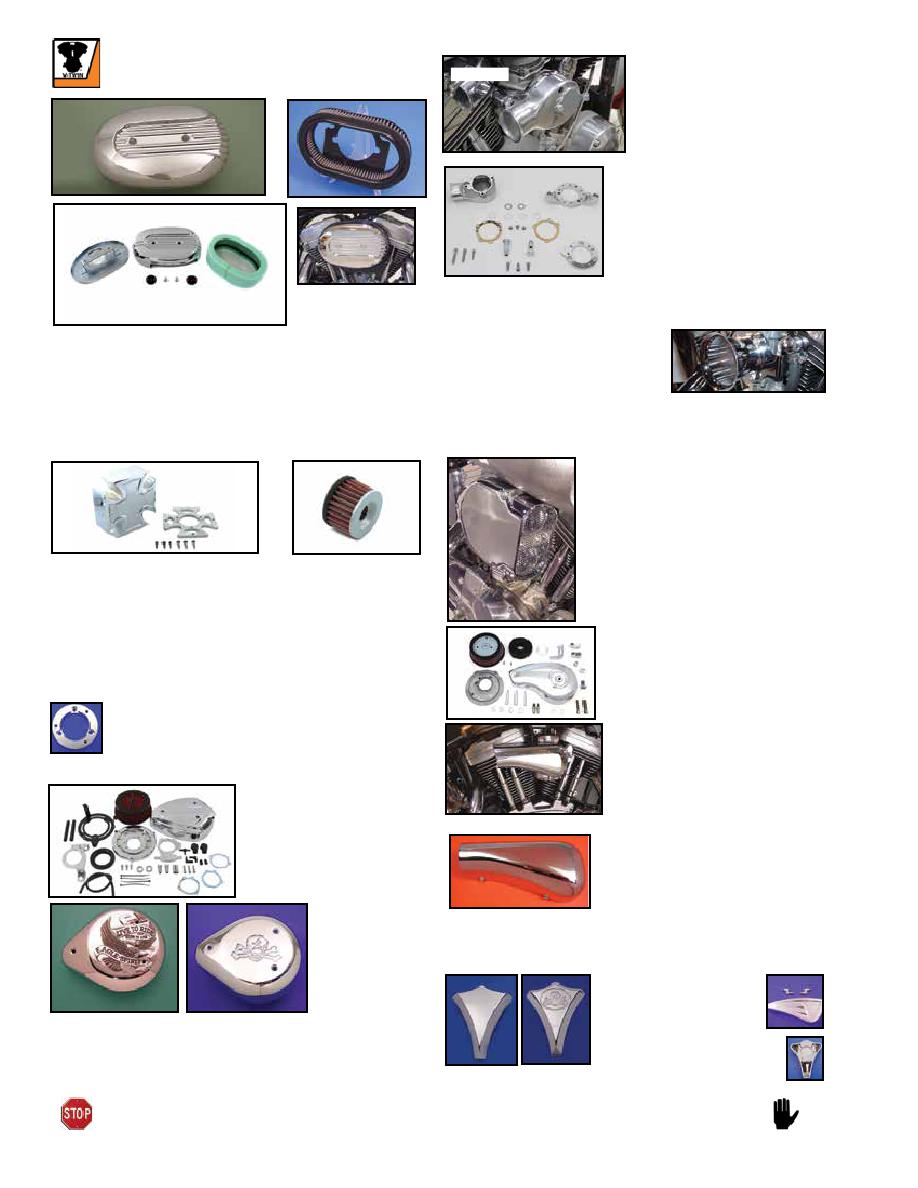 968
Air Cleaner
Chrome Velocity Stack Kits include 2.5" chrome stack,
chrome support bracket and breather kit with black or stain-
less hose kit as listed for stock Keihin or CV carburetors.
With breather
Black Hose SS Hose
Fits
34-1114
34-1124 1991-up
Without breather kit
34-1119
—
34-1120
—
34-1126
—
34-1127
—
Chrome Teardrop Air Cleaner Kit
includes backing plate, filter, breather
brackets and teardrop cover.
VT No. 34-0938
V-Charger
TM
Chrome Air Cleaner fea-
tures air scoop "blower" design with built-
in chrome screen and filter. Kits include
brackets and/or breather kits as required.
VT No. Type
Fits
34-0583 CV
34-0586 CV
34-0588 Keihin-Bendix 1957-85
34-0616 S&S "E"
34-1070 Replacement Filter
Hi-Flow Air Cleaner Kit fits 1988-up XL models. Cover not
included. 34-0190 requires ECM calibration.
VT No. Item
Brand Years
34-0734 Kit
34-1066 Filter
34-0559 Cover VT 1988-03
34-1280 Cover
34-1374 Kit
Early Style Carburetor Breather
Snoots feature chrome cover
without filter. Bendix Keihin & CV
is 3 bolt pattern. CV requires use
of 35-0121 for 1991-up XL's.
Air Cleaner Adapter Plate will adapt CV style Air
Cleaner to 38 mm Keihin/Bendix carburetor.
VT No. Style
34-0619 3 Bolt CV
34-0480 CV/SS
34-0610
34-1374
Installed
34-1374
Siren Air Cleaner Assembly
fits 1991-up XL models.
Includes chrome cover,
backing plate and mounting
hardware.
VT No. 34-1529
34-0831
Axel's Chrome Billet Air Cleaners fit to CV carburetors. Order
mount kits separately. Bracket listed features built in breather
passage and includes bolts for Evolution and TC-88 models.
VT No. Style
Model
34-0821 Diamond CV
34-0831 Skull
34-0826 Diamond Keihin
34-0837 Diamond S&S
34-0694 Bracket 91-up XL
34-0821
34-1046
34-0668
34-1066
34-1280
Spirit
Chrome
Super E Super B Style
—
34-0545 Eagle Spirit Chrome
34-0707 — Skull
34-0709 — Maltese
34-0710 — Flame
Skull
Important Note: Some items on this page may be emission-related parts subject to California or other emission control laws. Please
see note on for important information regarding emission control regulatory compliance and warranty information.
Complete Maltese Carburetor Cover Kit includes brackets or
breather kit as required. Order filter separately.
VT No. Fits
34-1141 1991-up
34-1142 1988-90
34-1143 1985-87
34-0608 1967-84
34-0610 S&S E
34-1168 Filter
34-1168
34-1331 Installed
Chrome Air
Cleaner Covers
fit S&S carburetor
stock backing
plate and filter,
"bolt on."
VT No. Item
34-1461 Deluxe Snoot Kit
34-0694 Integral Breather/

34-0470 Carb Air Intake Snoot Only
34-0673 Air Cleaner Adapter Plate
Note: Allows 34-0470 to be installed
on S&S Super "E" Carb.
34-1461
TT Carb Snoot Kit fits 1991-
up XL. Air scoop kit is not an
air cleaner but a scoop type
carburetor snoot for the early TT
racing look. For use on CV or
S&S "E" carburetors.
Installed
Chrome Black Type
34-1046
34-1081 34-1398 CV Back Plate
34-1331
34-0659
34-1423