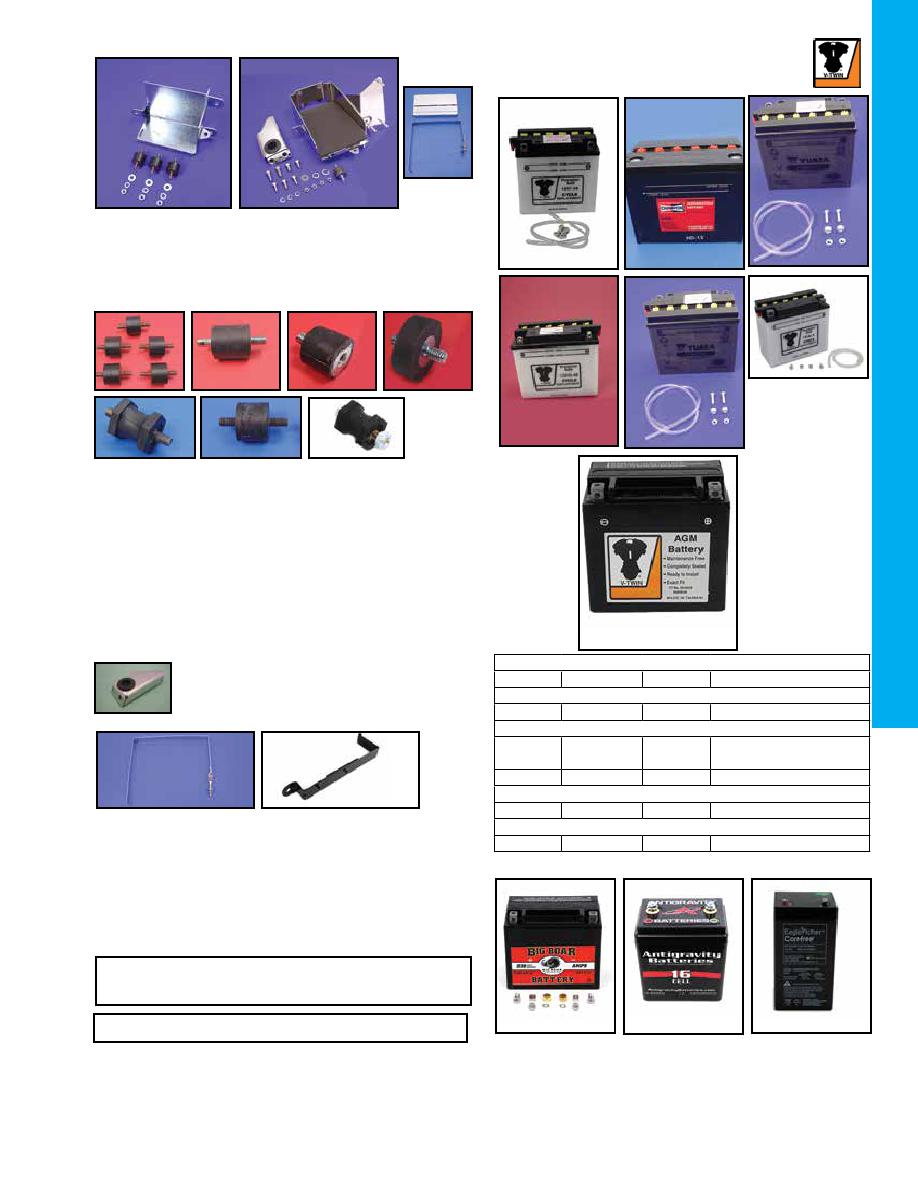 965
XL
1970-78 XLCH Kickstart models measures 5
53-0504
1967-78 XLH with Electric Start measures 8
53-0532
1979-96 All XL, 1977-78 XLCR measures 7" x 4" x 6
53-0502
53-0518
1997-03 All XL
53-0530
2004-up XL
53-0548
Battery
Battery Warranty Information. The battery is unconditionally guaranteed up to 30
days and pro-rated up to 90 days. No guarantee for cracked or physically damaged
cases or terminals at any time. Damage caused in shipping must be reported to us
and carrier 24 hours after receipt of shipping. All batteries shipped dry charged.
Battery Carrier Kits fit stock frames with bracket & Iso-Mounts
included as required. All units are chrome plated except where
noted. Order battery top cover and strap kit as noted separately.
VT No. Year
Model Finish Cover Kit
42-9951 1970-78 XLCH Zinc
42-5515
42-9914 1967-78 XLH
42-5514
Chrome Battery Carrier Bracket fits 1967-78
XLH. Replaces 66480-67.
VT No. 31-0130
42-9951
42-9914
42-5515
All Batteries are dry charged and do not include electrolyte.
Electrolyte (battery acid) is available at Tractor Supply stores,
nationwide.
Batteries may contain lead, a chemical that is known to cause cancer, or
birth defects or other reproductive harm.
Replacement Stainless Battery Straps.
VT No. OEM
Application
28-2217 66105-77 1979 XL (Rubber)
42-0514 66470-67 1967-78 XLH
42-0515 66470-70 1970-78 XLCH
42-0524 66476-73A 1986-97 XL, XLS, XLX
42-0798 66476-98 1998-2003 XL
42-1211 66476-04A 2004-up XL
42-0524
42-1211
A
B
C
D
28-0658
28-0636
A-1
A-2
28-0749
Iso Mounting Rubber Studs. All types UNC threads ¹⁄₄" used
on XL battery box and oil tank, 28-0619 used on FX dash.
VT No. OEM
# Size
Type
Qty
28-0749 Hex
28-0546 62563-65 A ¹⁄₄" Male-Male 5
28-0549 62563-65T A ¹⁄₄" Male-Male 5
28-0418 w/Spring A ¹⁄₄" Male-Male 5
28-0636 Lord
28-0547 62563-66 B ⁵⁄₁₆" Male-Male Each
28-0402 62569-94 B ⁵⁄₁₆"x ¹⁄₄"
28-0619 50235-63 C ⁵⁄₁₆"
28-2247 69125-65 D ⁵⁄₁₆"
53-0504
53-0532
53-0518
53-0502
53-0518
53-0530
53-0548
Hi-Output Sealed Batteries.
VT No. Type
Volts Size
AMP
53-0702 Big Boar
5 7/8" x 3 1/2" x 5 1/16" 230
53-0075 Antigravity 12
4 1/2" x 3 1/4" x 5 1/8" 480
53-0570
53-0075
53-0570
53-0702