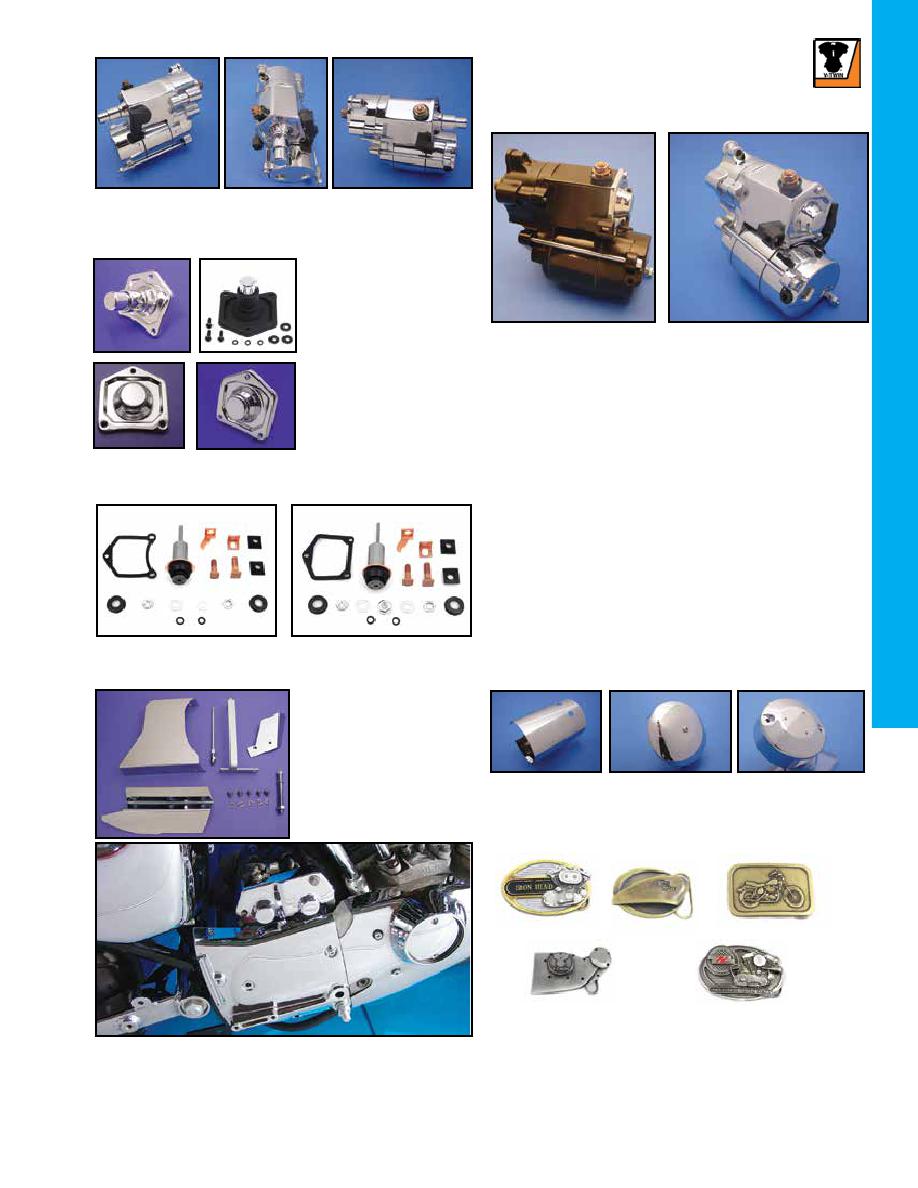 959
XL
Belt Buckles.
VT No. Style
48-1351 Ironhead Motor
48-1512 XL Gas Tank
48-1473 XLH Ironhead
48-1545 XL Points Cover
48-7787 XLCH Sportster
48-1522 Complete Set
Chrome Generator Covers.
VT No. Type
Year
42-0414 2 Brush, End
42-0522 Hitachi, End
42-0406 2 Brush, Body Wrap 1958-81
42-0414
42-0406
32-5125
High Torque Starter Motor by Volt Tech are available with 1.4
kw field wound. Stock starter motor is 1.2 kw field wound type.
Chrome units have all aluminum parts, polished and all steel
parts chrome plated. All units are supplied with jackshaft bolt.
VT No. Finish
Year
32-5124 Black
32-5125 Chrome
Stock Black Starter Motor and Parts.
VT No. OEM
Fits
Item
32-9072 31390-91B 1991-up XL
32-9075 31546-81 1981-94 883
32-9346 31605-90 1981-94 883
32-9347 31603-91 1991-up 1200
32-7769 31575-81 1981-90 XL
32-1427
*Note: Provides 15% greater torque over stock starter motor.
32-5124
1991-up Starter
Motor
Chrome Starter Assembly VT No. 32-5127 features built in
button for remote starting. Unit has polished aluminum parts
and chrome steel parts. Fits 1981-07 XL.
VT No. 32-5127
Chrome Starter Solenoid
Plate replaces 31688-90.
Fits 1994-up XL models.
VT No. 32-7798
Chrome Starter Covers completely cover the top of the right
side of starter motor.
42-0347 covers the end of starter and
solenoid only.
VT No.
Fits
Type
42-0347
42-0349
42-0347
Installed
42-0349
Starter Motor Cover
32-7798
32-5127
48-1545
48-1351
48-1473
48-7787
48-1512
42-0522
Push Button Starter End
Cap. Fits 1991-up XL.
VT No. Finish
32-0742 Chrome
32-1195 Black
32-0742
32-1195
32-9347
32-9346