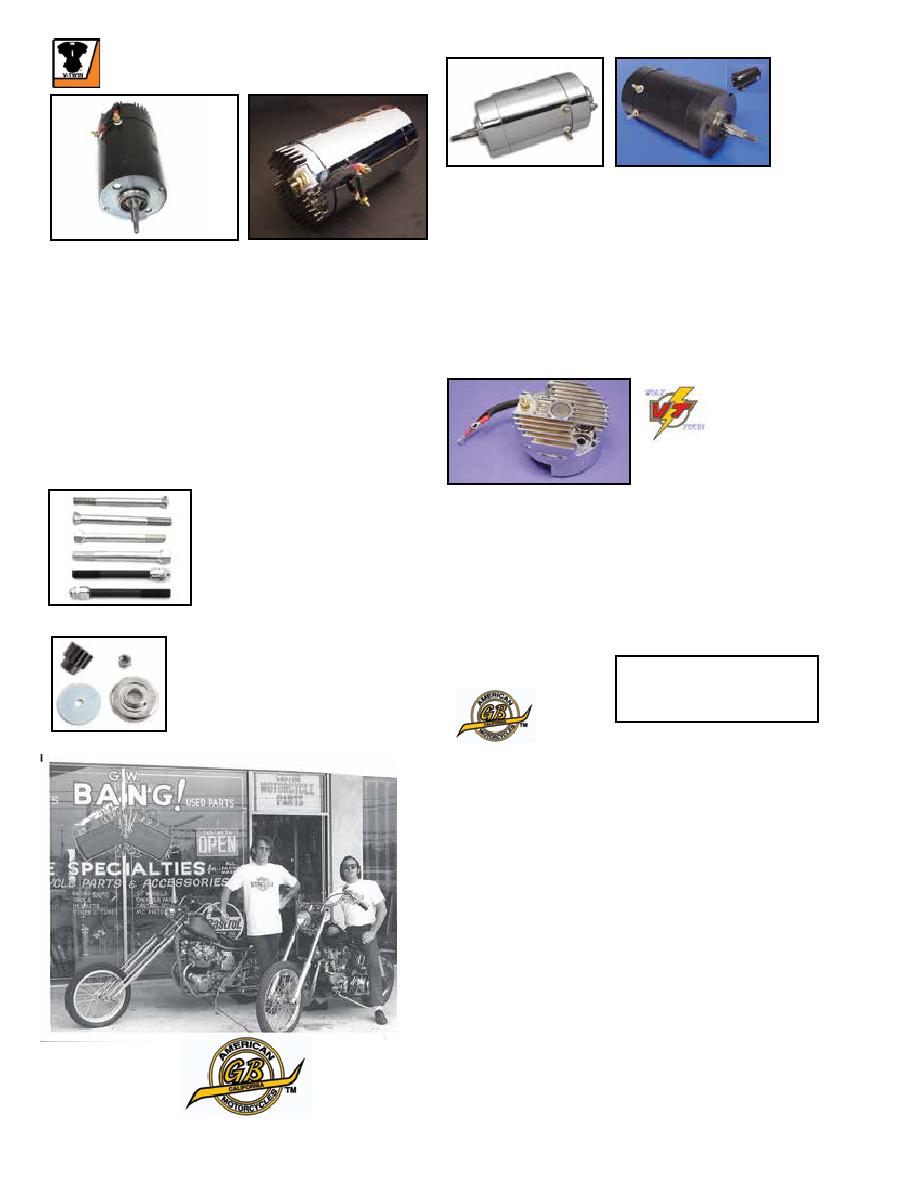 958
2-Brush Generator by Cycle Electric or Volt Tech. All styles fit
1952-81. Order gear kit separately.
VT No.
OEM
Volts
Type
Finish
32-8999
32-8998
32-7526 29975-65A
32-0967 29975-65A
32-0207 29975-65A
32-1530 With gear
32-0213 29975-61A
32-0214 29975-61A
32-0983 XL Gear Kit
32-0967
2-Brush Generators with built-in regulators by Cycle Electric
All styles fit 1952-81 XL. Order gear kits
VT No.'s 32-9000, 32-0788 and 32-0789 in addi-
tion to models noted above will also replace Hitachi generator
on 1981-E85 XL models. Order VT No. 32-0983 for gear kit to
complete the installation. Units noted as low output for use with
VT No. 53-0505 mini 12V battery.
VT No.
Volt Type
Finish
Brand
32-0212 12V Low Output
32-0790 12V Low Output
32-0787 12V Low Output
32-9000 12V High Output
32-0788 12V High Output
32-0789 12V High Output
32-9001 6V Standard
32-0983 XL
32-0790
32-0207
Warranty Information
Volt Tech Brand Electrical Products Warranty claims
are serviced through our Missouri Facility. Cycle Electric
warranty claims are returned to Cycle Electric Co in
Ohio. Allow extra time for these claims. All electric items
will be repaired & replaced at manufacturer's discretion,
no credit will be issued for these returns
Regulator End Cover features solid state components in gen-
erator end cover. Cover with needle bearing installed black with
fins for all 29975-65A 12 volt and 29975-61A generators.
*Note: Built in indicator light.
VT No. Type
Finish
Brand
32-7768 12 Volt
32-0795 12 Volt
32-0785 12 Volt
32-0969* 12 Volt
32-0970* 12 Volt
32-0785
Generator Gear Kit is available as complete
installation kit. Kits include gear, deflector
nuts and proper pieces for each application.
Fits 1959-81. 14 Teeth.
VT No.
Item
32-0983
32-0221
Generator Screws.
VT No. Year Finish Type
8877-2 1957-70 Chrome Stock
8878-2 1957-70 Cadmium Stock
9757-2 1957-70 Chrome Allen
7154-2 1971-84 Chrome Acorn
8787-2 1971-84 Chrome Allen
9880-2 1971-84 Chrome Stock
9881-2 1971-84 Zinc
32-0983
32-0787
Stock
Acorn
Allen
Gary Bang is credited with creating the first motorcycle aftermarket catalogue
but his love of motorcycling began in 1948 when his dad bought him a Cushman
motor scooter. By 1954 he was working parts at Kolbe Cycle in Reseda,
California and in '65 he began traveling as a road rep for MC Supply. He trav-
eled for a few years learning everything there was to know about the industry.
Gary discovered that California was way behind the Midwest in the custom busi-
ness. Many of the bikes on the floors of those Midwest shops were customized,
so in 1967 he found a 1,200 square foot building in Canoga Park, Ca. where
his first retail shop was opened. He sold parts for Triumphs and other popular
motorcycle brands, specializing in spokes and custom wheel building.
In the early 1970's Gary noticed that the majority of young Harley riders were into
chopping and customizing their motorcycles. There was nowhere for these guys
to find the product so Gary decided to give them what they wanted. He took out
an ad in Big Bike magazine letting everyone know that they could order a Gary
Bang Parts catalogue for $1.00. The people finally had a company that had what
she or he needed. And if Gary didn't have it, he knew where to find it, or have it
made.
In 1982 Gary opened a Harley-Davidson retail store in Atascadero, California
where he works with his wife Mary, daughters Kristy and Lisa, and his grand-
daughter April.
After 35 years in business in Atascadero, Gary Bang Harley-Davdison has decid-
ed to close its doors. We appreciate all your support and loyalty over the years.
We will miss our H-D family. We wish everyone well and Happy New Year! Keep
riding and stay safe out there.
Generator