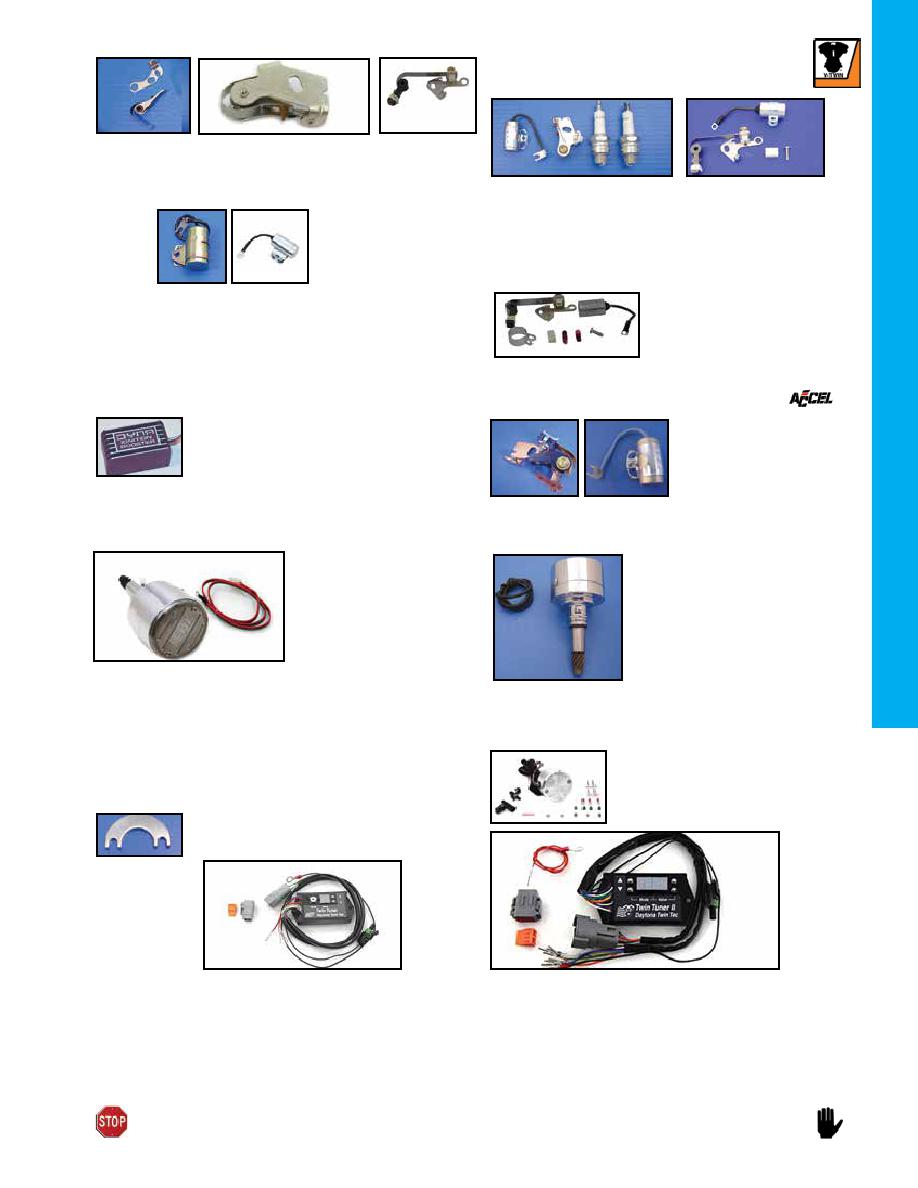 951
XL
Tune Up Kit
Blue Streak Premium Parts for
1970-78 Twins
VT No. OEM
Item
32-0156 32661-70 Points
32-0157 32726-30A Condenser
Ignition Condensers.
VT No.
OEM
Year/Model
32-0121
32726-30A 1957-70 XLH, 1970 XLCH
32-1316
32-1244
32-0122
29534-55A 1958-69 XLCH Magneto
32-0157
Point Sets.
VT
No.
OEM Model
U/M
32-0117
32-0118
32-0119
32-0118
32-0117
V-Twin Tune-Up Kits include plugs, points and condenser. Also avail-
able as points and condenser kit only.
With Plugs Without Plugs
Years
Fits
32-1114
32-0114
32-1115
32-0115
32-1116
32-0116
—
32-0115
32-1232
—
32-0116
32-1115
Dyna Ignition Booster for single point systems
only transforms inconsistent electrical surges into
controlled bursts of energy to the coil, power is not
wasted.
VT No. 32-7787
32-0156
32-1244
32-0121
Important Note:
Some items on this page may be emission-related parts subject to California or other emission control laws. Please
see note for important information regarding emission control regulatory compliance and warranty information.
Twin Tuner II features all the same function as the original Twin Tuner
and includes ignition timing control capability. Easily adjust the OEM fuel
injection controller and ignition to math the requirements of performance
parts. Allows the use of the up and down buttons to make fuel trim
adjustment and the valve is displayed on LED board also has advanced
mode that will allow the tuner to make precise adjustment to each cylin-
der. Requires optional USB interface cable VT No. 32-3045 Compatible
with Twin Scan II Turning Aid. VT No. 16-0378. Fits 2007-2013 XL with
36 pin Delphi.
VT No. 32-3042
Twin Tuner Controller for 2007-up EFI models. Features include
increased horsepower, improved throttle response, easy plug-in instal-
lation and setup; can be used with Dynojet Power Commander Maps
and is compatible with Twin Scan II service tool VT No. 16-0378. The
Twin Tuner allows you to easily adjust your fuel injection to match the
requirements of performance parts. You can add or subtract fuel by
using the mode and up/down push button switches. For 2007-2013.
VT No. 32-3041
Accel Performance Tune-Ups Kits
include replacement spark plugs, matched
crown contact points, condenser, gap
settings and point cam lube. Kits available
without spark plugs.
VT No.
Fits
32-0109
1957-69 XLCH with magneto
32-0107
32-0106
Distributor Hold Down Clamp.
VT No. 31-3966
32-7558
Distributor
Electronic Advance Distributor with rev lim-
iting for 1952-70 Sportster models. Features
adjustable electronic advance curves, single on
dual fire modes and CNC machined billet hous-
ing. Use with a 3 ohm coil.
VT No. 32-7804
Unilite Distributor includes gear. Features 12 volt electronic perfor-
mance. Dual fire type. No external box required. Electronic ignition
module fits inside distributor. Adjustable advance limit, using spring kit
pre1970, Use with low resistance coils as low as 2 ohms for greater
spark energy. No points to adjust or replace. Use larger spark plug
gaps up to .040. Billet aluminum housing. Top may be removed without
removal of front cylinder head.
VT No.
Item
Year
32-0174 Accel Distributor XL
32-7792 Dyna Coil
VT No.
OEM
Years/Model
Type
32-7558
42-0300
31-3966
Chrome Auto Advance Distributors are
completely assembled with gear and all
internal parts. The XLH type fits 1952-70
Sportster models and requires
VT No.
31-3966 hold down.
32-0174
32-0119