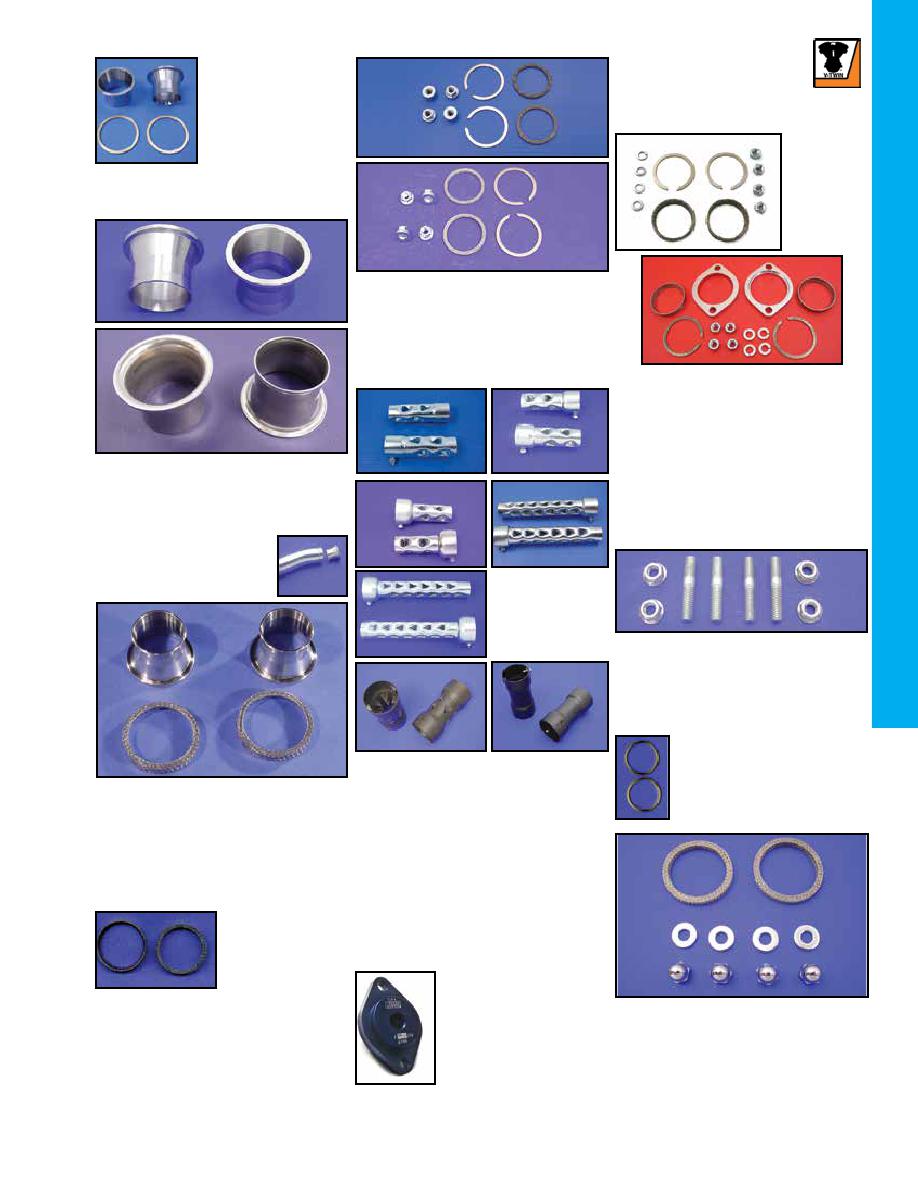 943
XL
Exhaust Stud Kit includes four studs and
four stainless flanged nuts. Fits 1986-up
Sportster.
VT No.
Item
12-2125
12-1187
Stainless Steel Taper
Valve Kit includes 2
pure stainless extruded
sleeves to fit between
pipe and exhaust port,
to aid in back pressure
when drag pipes are
used. Kit includes solid copper machined
exhaust seals which will not restrict flow.
VT No. 30-0312
Exhaust
Flange
Stainless Exhaust Taper Valves fit into
exhaust between pipe and head to put
back the low end torque which is lost
when large diameter or straight pipes are
used. Fit Evolution with factory
or aftermarket pipes, pair.
VT No.
Type
30-0113
30-0355
Stainless Steel Taper Valve Exhaust
Kit fit into the header at the flange area
to compensate for exhaust velocity
when large diameter pipes installed. Fits
Evolution and XL models 1986-up with
large outside diameter aftermarket pipes.
Kit includes two valves with gaskets.
VT No. 30-0119
30-0355
30-0113
Exhaust Port
Gasket of knitted
stainless steel. on
Evolution engines.
VT No.
Type
Qty
15-0227 Tapered
15-0267 Mesh Gasket
15-0712 Tapered, James 5
15-0732 Tapered
Evolution Exhaust Kit includes four
chrome cap nuts, four washers and two
mesh gaskets. For 1984-up 883-1100-
1200 1340 Evo model.
VT No. Type
37-8900 V-Twin
15-0726 James
37-8900
Solid Copper Exhaust
Gaskets fit Evo models.
VT No. 15-0777
Pipe Baffles fit inside straight pipes, sold
in pairs. Note: Baffle size denotes size of
pipe into which it fits.
VT No.
Size
Length
30-0101
30-0102 1.75"
30-0103 2"
30-0216 1.75"
30-0217 2"
30-0372 2.25"
30-0618 2.25"
*Note: Fits Cycle Shack stainless steel
pipes, sold each.
30-0217
30-0102
30-0372
1986-up
Exhaust
Gasket Set
includes 2
snap rings.
VT No.
15-0451
Exhaust Flange Kit fits 1986-up
Sportster models. Kit includes snap rings
VT No. Item
U/M
30-0205 Kit
12-0942 Snap Ring
15-0227 Gasket
15-0732 Gasket
15-0451 Gasket & Snap Ring Kit Kit
12-1187 Exhaust Stud, 16715-83 5
30-0257 Chrome Flange Only 2
30-0724 Drilled Flange
Exhaust Port Gasket Kit includes two
stainless steel knitted gaskets, two snap
rings and four heavy duty flange nuts. Fits
all 1985-up Twins.
VT No Brand
15-1285 V-Twin
15-1274 James
15-1274
15-1285
30-0101
30-0103
30-0216
30-0618
Jims Exhaust Gasket
Installer Tool will correctly
install exhaust port gaskets
into cylinder heads, mini-
mizes gasket distortion.
Helps heads flow better.
VT No. 16-2112