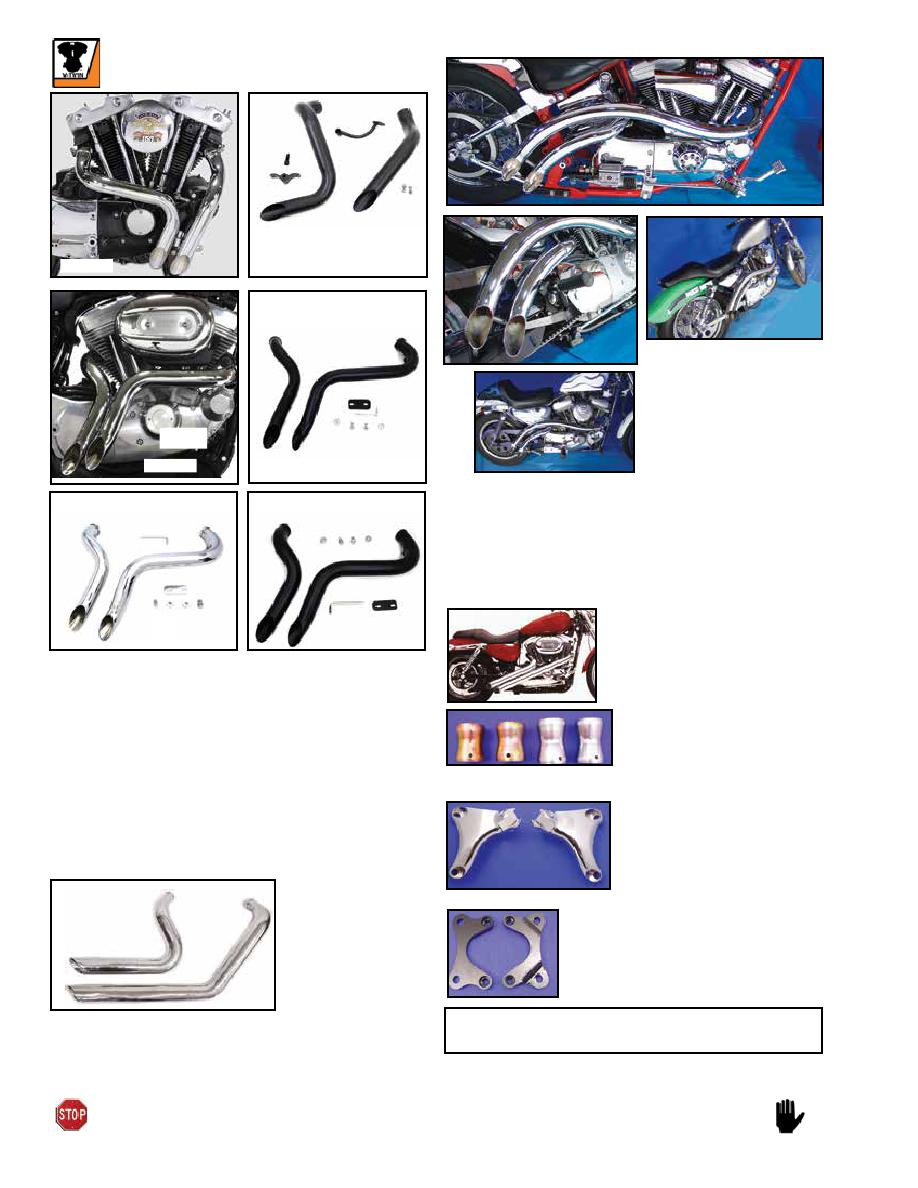 940
Wyatt Gatling Chrome Staggered Short Shots feature 1³⁄₄"
head pipes with 220° coverage heatshields and slash cut
ends. Includes baffles and mounting hardware. Fits 2004-13.
Pre 07 Models require O2 sensors port plug set.
VT No. 30-0952
Vance and Hines Side Shots fea-
ture power chamber design 220° full
length heatshield 2¹⁄₂" header pipe
and removable baffles mounting
hardware included. Fits 2007-13.
VT No. 30-1536
2-Stage Torque Kit fit 2¹⁄₄" inner
diameter exhaust pipes, reduces
noise and increases back pres-
sure.
VT No. 30-0617
30-0300
Pipes
Shown
on XLST
Wyatt Gatling Curved Exhaust Headers feature 2" diameter.
Note: For 2004-up models order additional bracket separate-
ly. 1957-85 Iron Heads require fabrication of rear bracket and
will not work with XLH (Side Mount) oil tank.
VT No.
Years
30-0319
30-0300
31-0765
30-0319 Installed on
Ironhead Models. Brackets
must be fabricated for
installation.
30-0319
Limited Warranty. Exhaust Products distributed by Tedd Cycle Inc. are warrantied against defects in mate-
rial and workmanship, which include fitting and finish quality at the time of installation only. Claims regarding
discoloration, peeling blistering or blued chrome will not be considered as defective material or workmanship
and cannot be returned as such as per manufacturers warranty.
30-0952
30-0722
30-0460
Passenger Peg Mount Bracket
Sets Only. Use with male style
peg.
Chrome Black
Years
27-1564 —
27-0825 27-0271 2014-up
Rear Passenger Peg Relocation Bracket
Set fits 2004-13 XL with 30-0300 pipe set.
Black finish. Order chrome footrest for sup-
port bracket separately.
VT No. 31-0766
Exhaust
1³⁄₄"
2"
Wyatt Gatling Down Drag Draft Pipe Set for 1957-13 XL
models. Available in black or chrome finishes and include a
cross bracket that connects the front and rear pipes together.
Sets that fit 1986-13 models have 18 mm O2 sensor bungs
molded in and include sensor bung plugs for non EFI model
applications. Order baffles, flange ring and flange ring gaskets
separately.
1957-85
Chrome Black O.D.
30-0727 30-0728 1³⁄₄"
1986-up
30-0722 30-0735 1³⁄₄"
30-0460 30-0464 2"
*Note: For 1986-up only with forward controls.
30-0727
Important Note: Some items on this page may be emission-related parts subject to California or other emission control laws. Please
see important information regarding emission control regulatory compliance and warranty information.
30-0728
30-0735
30-0464