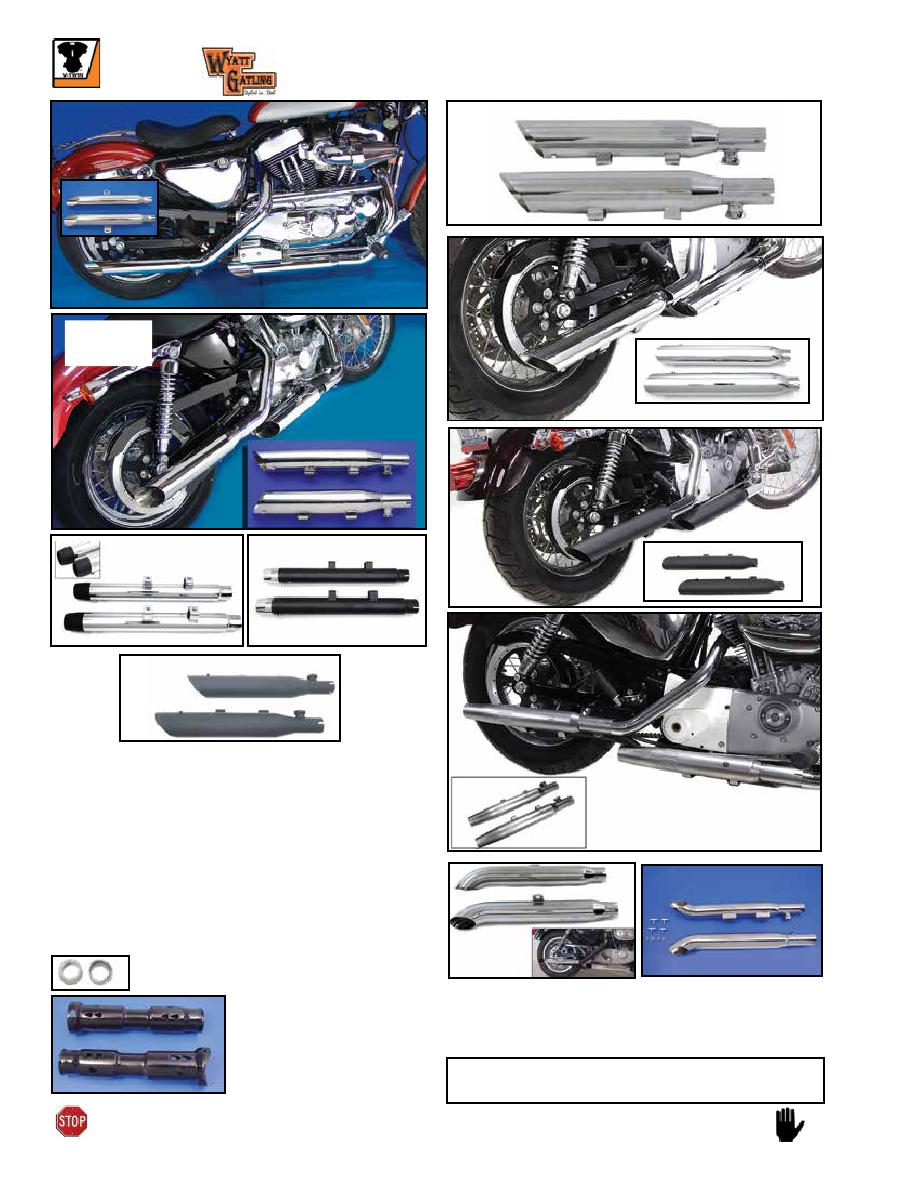 938
Slip-On Mufflers Sets have removable baffles.
Chrome Black
Style
Year
Type
30-0239 —
30-0644 30-0649
30-0873
30-0359* 30-0571* Slash
30-0361* 30-0935* Slash
30-0821 30-0843 Taper
30-0455 30-0456 Straight
30-0568 30-0569 Slash
30-0874 —
*Note: Slash style includes RMB removable baffle set.
Turn Out Muffler Set Slip-On Type. Baffles are not remov-
able.
VT No. Year
30-0240 1980-03
30-0358 2004-13
30-0240
30-0359
installed on
2005 XL
30-0239 Installed
30-0359
V-Slots Torque Tube Set fea-
tures improved baffling and back
pressure for XL. Slash type muf-
flers with removable baffles. Use
with slip on mufflers with 3" inner
diameter.
VT No. 30-0633
30-0633
30-0358
Limited Warranty. Exhaust Products distributed by Tedd Cycle Inc. are warrantied against defects in mate-
rial and workmanship, which include fitting and finish quality at the time of installation only. Claims regarding
discoloration, peeling blistering or blued chrome will not be considered as defective material or workmanship
and cannot be returned as such as per manufacturers warranty.
Connector Tube Gasket Set.
VT No. 15-1533
30-0361
Slip On Mufflers
30-0934
Installed
30-0935
Installed
30-0934
30-0821
Installed
30-0239
30-0455
30-0456
Important Note: Some items on this page may be emission-related parts subject to California or other emission control laws. Please
see note for important information regarding emission control regulatory compliance and warranty information.
30-0571