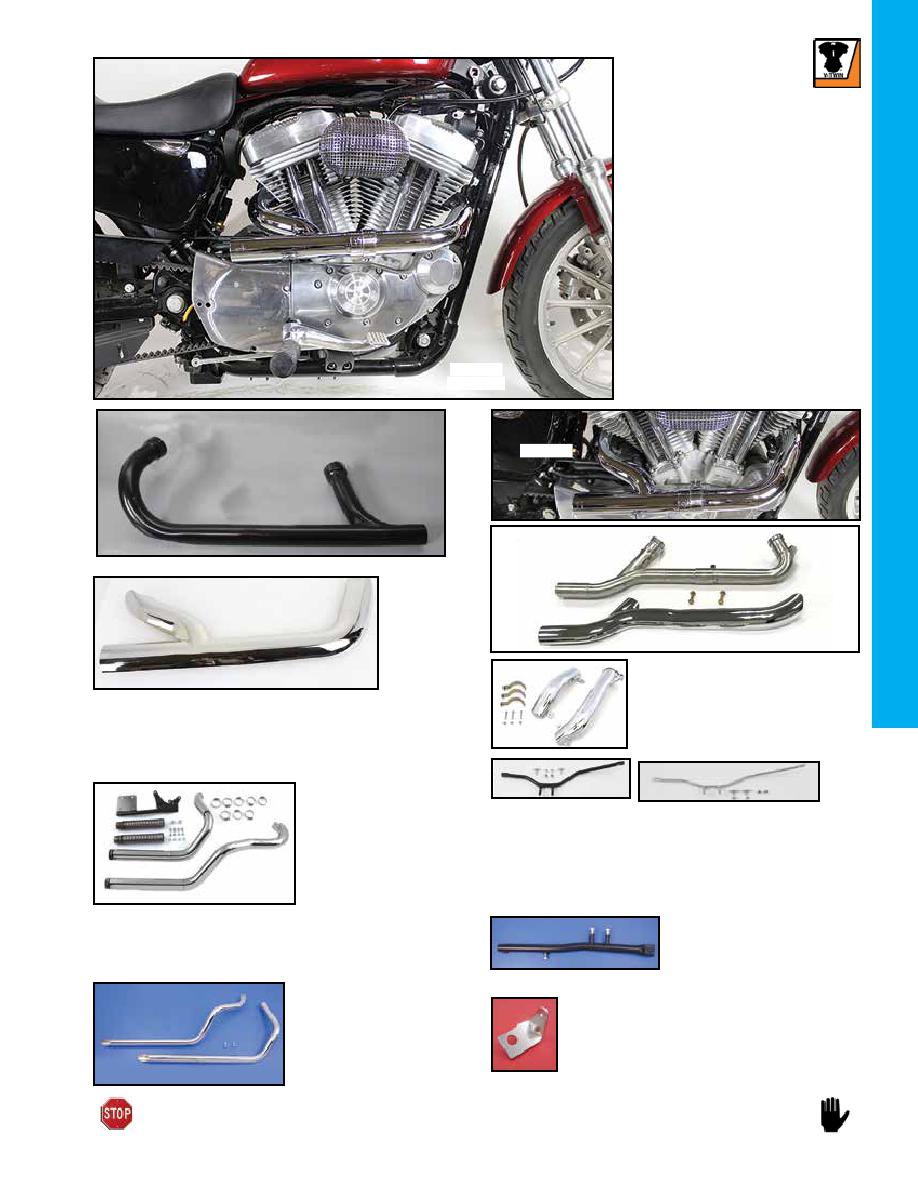 937
XL
1957-80,
81-85 XL
Exhaust
Exhaust Pipe Mount Bracket.
31-4052 BK-4
Cycle Shack PHD-112 series and
PHD-117 series muffler pipes &
PHD-110 & PHD-210 drag pipes for
Sportster produced with adjustable
31-4057 BK-4
Brake Pedal Stop required on 1980-85 XL models
when fitted with drag or custom pipe sets, to act as
pedal stop which was originally welded on stock
header pipes have a combination mounting bracket/
brake pedal stop welded to stock header pipes.
VT No. 31-2124
Black Support Tube to mount
drag pipes or stock muffler sys-
tem for 1958-79 XL-XLH models.
Replaces 65316-65B.
VT No. 31-4029
1979 Only 1³₄" Muffler Pipes
Set comes with channel
mounts.
Note: Drag Pipes do
not include brackets. VT No.
30-3106 uses 31-9994 mount-
ing bracket.
VT No. 30-3106
1979 Only Pipe
Chrome Rinehart
Racing Staggered Style
Crossback 2 into 2
Exhaust System include
caps. System includes two
oxygen sensor parts. Fits
VT No. 30-1553
30-1553
Chrome Heat Shield Set is for 1-3/4"
stock or drag pipe sets. Sold in a quan-
tity of 2. Fits 1957-1984 XL, does not fit
1979.
VT No. 30-0082
30-0082
31-4052
31-4057
2:1 Siamese Exhaust Pipe Set with a
1³⁄₄" outer diameter, fits under the car-
buretor on rigid or swingarm frames.
Set includes header and heatshield.
These products are intended for show
only.
Chrome Black
Year
Sensor
Bung
30-0574 30-0575 1986-up No
29-0203 29-0204 1957-85 No
29-0206 29-0207 2004-up Yes
Important Note: Some items on this page may be emission-related parts subject to California or other emission control laws. Please
see note for important information regarding emission control regulatory compliance and warranty information.
30-3106
29-0206
2:1 Exhaust Pipe Heat Shield is held on by hose clamps and
features a chrome finish.
VT No. 29-0987
29-0204
Installed
For Ironhead
29-0203
29-0204