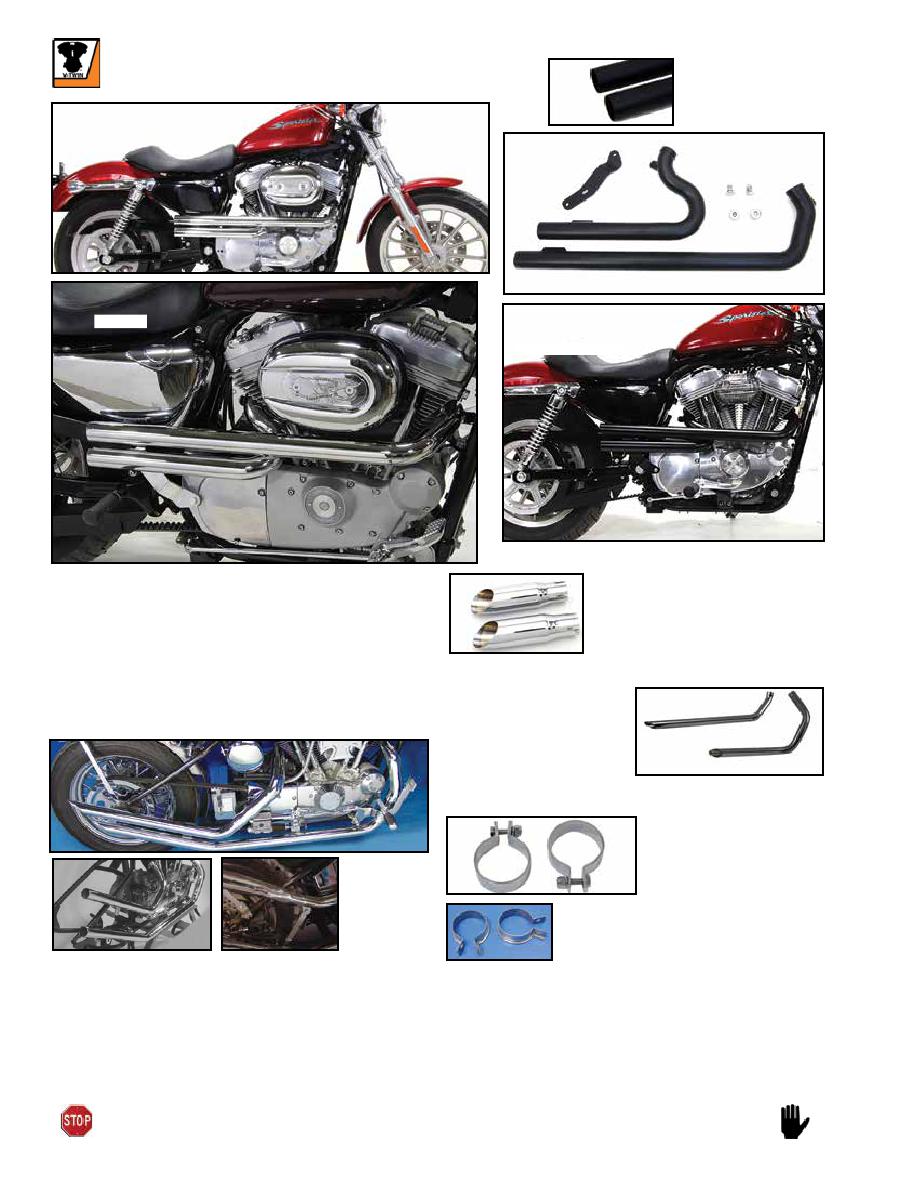 934
Chrome Muffler End Clamp
clamps mufflers to pipes.
VT No. Size
31-2103 1³⁄₄"
31-0318 1⁷⁄₈"
Stainless Exhaust Head Clamp. Stock
type construction, sold as a pair. Replaces
65519-52. Fits 1952-71.
VT No. Item
31-0226 Clamps
37-8684 Bolt Set
29-0179
Shot Gun 1³⁄₄" Drag Pipes
Sets fits rigid frames only
and requires bracket for
mounting. Slash cut ends.
VT No.
Year
29-0179 1957-1984
Clamps
Exhaust Pipes and Mufflers Warranty Information
There is no warranty on exhaust pipes & mufflers with regard to any discoloration. Discoloration
(blueing) is caused by tuning characteristics, cam timing, carburetor jetting, overheating, etc.
and is not caused by defective manufacturing. This means once exhaust pipes have been
installed and started these pipes are considered used.
If pipes are not to the dealer/custom-
er satisfaction, contact us immediately for a return authorization before starting your
engine. Refunds and exchanges are not available. Manufacturers will guarantee all sets of
exhaust systems against any kind of manufacturer's defects.
Upswept Drag Pipe Header Set for 1957-03 XL models.
Available with slash or straight cut ends and rigid swing arm
models.
VT No.
Years
Fits
End
29-0087 1957-85 Rigid
29-0084 1986-03 Rigid
29-0114 1957-85 Rigid
29-0157 1986-03
29-0157
UpSweep
Flame Heat
Shield
Installed
30-0118
Shot Gun
Sportster Evo Shotgun Duals. 1³⁄₄" diameter drags for all
2007-13 Sportster.
VT No. Finish
29-0201 Chrome
29-0202 Black
29-0201
29-0202
29-0201
Important Note: Some items on this page may be emission-related parts subject to California or other emission control laws. Please
see note for important information regarding emission control regulatory compliance and warranty information.
29-0202 Installed
VT No. 30-0672
Exhaust Tip Set with slight turn out
ends for a clean look. Can be baffled
to act as a short muffler. Sold as a pair.
*Note: Must order end clamps sepa-
rately.
Chrome Black
30-0672 30-0673