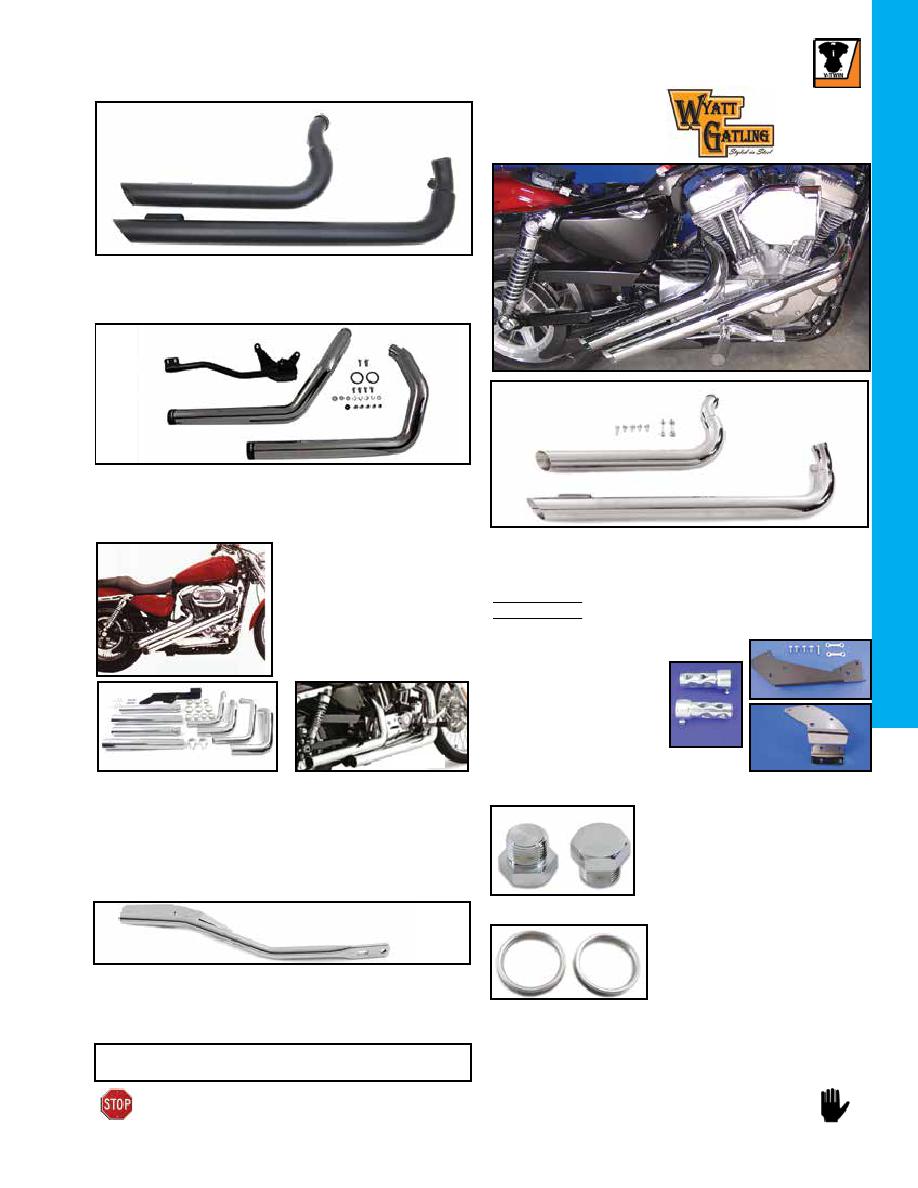 933
XL
1986-03 XL Exhaust
Limited Warranty. Exhaust Products distributed by Tedd Cycle Inc. are warrantied against defects in mate-
rial and workmanship, which include fitting and finish quality at the time of installation only. Claims regarding
discoloration, peeling blistering or blued chrome will not be considered as defective material or workmanship
and cannot be returned as such as per manufacturers warranty.
For 2004-2006 models you must purchase 30-0423 plug set.
For 1986-2003 models you must purchase 30-0423 plug
set and 31-0897 bracket. Order baffle style as desired for
required back pressure.
VT No.
Item
30-0987
30-0383* 1986-03
31-0897
31-1001
30-0103
30-0423
*Note: Must be used with a forward con-
trol kit.
Wyatt Gatling Exhaust Sets feature the "Quad Finishing"
which includes triple dura nickel and chrome as the final fin-
ish. After chrome plating, pipes are normalized and dried @
572° F for the final finish process.
30-0383
30-0103
31-1001
31-0897
Chrome Vance & Hines Side
Shots feature power chamber
design, 2¹⁄₂" header pipe, 220° full
length heat shields and removable
baffles. Mounting hardware includ-
ed. Fits 2004-2006 XL.
VT No. 30-1528
Chrome Straight Drag Exhaust Set with a unique header
design has removable performance baffles and polished black
anodized billet aluminum end caps. Fits 2004-06 XL.
VT No. 30-0395
Important Note: Some items on this page may be emission-related parts subject to California or other emission control laws. Please
see note for important information regarding emission control regulatory compliance and warranty information.
Dual Straight Stagger Shots feature full length/full coverage
heatshields, 1
" header pipes with 2¹⁄₄" bodies, removable
baffles and mounting hardware.
VT
No.
Fits
Brand
30-1525
30-1576*
*Note: Pre2007 models require O2 Sensor Plugs VT No.
30-0423
30-1525
30-1576
Chrome Stock Rear Exhaust Bracket. Fits 1980-2003 XL.
VT No. 31-0418
Oxygen Sensor Sealing Washer
VT No. Year
Fits
15-0081 2006-10 18 mm
15-0012 2011-up 12 mm
Exhaust Oxygen Sensor Plugs
are doing for away with your oxygen
sensor, use this threaded plug in its
place.
VT No. Fits
30-0423 18 mm
30-0448
30-0423
Wyatt Gatling Exhaust Drag Pipe Set Slash Cut Stagger
Style Side Viper Drag Pipe Set with 2" diameter for XL mod-
els with a forward control kit. Drag pipe set includes hardware
and features a black finish.
VT No. 30-0492