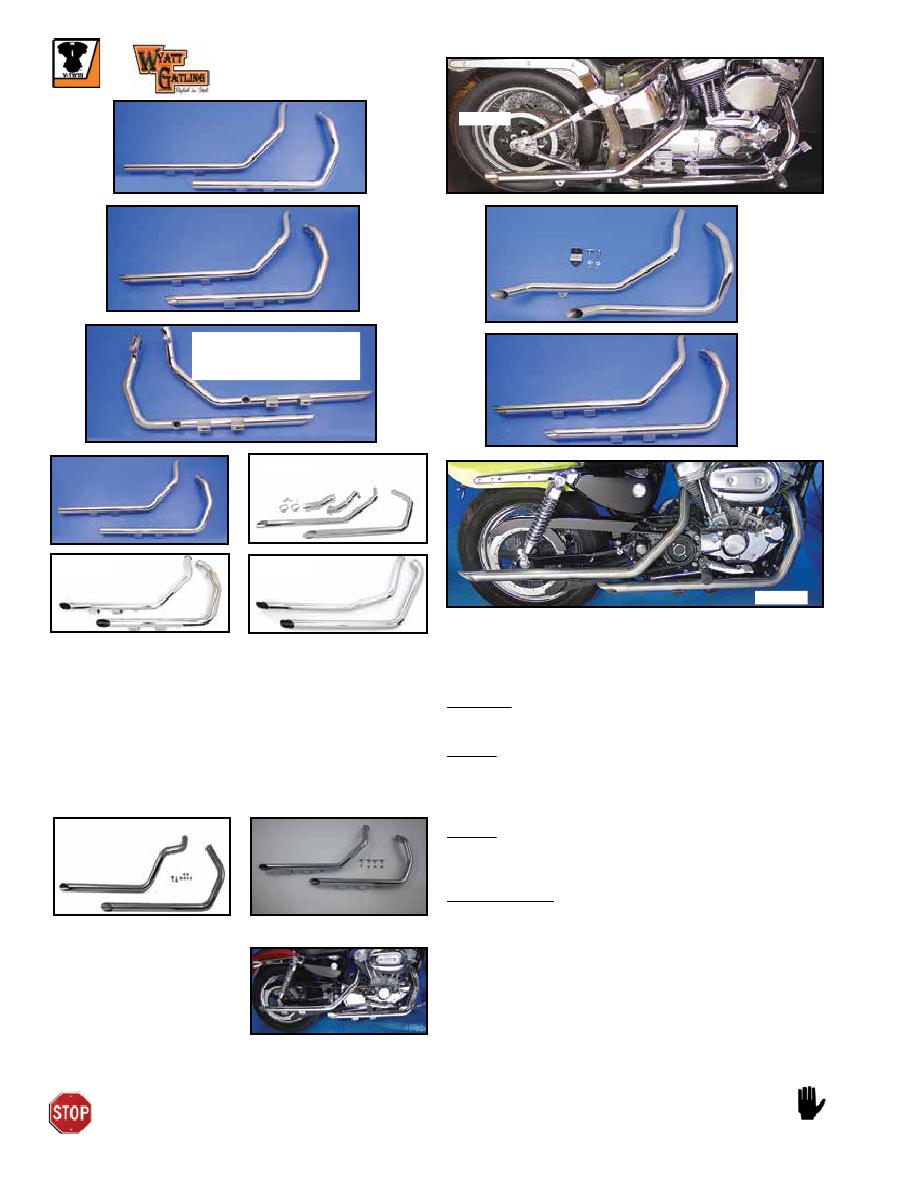 932
Drag Pipe
30-3012
30-0069
30-0080
30-0070
30-0879 Goose
Caution: These exhaust products are not legal for sale or use in California on pollution controlled vehicles. These products are intend-
ed for the experienced rider only.
Chrome Drag Pipe Sets by Cycle Shack are 40" in length.
VT No.
Bracket Size
1957-85, except 1979
1979 only
30-3106 — 1³⁄₄"
2004-06
30-0075 Stock 1³⁄₄"
*Note: With straight cut ends.
Note: 2007-up models are fitted
with oxygen sensors.
30-3106
Chrome 40" Drag Pipe set has a diameter of 1³⁄₄" and fea-
tures black slash cut tips.
VT No.
Year
30-3109 2007-13
30-3424 1986-03
30-0081
30-0089
2007-13 type pipes have
bungs to accept oxygen
sensors or plugs
30-0081
30-3006
30-3109
30-3424
30-0075
VT No. 30-0075
1³⁄₄" Drag Pipe Sets available in chrome finish with formed
heatshields (as noted) and either slash cut or straight ends.
38" length. Pipes mount by stock brackets except where
noted. 2007-up style have oxygen sensor ports.
With Heatshield
1986-2003 use with or without forward controls
30-3012
30-0879** Without O2 ports
2004-06
30-0070** Without O2 ports
30-0071
30-0069*
30-0080*
2007-13
30-0081
30-0089*
30-0071
1957-78, 1980-84
Note: These pipes require mounting bracket, 31-4052
With Without
Heatshield
Heatshields
30-3006
30-3010
30-3018***
*Note: With straight ends
**Note: Without O2 ports