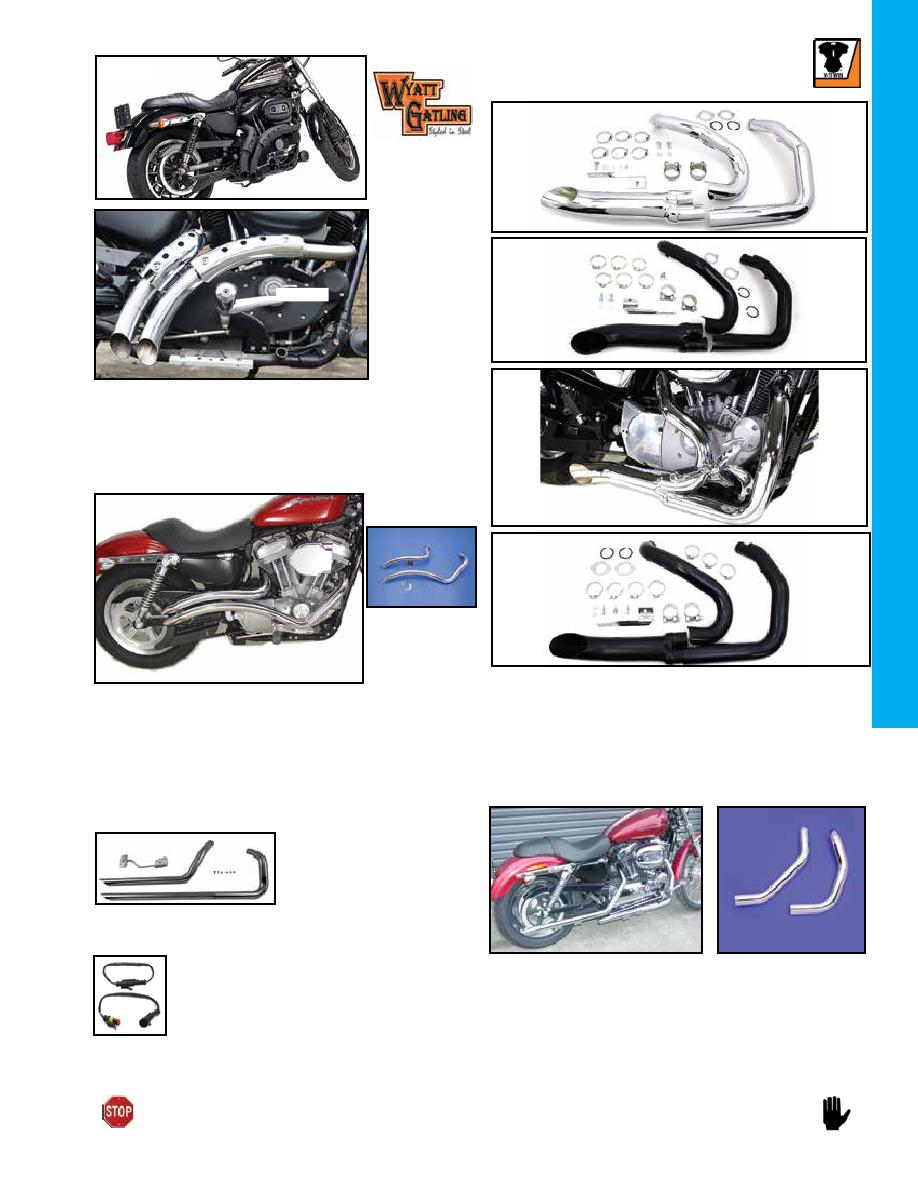 931
XL
30-0075
Magnum Exhaust 1³⁄₄" Drag Pipe Set is constructed of steel
and includes heat shields. Fits 2004-13 XL.
Note 2004-06
models require the purchase of
30-0423 O² oxygen sensor
bung plugs.
VT No. Finish
30-1286 Black
30-1285 Chrome
30-1286
30-1285
Cycle Shack 2004-06 XL Pipe Sets to fit all 883 and 1200
models. 1³⁄₄" header set accept factory heatshields. 2" head-
ers are supplied with heatshield Both 1³⁄₄" and 2" type mount
to factory support bracket. Muffler pipe sets feature one piece
construction and high flow rate baffles.
1³⁄₄" Muffler Pipe Set
VT No. Style
30-0075 1³⁄₄" Slash Cut End
30-0356 Heat Shields
30-0356
Big Guns Exhaust System.
Drag pipes feature 1³⁄₄" head
port end with 2¹⁄₄" diameter
body. All pipes fit with XLC for-
ward controls. Fits 2004-2006
Big Slash.
VT No. 30-0414
30-0414
Namz O2 Enrichment Device. Recommended for
bikes with high flow air cleaner performance exhaust
systems. Reduces engine operating temperature
between 20 to 30°. Simply plug in between oxygen
sensors and wiring harness. Works with stock ECM.
Sold in sets. Fits 2004-13 XL.
VT No. 32-6556
Drag Pipe Set
2" Curvado Pipe Set fits XL models. Include removable oxy-
gen sensor plugs to fit 2007-up models.
VT No. Item
Year
30-0387* Pipe Set
30-0384 Pipe Set
31-0988 Mount Bracket 1986-03
31-0989 Mount Bracket 2004-13
*Note: 2004-06 models will require separate purchase of
30-0423 O² sensor bung.
30-0387
30-0387
Wyatt Gatling 1³⁄₄" 2 into 1 Exhaust Header Set is a one
piece design featuring a turn out muffler. Fits 1986-up XL with
stock foot controls. Includes form fitted heatshield set. Note:
2004-06 models will require separate purchase of 30-0423 O²
sensor plugs.
1986-03 2004-13 2014-up Finish
29-0932 29-0934 29-0936 Chrome
29-0933 29-0935 29-0937 Black
29-0932
29-0933
29-0934
Important Note: Some items on this page may be emission-related parts subject to California or other emission control laws. Please
see note for important information regarding emission control regulatory compliance and warranty information.
29-0935