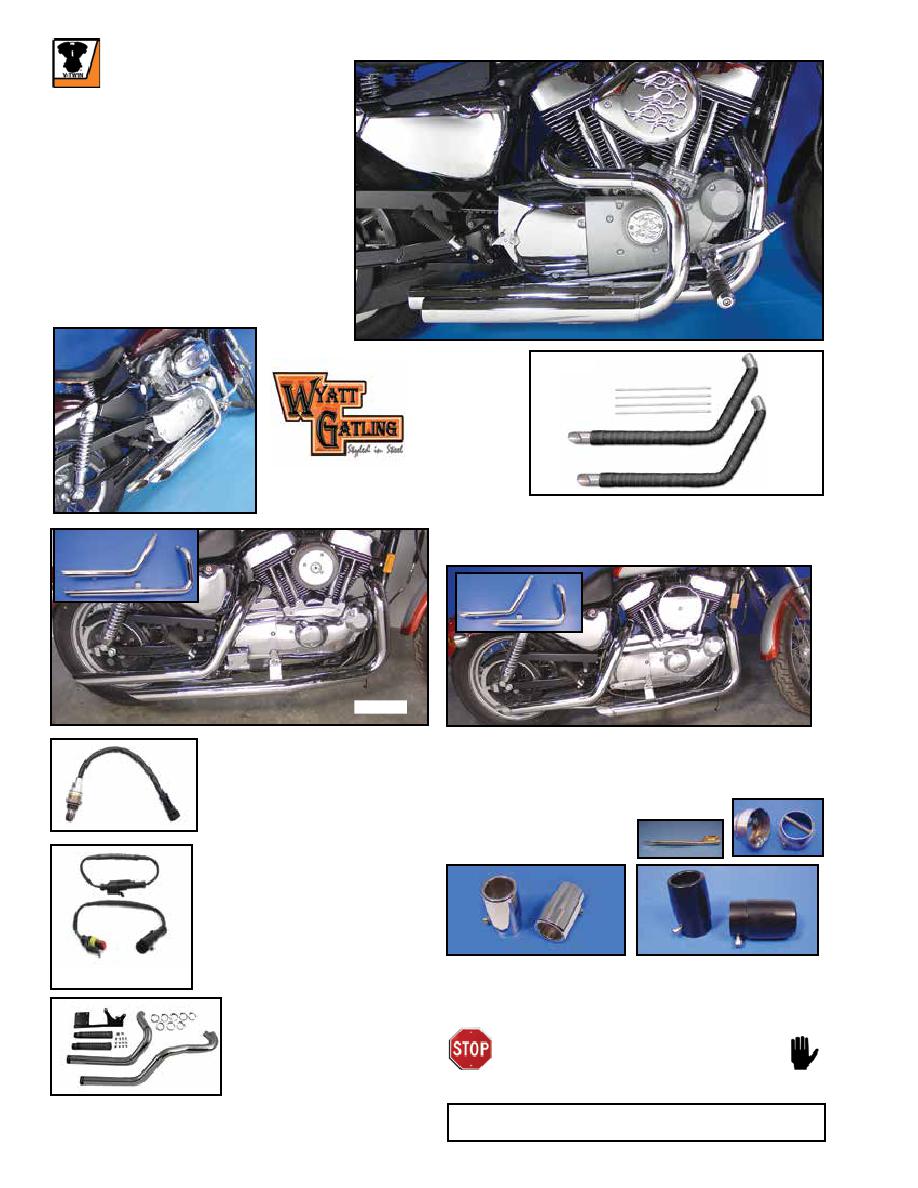 930
2004-13 XL Side by Side Pipes fit XL and XLC
models with forward controls. Pipes are 1
head and 2¹⁄₄" at end and includes brackets and
baffle set. 2007-up has provisions for oxygen
sensors. Sensors may be capped by 30-0423 if
desired.
VT No.
Type
Year
30-0477 Straight 2007-13
30-0327 Slash 2004-06
30-0380 Slash
30-0423 Oxygen Sensor Plugs 2007-up
2004-up
Exhaust Pipe
30-0327
2¹⁄₄" Drag Pipe Set features built in mount tabs to bolt to
stock bracket. Chrome replacement bracket and baffle set
available separately. Fits 1986-03 XL models.
VT No. Item
Type
30-0342 Pipes
30-0385 Pipes
31-0418 Bracket
30-0050 Baffle Ring
31-0418
30-0050
30-0385
30-0342
Billet End Tips fit 1
VT No. Finish
30-0796 Chrome
30-0797 Black
30-0796
30-0797
Oxygen Sensor Units sold each.
Fits 2007-up
VT No. Fits
30-0434 2007-13
30-0490 2014-up front
30-0491 2014-up rear
Limited Warranty. Exhaust Products distributed by Tedd Cycle Inc. are warrantied against defects in mate-
rial and workmanship, which include fitting and finish quality at the time of installation only. Claims regarding
discoloration, peeling blistering or blued chrome will not be considered as defective material or workmanship
and cannot be returned as such as per manufacturers warranty.
Black Heat Wrapped Drag Pipe Sets for
1986-03 XL models.
VT No. 30-4049
30-4049
Namz O2 Enrichment Device.
Recommended for bikes with high
flow air cleaner performance exhaust
systems. Reduces engine operat-
ing temperature between 20 to 30
degrees. Simply plug in between
oxygen sensors and wiring harness.
Works with stock ECM. Fits 2007-13
XL. Sold in sets.
VT No. 32-6556
Chrome Rinehart Crossback
2 into 2 Exhaust Drag Pipes
include header pipes, flash cut
mufflers, heat shields, baffles
and billet end caps. Fits:
2004-up XL.
VT No. 30-1552
Important Note: Some items on this page may be
emission-related parts subject to California or other
emission control laws. Please see note for important
information regarding emission control regulatory com-
pliance and warranty information.