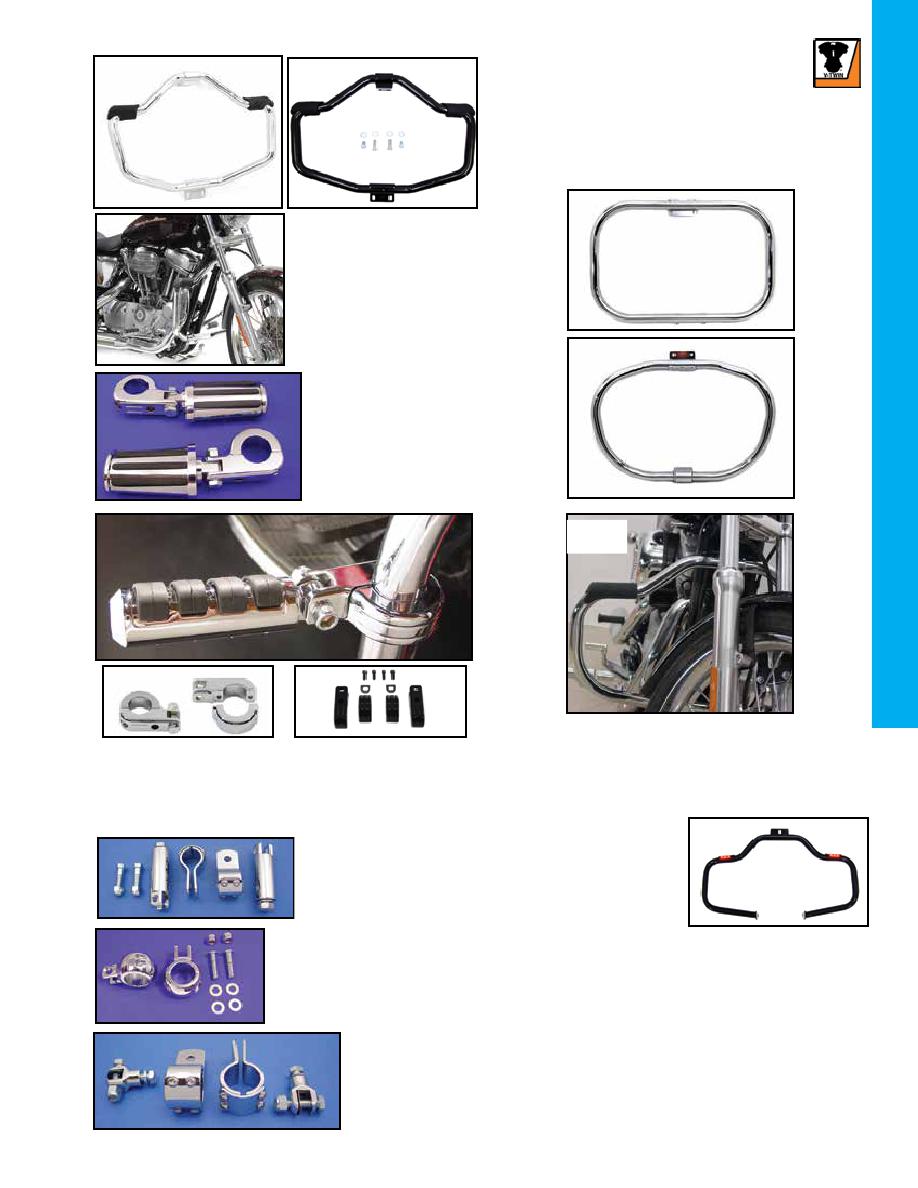 921
XL
XLH-XLCH 1¹⁄₄" Diameter
VT No. OEM
Fits
51-0886 49042-56A 1956-81
51-0888 With Pads
51-0939 49060-04
51-0985 W/Pads
Chrome Front
Engine Bar
51-0886
1956-81
style
FOR ENGINE BARS LISTED ON THIS PAGE
WARNING: ENGINE/FRAME BARS MAY PROVIDE LIMITED LEG AND COSMETIC VEHICLE
PROTECTION UNDER UNIQUE CIRCUMSTANCES (FALL OVER WHILE STOPPED, VERY
LOW SPEED SLIDE). THEY ARE NOT MADE NOR INTENDED TO PROVIDE PROTECTION
FROM BODILY INJURY IN A COLLISION WITH AN AUTOMOBILE OR ANY OTHER OBJECT.
Footpeg Mount Kit
allows male-type
pegs to be mount-
ed to 1¹⁄₄" diameter
engine bar.
VT No. 27-0651
Mega Footpeg Kit features
billet clamp set to attach to
1¹⁄₄" engine bars.
VT No. Item
27-0587 Footpeg Kit
27-0698 Bracket Set
27-0587
51-0939
51-0985
Installed
Chrome Footpeg Mount
Kits include clamp set and
extension bars to accept
male pegs.
VT No.
Size
27-0032 1"
27-0033 1¹⁄₈"
27-0034 1¹⁄₄"
Chrome Billet Engine Bar Footpeg Mount Kit fits on 1¹⁄₄"
front engine bars with male pegs.
VT No. Item
27-0660 Kit
27-0654 Chrome, Mounts Only
27-1788 Black, Mounts Only 1¹⁄₄" Bar
27-0032
Bar Clamps fit 1¹⁄₄" engine bars
to mount male footpeg sets.
VT No. 27-0892
27-0660
Installed
27-1788
27-0654
Black
Engine Bar features built in amber LED lights to work as turn
signals.
Chrome Black Fits
51-0021 51-0022 2004-up XL
Engine Bars fit 2004-up XL,
2008-2013 XR.
Chrome Black
51-1334 51-1335
51-1334
51-1335
51-1334
Installed