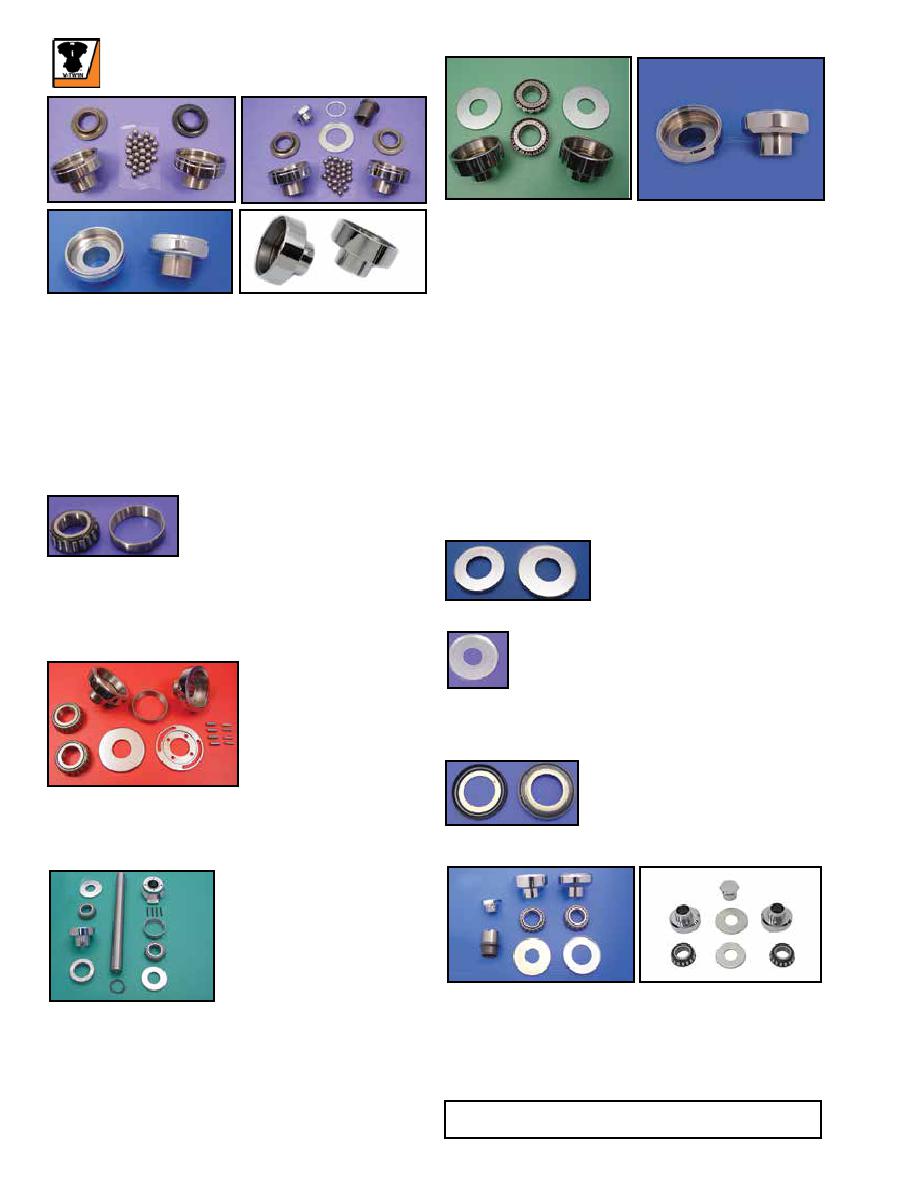 912
Ball Bearing Neck Cups available in pairs as zinc cups only or
chrome kit with races and balls. Fits 1952-77 Sportster.
Note: Sportsters use 28 ball bearings.
VT No.
OEM
Finish
24-0110 48310-30 Zinc Cups
24-0135 Cpt. Kit
24-0195* Cpt. Kit
12-0157 8860
12-0128 8860
24-0099 48346-39 Upper Race
24-0621 48347-52 Lower Race
*Note: Includes top nut, sleeve and dust cover.
Neck Cup Kits for Sportster to convert 1952-77 ball bearing
style cups to Timken tapered type. Complete conversion kit
includes two (2) chrome cups, two (2) tapered bearings and
dust shields, 1978-up types are for stock replacement.
VT No.
OEM
Year
Item
24-0225 Kit
24-0232 Set
24-0233 Set
24-0157 Set
24-0338 48310-78
24-0101 45586-78
12-0354 As Above
24-0221 45597-78
24-0619 48370-78
24-9935 All
24-9936* All
24-0118 Set
24-1098 Set
24-1324 Kit
7/8" to 1" Conversion Kit
*Note: Does not include neck cups.
24-0225
24-1098
Neck Cup Kit
"Raked" Chrome Neck Cup Kits provide 3° rake when
installed.
VT No.
Year
24-0289 1952-77
24-0291 1978-81
"Raked" Neck Cups
Note: Rake Neck Kits are for Show Applications only and
Require longer Fork Tube to be Installed.
Neck Cup Kit features solid
internal fork stops that are
built into the cups and hidden
away. Fits stock and custom
rigid frames that accept stock
XL neck cups. Kit includes
cups, races, bearings and cov-
ers.
Note: Drilling of triple tree
required at bearing area. Fits 1957-81.
VT No. 24-0236
1988-03 "Raked" 3° Chrome Neck Cup Kit includes a chrome
cup set, bearing set, dust shields, and a longer fork stem and
adapter. Rake requires long fork tubes and neck lock cannot be
retained. This has a built in external fork stop tab. Raked neck bear-
ing and race kits will require longer fork tubes to be installed on all
applications. There is a second spacer machined in cup. For show
use only.
VT No. 24-0294
24-0294
24-0289
Dust Shield Sets include upper and
lower for 1982-up.
VT No. Finish
24-0117 Zinc
24-0114 Chrome
Dust Shields zinc plated. *Note: Chrome
VT No. OEM
Fit
Model
24-0221 45597-78 Upper
24-0618* 48361-80 Upper
24-0112 48365-48A Lower
24-0619 48370-78 Lower
24-0111 48370-52 Upper
14-0174 48184-01 Upper/Lower 2004-up
24-0135
24-0195
Fork Stem Bearings and Races.
Order separately as noted for 1982-up
XL.
VT No.
OEM
Item
U/M
24-0118 48360-60 Bearings Pair
12-0384 Peer
12-0335 Timken
12-0348 48315-60 Race
12-0383 Peer
24-0110
24-0157
24-0291
Bearing Seal Set fits 2004-up XL mod-
els.
VT No. 14-0174