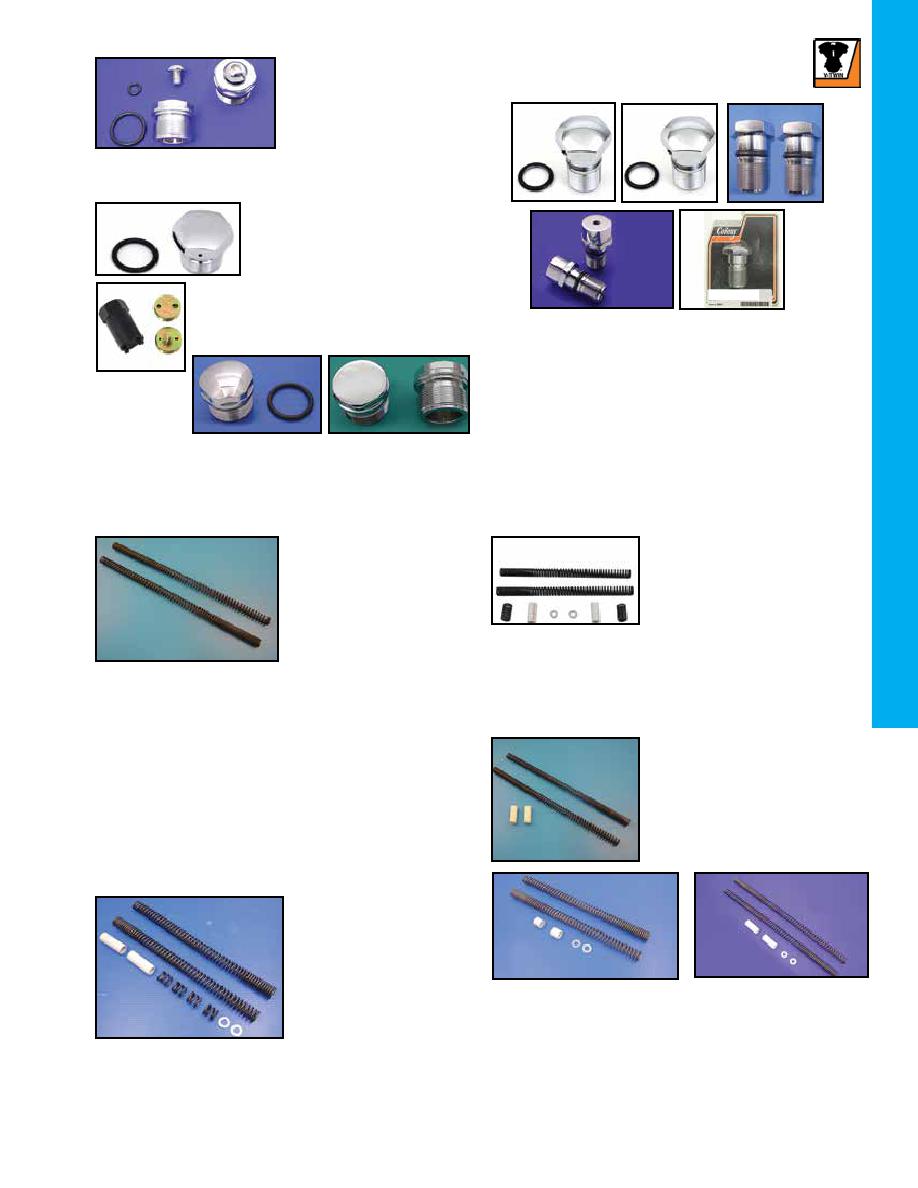 909
XL
XL
39mm Street Tough Fork Springs
by 20th Century Suspension.
Progressively wound springs are
made using drawn spring wire.
Eliminate front end sag, reduce
nose dive under braking and
improve stability. Fits 1988-91
Showa.
VT No. 24-0164
Fork Tube Spring Sets fea-
ture high tensile strength wire
construction with ground ends.
Sold in pairs for OEM replace-
ment per the factory number.
For more fork spring applica-
tions check factory parts book.
Fork Spring
20th Century Fork Spring
Lowering Kits for Showa forks
have progressively wound springs
that resist bottoming out. Installation
requires minor disassembly to lower
the front forks 1 1/4" or 2" depending
on the spacer used. Kit includes springs, spacers and hard-
ware. Easily converts back to stock by reinstalling stock fork
springs.
Progressive Suspension
Fork Lowering Kits.
Each kit comes with
Progressive rate fork springs
and spacers. Each kit can be
installed at two different lev-
els to lower fork 1" or 2".
VT No. Fits
24-1560 1988-up
24-1559 1984-87
24-0160
Progressive Suspension Fork Springs feature high quality,
high performance replacement fork springs that eliminate front
end sag, reduce nose dive under braking, improve cornering
stability, increase ride comfort and allow forks to utilize full
travel. Sold in pairs.
VT No. Size Fits
24-0883 39 2004-up XL
24-2056 39 1988-up XL except Hugger
24-2045 39 1992-up XL Hugger
24-2040 35 1952-87 XL-XR
24-2040
24-2056
Chrome 35 mm Fork Plugs.
VT No. OEM
Year
7622-1 45993-73 1973-85
7622-1T 45993-73 1973-85
37-8988 As Above Pair
24-0166* 45933-74 1974-85
8863-1 45993-86 Late1985-Mid87
*Note: 24-0166 is drilled and tapped to accept gauge mounts.
Chrome 39 mm Fork Plugs. Replace 45596-87.
VT No. Year
Type
UM
9914-2 As Above Domed Each
24-0335* 1988-up
24-0335
9914-2
24-0166
37-8988
Chrome Top Fork Tube Plug
replaces 45756-59. Sold each. For
1957-72.
VT No. 7621-1
33.4, 35 & 39 mm Fork Plug
Fork Tube Spring Retainers and Pin Wrench
Kit includes 2 retainers for 1952-72 XL and pin
wrench for installation removal of retainers.
VT No. 7700-3
VT No.
Type
Fits
24-0862
24-0863
24-0863
E-Z Fill Fork Tube Top
Plugs feature a small oil fill
cap built into fork tube top
plug which will allow fork oil
change/fill without removing
top fork cap. Pairs.
VT No. Type Model
24-0160 39mm 1987-95
24-0161 35mm 1975-87
VT No. OEM
Fits
MM
33.4mm
24-0822 46057-52 1952-70 XLH-XLCH
24-0900 46057-71 1971-72 XLH
24-0901 45984-73 1973-74 XL
24-0904 45408-75 1976-83 XLH-XLCH
24-0903 45987-77 1979 XLS
24-0905 45907-80 1980-83 XL
24-0906 46052-80 1980-82 XLS
24-0913 45376-87 1987-94 XL
24-0933 45372-92 1992-96
24-0919 45376-97 1997-2003
24-0932 45376-04 2004-2008
7622-1
7622-1T
8863-1