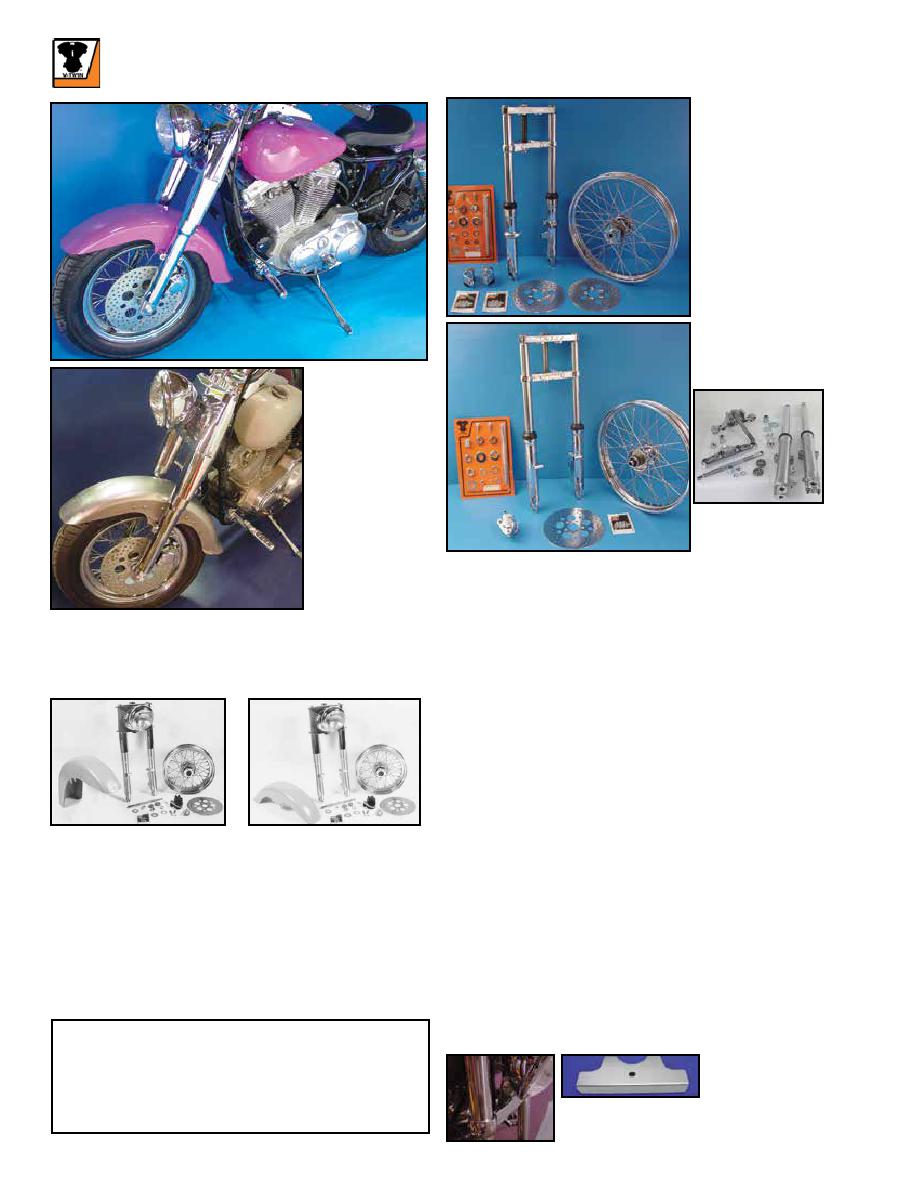 904
41mm FLST Style Complete Front End Assembly to fit XL
models. Kits include the complete fork assembly kit, with the
addition of the 5 piece chrome fork cover set, 7" headlamp and
bracket, 16" chrome wheel, speedometer drive, chrome caliper,
11.5" drilled disc, and fat kid style or FLST style fender. Kits
available with a chrome caliper and polished or chrome lower
legs.
1982-2003 Fat Kid Style Kit
24-2036 Kit with Chrome Lower Slider
1982-2003 FLST Style Kit
24-2035 Kit with Chrome Lower Slider
41 mm FL Glide Style Fork Kit for XL
VT No. Year
Sliders
24-0765 1982-2003
24-0766 1982-2003
24-1457 Cone Nut
41mm
Glide Fork
Assembly
Single 11
"
Disc Style
24-2023,
24-2025
Chrome Lower Tree Cover covers area
on lower tree below headlamp.
VT No. 31-9991
Dual 10" Disc Style
24-2024,
24-2026
Fat Kid
Style
FLST
Style
24-2036
Fatster
TM
The V-Twin
TM
Fork Assembly is shipped complete with axle, axle nut, spacer,
top nut, bearings, cone nut, dust cover, triple trees and fork tubes & sliders.
Fork tubes and sliders are fully assembled with internals. Final assembly of the
remaining components is done by the dealer. Every leg assembly is shipped
dry. We recommend use of the appropriate fork oil such as Type B. The
amount of fork oil to add varies by model. A FX will need about 6 oz per leg, a
FL will need about 8.5 oz per leg and a FXWG need about 10 oz per leg. Due
to oil cling, dry for leg needs about 1 oz more to fill than a drained leg would
require.
41 mm Fat
Kid Style Fork
Assemblies Only.
Include chrome top
tree, black lower
tree with polished or
chrome lower slid-
ers assembled with
hard chrome fork
tubes and axle kit.
24-0759
41mm Glide Fork Assemblies for 1952-up XL models.
Feature wide style with chrome triple trees, polished or chrome
lower sliders, hard chrome fork tubes, axle, neck bearings, top
cone and stem nut, pinch bolts and bearing dust covers. Fork
is 31" overall length. Single disc units accept 11.5" brake rotors,
dual rotors type uses two 10" brake rotors. All units require Big
Twin WG front wheels. Also available as complete kits with 21"
wheels and black or chrome calipers, brake rotors and brake
disc bolts. Order neck cup set 24-0157 for 1952-78 models.
Units do not include provision for fork lock. Single disc models
accept 36-0803 speedo drive, dual disc models accept 36-0547
speedo drive kit.
1952-81 Fork Assemblies.
VT No. Type
Finish
24-0759 11.5" Single
24-0761 10" Dual Chrome Slider
1952-81 Fork/Wheel Assemblies.
These assemblies include 21" chrome wheel, chrome caliper(s)
drilled disc brake disc(s) and brake disc bolts.
24-2023 11.5" Single
24-2024 10" Dual Chrome Slider
1982-03 Fork Assemblies.
24-0040 11.5" Single
24-0041 11.5" Single
24-0042 10" Dual Polished Slider
24-0043 10" Dual Chrome Slider
1982-03 Fork/Wheel Assemblies.
These include 21" chrome wheel, chrome caliper(s), drill disc
brake disc(s) and brake disc bolts.
24-2025 11.5" Single
24-2026 10" Dual Chrome Slider