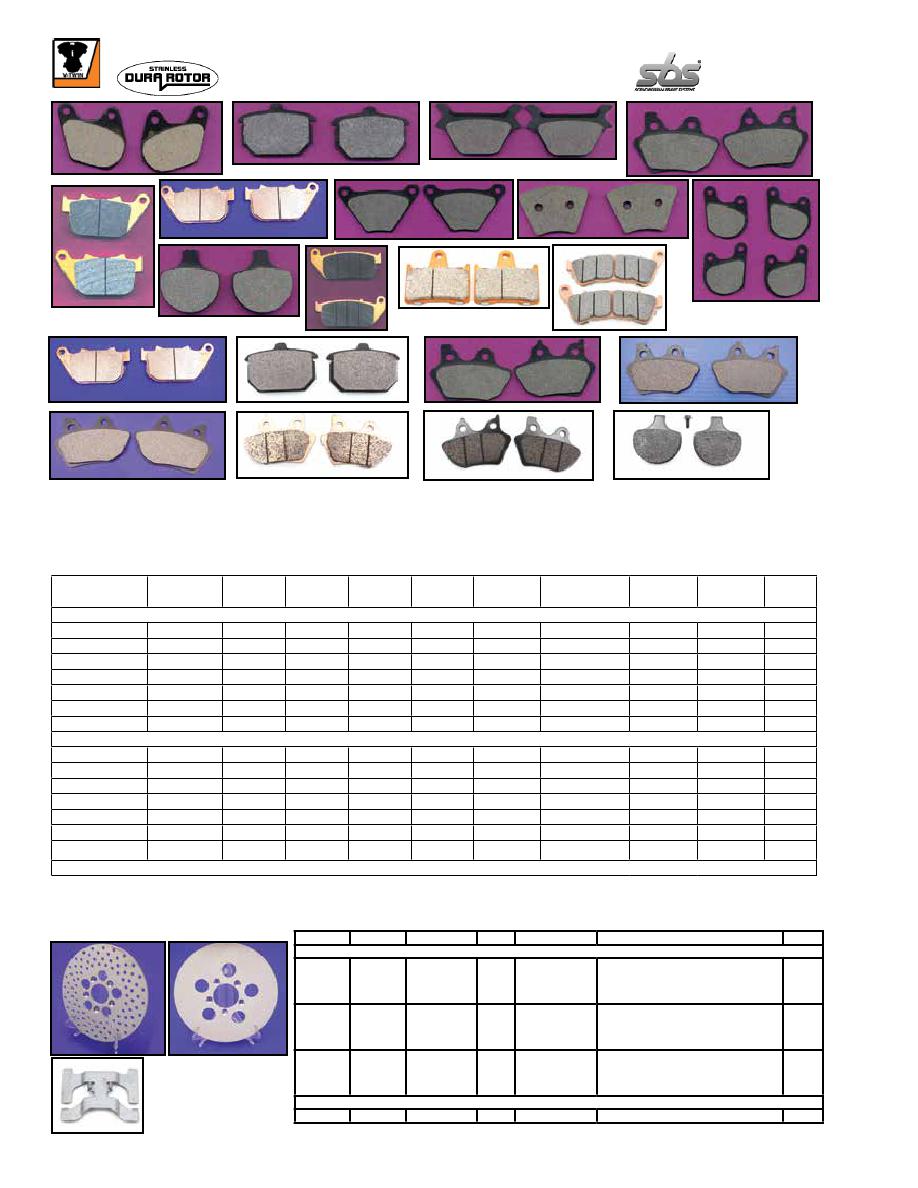 900
G
B
C
D
H
I
A
J
E
K
Fits
OEM
Dura
Metallic
Dura
Ceramic
Dura
Soft
Dura
Semi
Dura
Veloprene
SBS
Sintered Tech
SBS
Ceramic
SBS
Carbon
Photo
#
Rear Disc Pad Sets for Stock Type Calipers
1979-81 XL
—
23-0999
23-0510
23-0640
23-0618
—
—
—
—
23-0912
23-0511
23-0641
23-0619
—
23-1764
23-1776
—
23-0992
23-9163
23-0642
23-0620
23-1780
—
23-1779
—
23-0993
23-0526
23-0643
23-0546
23-4559
23-1781
23-1782
—
23-0916
—
23-1950
23-1951
23-1952
—
—
23-0183
23-0910
—
—
23-0184
—
—
—
23-0185
23-0186
—
—
23-0187
—
—
—
Front Disc Pad Sets for Stock Type Calipers
1973 XL
—
23-0913
23-0513
23-0644
23-0621
—
23-1763
23-1775
—
23-0915
23-0514
23-0645
23-0623
23-1767**
23-1786
—
—
23-0911
23-0509*
23-0646
23-0624
—
23-1760*
23-1783*
—
23-0996
23-0512
23-0647
23-0625
23-1784
23-1762
23-1785
—
23-0993
23-0526
23-0643
23-0546
23-4561
23-4560
23-1782
23-1958
23-0914
23-1959
23-1955
23-1956
23-1960
—
—
23-0188
23-0189
—
23-0190
23-0191
—
—
—
*Note: Set of Four, **Note: Dura Brand
F
V-Twin Mfg
TM
Brake Rotors feature fine finish ground surface. Available with or without
holes in steel with zinc finish unless as construction as noted as stainless. Exactly inter-
changeable with stock discs. Order bolt set separately.
Drilled Plain
OEM
Dia. Bolt Kit
Fits
Type
FRONT
23-0304 23-0305 41813-79 10"
8738-10
8738-10T
Cast or Wire
1972-84 FLH
1973 only FX
23-0309 23-0310 41806-72B 10"
8738-10
8738-10T
Cast or Wire
1972-84 FLH, 1973 only FX
with built in offset
23-0311 23-0312 44137-77A 10"
8758-10
Cast or Wire
1977-83 All FX Cast or Wire
2³₈" Inner Diameter Center
Hole
REAR
23-0307 23-0308 41791-79 11.5" 8791-10
Replica Steel
Brake Rotor
23-0312
23-0309
23-0546
Dura Veloprene
23-0526
Dura Semi
Dura Soft
23-0183
Dura Metallic
Dura Ceramic
23-4559
SBS Sintered Tech
SBS Ceramic
SBS Carbon
23-1785
23-1781
M
L
23-0643
Disc Brake Pad
23-0912
Disc Brake Pads are available in Dura, SBS, Dura Kevlar, Dura Semi-Metallic for excellent stopping on all types of disc rotors. Dura replacement pads
are a soft compound designed to be compatible to all types of brake disc rotors.
SBS brand is available in Sintered, Ceramic or Carbon Tech compounds.
Sintered Metal Pads provides maximum stopping power but can never be used in calipers that were originally equipped with non-sintered pads. Works
best with stainless steel disc rotors.
Ceramic Pads are designed for general purpose use on carbon steel rotors and can be used on carbon steel rotors and
can be used on calipers originally equipped with sintered metal brake pads.
Carbon Tech Pads designed for use in all stock or aftermarket calipers. Works
well with stainless steel or cast iron rotors.
Veloprene is relatively soft compound compared to ceramic or metallic but heat resistant and less abrasive to rotors,
including polished stainless types.
Vibration Shims fit
rear pads. Fit 2004-
up. Replaces 42521-
04.
VT No. 23-9268
23-9268