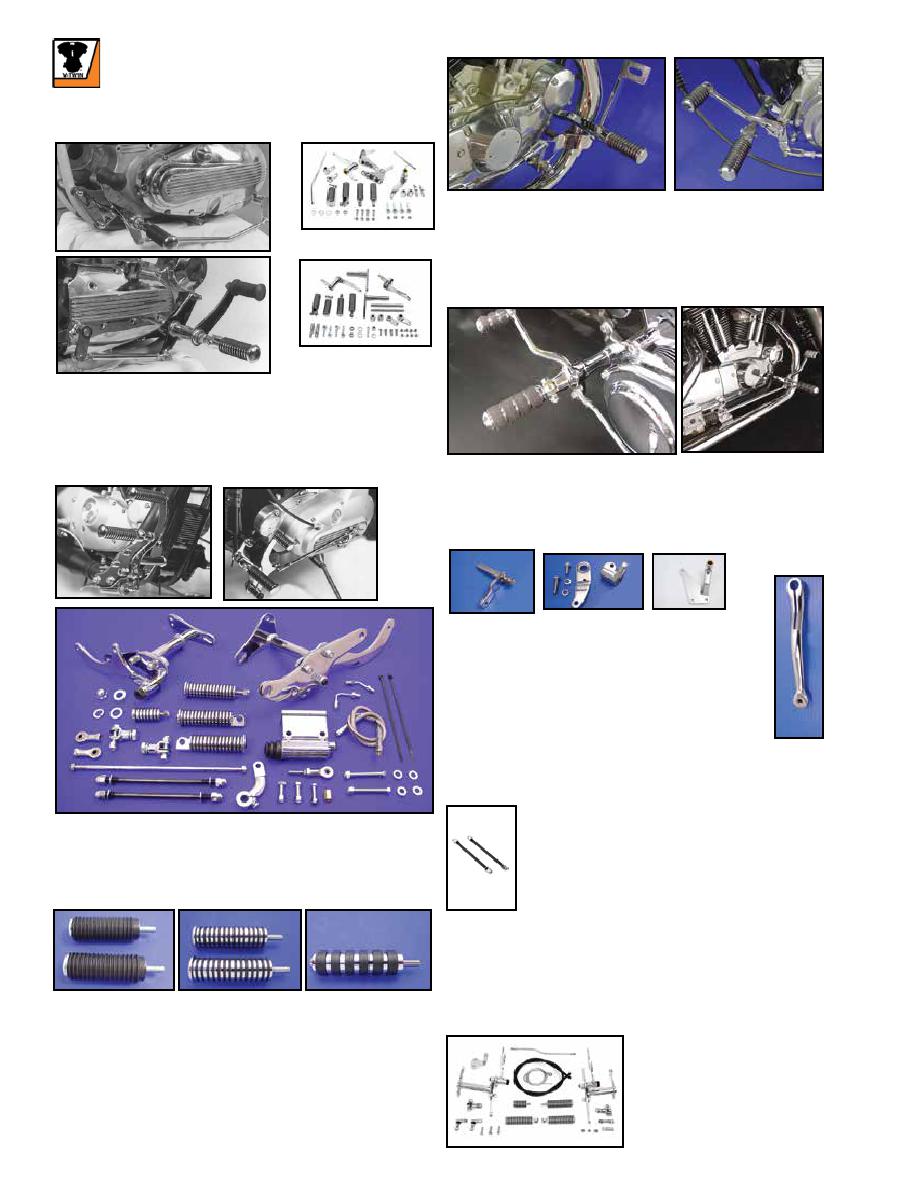 890
Right
Forward Control
for 1957-1990 4 Speed
Front Motor Mount Bolt Kit. Stock length kits
include chrome spacers and washer. Extra length
kit are bolts only and do not include spacers. Use
extra length kit for installing forward controls or
hiway bars. Fit 1957-84.
VT No.
Type
Style
7141-18 Stock
37-9207* Stock
9797-20 Stock
7408-10 Extra long
7408-10T Extra long
37-9086 Chrome
37-9158 Washers, 4 pack
*Note: Does not include spacers
7408-10T
XLH-XLCH Forward Controls are chrome plated and com-
plete as pictured for right and left sides for 1957-78 models with
mechanical brakes. Purchase longer motor mount bolts sepa-
rately. Note: Front Pipe may have to be indented for clearance.
VT No. Fits
Brake Shift
22-0700 1957-74 Left Right
22-0701 1977-78 Right Left
VT No. 22-0700
Brake Pedal can be used as a replacement for Daniel Boone
or Davy Crockett controls. The ³⁄₈ - 16 threaded stud can also
be used as rigid mount foot pegs.
VT No.
Item
U/M
27-1519
27-1520
21-0671
27-1519
27-1520
Daniel Boone Forward Controls fit models as listed. 1977-78
models are cable operated and include cable. 22-0391 includes
master cylinder and stainless brake line.
VT No.
Fits
Brake
Shift
Brake Type
22-0391 1979-83 Right Left
21-0923 1957-74
22-0391
Brake
Side
Shift
Side
VT No. 22-0701
22-0766
Right Side
Brake
22-0766 Left
Side Shift
Chrome Forward Control Kit for XL models, featuring XLC
styling. Kit includes Cats Paw
Foot and Shifter Pegs except
on 22-0588 order pegs separately.
VT No. Item
Years
Speed
22-0766 Control Kit with pegs
22-0588 Control Kit +2" without pegs 1986-2003
Replacement Parts.
VT No. Item
23-9202 Brake Pedal only
22-1046 Bracket Only
21-2058 Shift Foot Lever only
21-2018 Inner Shift Lever, 5 Speed
21-2052 Two Piece Shift Arm, 4 Speed
21-0957 Shifter Arm Extension
21-0956 Shifter Pedal Mount
21-0402 Shifter Peg
27-1580 Footpegs
22-0451 Jockey Clutch Pedal Shaft, chrome
21-2052
22-1046
21-2018
Left
Right
883-1000-1100-1200 Forward Control Kit for Sportster models
with alternator. Includes chrome brake and shifter assemblies,
complete with all necessary brackets, pedals, linkage, O-Ring
pegs and hardware for installation. Use existing master cylinder
for assembly.
VT No. Year
Model
22-1048 1986-90
Chrome Forward Control Kit
fits 1954-1974.
VT No. 22-0406
21-2058
Left
21-0671