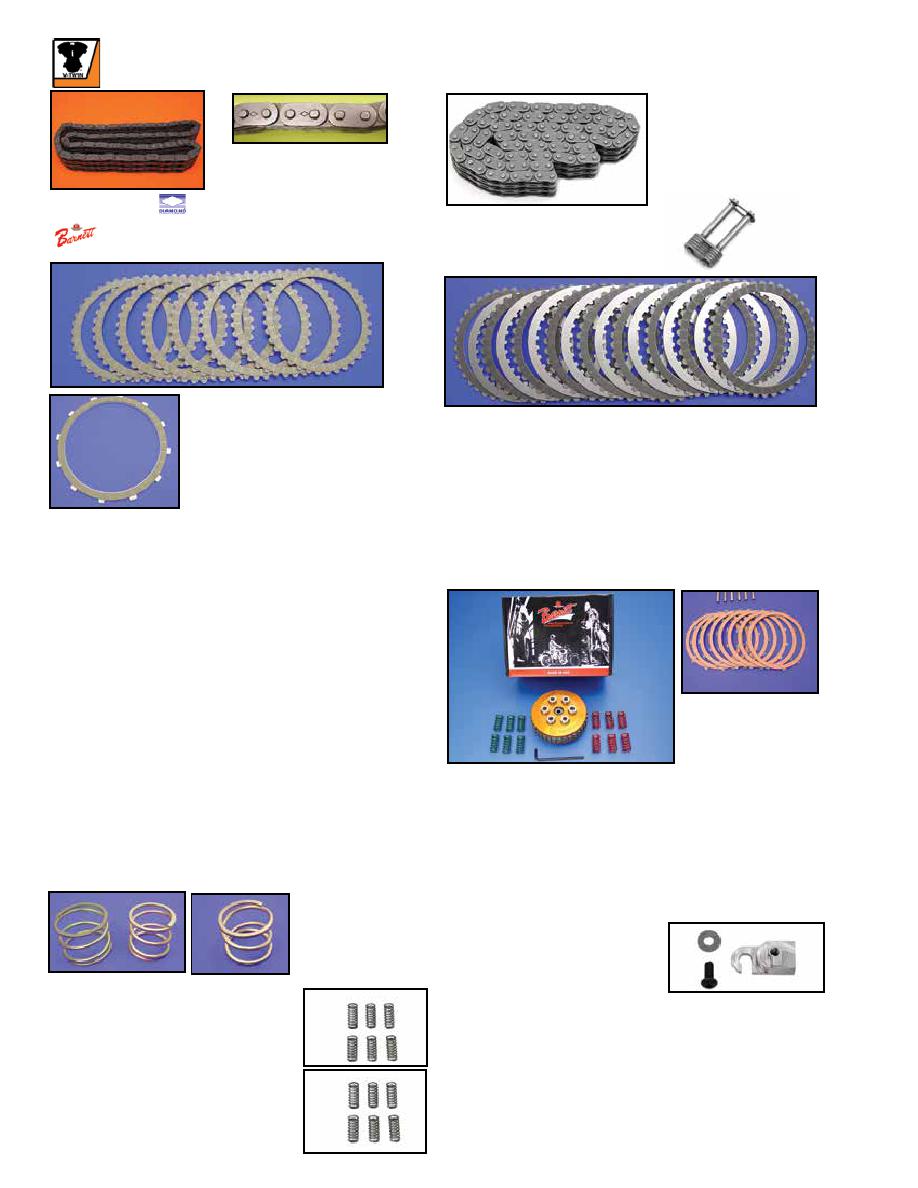 880
Clutch Springs. Stock type are sold as
sets.
Fits 1971-84
VT No. Brand
Quantity
13-0141 V-Twin 2
13-9204 Heavy Duty 1
13-2007 Sifton
Fits 1952-70
13-0140 V-Twin
13-9254 Barnett
Carbon Fiber Clutch Sets for wet clutch by Barnett. Carbon
fiber clutches feature excellent lubricity and very good energy
absorption. Order steel plates separately.
VT No.
Year
18-3688 1971-84
18-3689 1984-90
18-3690 1991-up
18-3691* 1991-up
*Note: Consists of nine friction plates and eight steel drive
plates. Add 12% more surface area. Double steel drive plate is
not used.
18-3691
Barnett Scorpion Clutch Kit features over twice as much fric-
tion surface area compared to stock clutch. Scorpion Clutches
provide a positive engagement and release. The kit incorpo-
rates six heavy duty coil springs. In addition, an extra spring set
with a different spring rate is included which allows the clutch
to be tuned for street or race application depending on usage.
Tunability is easy without removal of the primary cover. Barnett
friction plates are compatible with any primary oil. Each kit is
designed to be used with stock type clutch basket.
VT No.
Fits
18-3722 1971-83
18-3732 1984-90
18-3742 1991-up
1971-84 Barnett
Friction Plate Set.
Original compound.
VT No. 18-3122
13-9204
13-0141
13-0140
13-9254
Barnett Series K Kevlar Clutch Plates
and Steel Plates for Sportster. The
ultimate in durability, smoothness and
strength. Steel backed plates give smooth
precise launches and shifting even
under extreme heat. 100% asbestos
free. Barnett friction clutch sets and steel
plates, sold in sets only.
VT No.
Year
Type
U/M
18-1115 1952-70
.047 Thick wit key hole slots
18-1116 1952-70
18-1117 1971-84
Wet Only Supplied with Spacers
18-1118 1971-84
Inner/outer slots keep plate flat and true
18-1119 1971-84
Bonded one side outer drive plate
18-3665 1984-90
18-8248 1984-90
9 Friction 8 Steel Plates, adds 14% surface area.
18-1146 1984-90
18-3230 1991-up
18-3231 1991-up
Re-use stock double riveted drive plate
18-3233 1991-up Extra Plate Consists of 9
Kevlar Friction, 8 Steel Plates. Adds 12% more
surface area, double riveted drive plate not used.
18-1119
Barnett Clutch Kit
18-3742
Diamond Endless Primary Chains
with oval side plates.
VT No. Year
Sprocket Link
19-0362 1957-2003 34
19-0369 2004-up 38
19-0362
Primary Chain
Primary Chain features end-
less construction, oval shape
side plates. Fits 1957-2003
XL (35 x 3 x 94) for 34T
sprocket.
18-3230
Tamer Clutch Pull Kit will soften the "pull" required on 1999-
up Sportster models. The tamer replaces the stock Harley
clutch on all of the 1999 to present Sportsters. The pivot is
moved closer to the center so the clutch lever is easier to pull
for those who have difficulty holding their clutch while driving.
A finger lock is in place to help better hold the clutch spring in
place during the installation process.
*Note: For use with the
clutch outer ramp and the clutch ramp assembly.
Fits 1999-up.
VT No. 18-0634
VT No. Item
19-0932 94 Link Chain
19-0373 96 Link Chain
19-0271 Master Link
19-0271