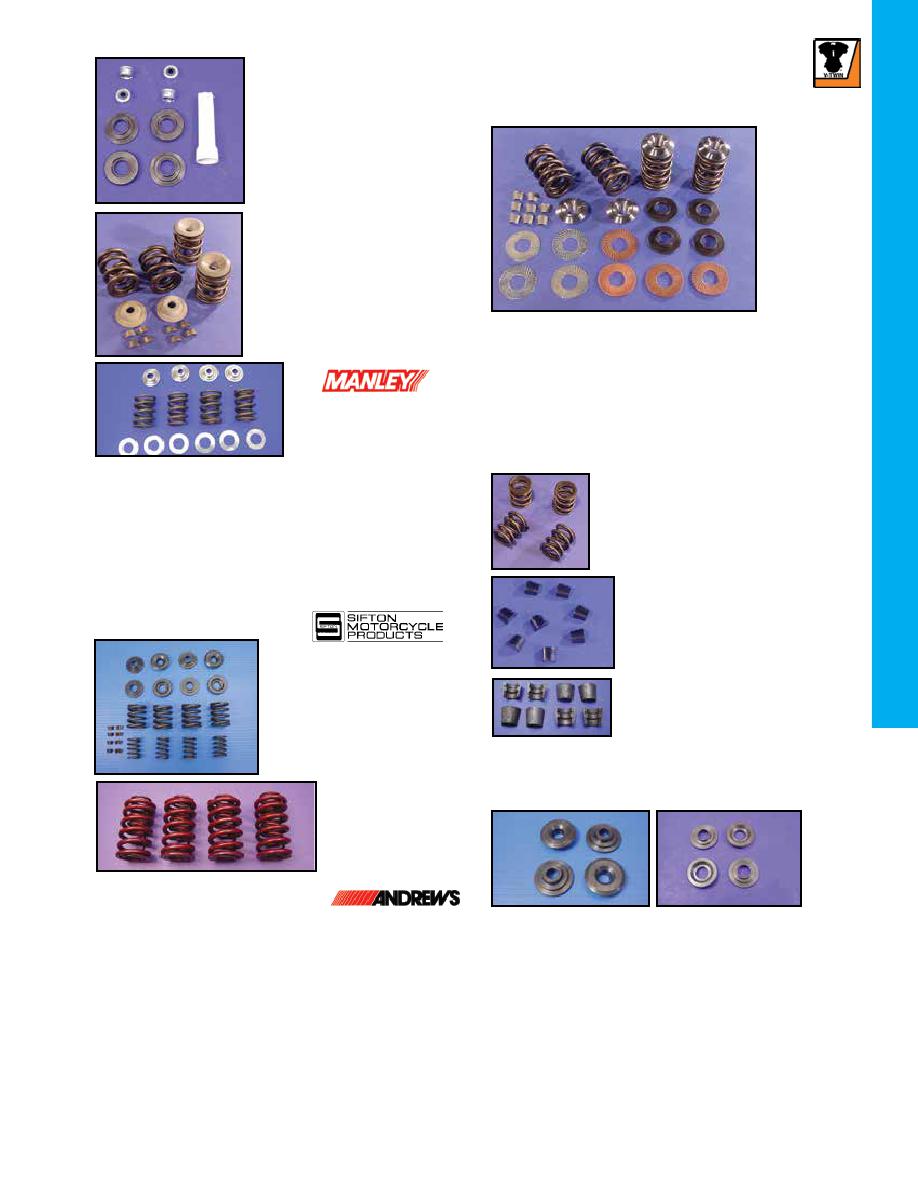 851
XL
Kibblewhite Lightweight Valve
Spring Kits include springs, keepers,
retainer, and lower collars unless
noted. Fits 1970-84 XL for 160 lb seat
pressure, up to .460" valve travel.
Hard-anodized aluminum retain-
ers. May require "R" model valve to
achieve installed height.
VT No. 13-2210
Kibblewhite
Lightweight
Valve Spring
Kits include
springs, keepers,
retainer, and
lower collars
unless noted.
13-2210
11-9608
Valve Spring Kits. Includes all
springs, collars and keepers nec-
essary for each application.
VT No. Year
Spring Only
13-9211 1957-81 13-0102
13-9199 1981-83 13-0102
13-9207 1983-85 13-9175
13-9196 1986-01
13-9211
Andrews Valve Gear
VT No
Item
1986-2001 XL Evolution
13-9251 Hi-Lift Springs .550+ :No machining required
13-9251
Kibblewhite Valve Keeper Keys Split
type Packaged and sold in four pairs per
package enough for one engine.
1957-85
11-0514 V-Twin
11-9614 Manley
Steel Valve Collars. Precision Machined and heat treated.
Black oxide finish.
VT No. OEM
Use
Year
Model
11-0806 18220-57 Lower 1957-Early81 900 and 1000
11-0807 18220-81 Lower 1981-Early83 900 and 1000
11-0808 18220-83 Lower Late1983-85 900 and 1000
11-0809 18221-57B Upper 1957-84
11-0810 18222-83 Lower 1986-01
11-0811 18219-83 Upper 1986-01
Kibblewhite Valve Spring Set for High Lift
Cams can be used with stock retainers and
lower collars.
VT No. Fits
13-2215 1970-84 stock replacement
All Evolution XL
VT No.
Type
13-2085 170-180 lb seat pressure, up to .600" valve travel.

With Heat treated steel retainers.
13-2140 170-210 lb seat pressure, up to .800" valve travel

13-2142 170-210 lb seat pressure, up to .800" valve travel.

With Heat treated steel retainers.
Kibblewhite Valve Spring Keeper Sets.
Keepers are CNC machined and then
heat treated.
VT No.
Fits
11-2096 1986-up
11-2096
Valve Spring Kits
Sifton Lower Valve Collar and Seal
Kit for all 1957-85 XL models. Kit
includes four special lower collars
machined to accept K-line style seals.
Two intake seals and two exhaust
seals. Top of guide must still be
machined to accept seals. Seal instal-
lation tool included.
VT No. 11-0821
1986-2001
11-9610 Manley
11-0805 V-Twin
11-0806
11-0811
Combined Coil Recommended
VT No. Loads Bind
Cam Lift
11-9609 85 @ 1.310
Valve Spring Set for Sportster .490"
Lift Kit except Evolution. The above
.490 lift kit features stock OD springs,
interference fit to reduce harmonics
and control spring surge. No machining
required for installation. Springs have
20% more pressure than stock. Use
with stock lift cams to .490. Supplied
with steel top collars. Uses stock lower
collars.