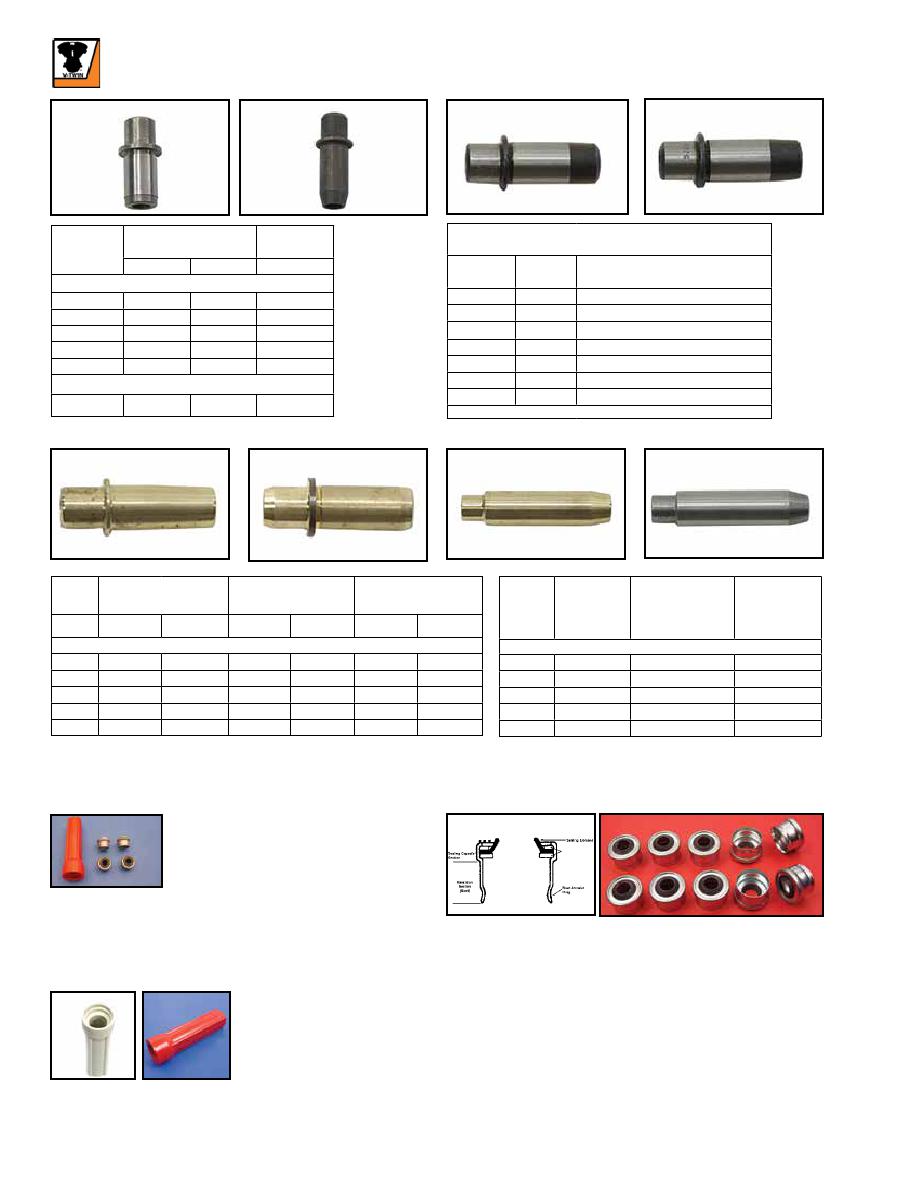 850
Valve Stem Oil Seal Kits include four piec-
es of proper guide seal and installation tool
for XL's. Tool sold separately.
VT No.
Fits
16-1745
16-0405
16-0134
16-1746
Valve Guide
Installation Tools
16-0134 1957-84 XL Tool
16-1746 1984-up XL Tool Only
Valve Stem Seals in 10 packs for years listed. Installation tools
and plastic 10 pack sleeves available separately.
VT No. Fits
Mfg. No.
Size
14-0143 Intake XL 1957-85 1404
14-0144 Exhaust, XL 1957-85 1405
14-0164 Evolution 883-1200 1400
16-1751 Sleeve ⁵⁄₁₆"
16-1752 Sleeve ¹¹⁄₃₂"
14-0143
14-0143
Valve Seal
16-1746
1
16-0134
Size
Rowe
Ampco 45
In/Ex
Kibblewhite
Machine
Ampco 45
In/Ex
Kibblewhite
Machine
Cast Iron
In/Ex
Evolution Sportster 1986-up
11-1019
11-1014
11-1020
11-1015
11-1016
11-1022
11-1017
11-1898
11-1023
11-1018
Size
Kibblewhite
Bronzonium
Kibblewhite
Ampco 45
Kibblewhite
Cast Iron
Intake
Exhaust Intake
Exhaust Intake
Exhaust
1957-82
STD
11-1024 11-1029 11-1034 11-1039
+.001
11-1025 11-1030 11-1035 11-1040
+.002
11-1026 11-1031 11-1036 11-1041
+.003 11-0767
11-1027
+.004 11-0685 11-0684
Rowe Unhoned Cast Iron Valve Guides
Intake and Exhaust Guide is the same unless noted.
Size
1957-82
Intake
1957-82
Exhaust
Standard
.001
11-2157
11-2158
11-2160
14-0143 14-0144
Length*For High Lift Cams
Size
V-Twin
Cast Iron
Rowe
Ampco 45
Intake
Exhaust
Intake
1957-82
Standard 11-0718
11-0722
+.001
11-0719
11-0723
+.002
11-0720
11-0724
+.003
11-0721
11-0725
+.004
11-0687
1983-85
Standard
11-1913
11-0718
11-0722
11-2158
11-2157
11-1030
11-1019
11-1014
11-0771