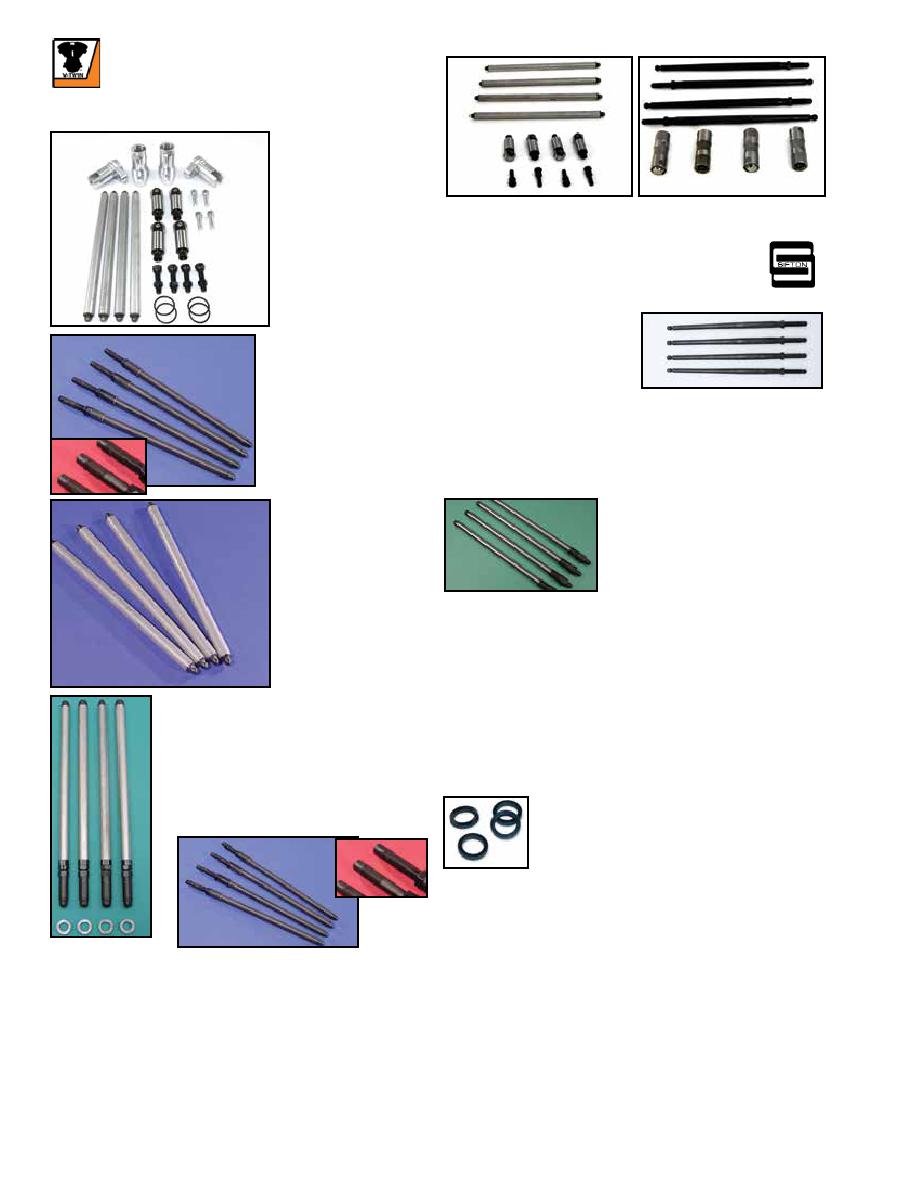 844
Solid Pushrod Kits include four alloy push-
rods and adapters to convert stock hydraulic
tappets to solid. Fits 1986-03 883-1200
Sportster.
VT No.
Years
11-9547 1986-90
11-9538
Sifton Pushrod Sets are
constructed of aluminum
alloy with heat treated
steel ends. Fits 1957-85.
Sifton Colony
11-9529 7123-4
Tapered Adjustable Pushrods are manufactured from 4130
steel with hardened adjusters and ball ends. Designed to be
installed without removing gas tank or camshaft cover. Set of
four for solid or hydraulic tappets.
VT No.
Year
11-0574* 1991-03
*Note: Requires the use of VT No. 11-0935 pushrod covers.
Sifton Quick Install
Pushrod Sets are
designed to be installed
without removal of rocker
boxes or cylinder heads.
Precision made from 4130
chromoly tubing. Fit 1991-
03.
VT No. 11-9544
11-9529
Andrews Pushrods available in chromoly steel or aluminum,
adjustable of fixed type as noted. All are stock diameter, so
there is no cover interference.
VT No.
Fits
Style
11-9867 1986-90
11-9868 1986-90
11-9869 1991-03
11-9870 1991-03
11-9952 1991-03
11-9874 1957-85
11-9876 1957-85
Stock Solid Alloy
Tappet Kit includes
tappets with adjuster
screws, pushrods and
tappet blocks. Fits 1957-
84.
VT No. 11-0588
Sifton Tappet Kits include roller tappets and are fully adjust-
able, pushrod set included with hydraulic or solid type tappets.
VT No.
Year
Type
10-0821 1957-85 Solid
10-0823 1986-90 Solid
10-0822
10-0818 2000-03 Hydraulic
Tappet Kits and
Pushrod Set
Sifton Taper-Rod Pushrod Set is constructed of chromoly
extruded tapered tubing fits 1991-up XL's. Order Andrews Cam
Set separately.
VT No.
Item
Year
11-9544
10-8165* Cam Set
10-8128* Cam Set
*Note: Modified 1200's to 80" and/or high compression pis-
tons. Stock springs and hydraulic tappets recommended. RPM
range: 2500-6500.
11-0574
S&S Hydraulic .612 Tappet Limited Travel
Kit. Designed to maximize the efficiency of
the stock hydraulic tappets. Kit consists of 4
machined heat treated and ground spacers
when installed in the tappets reduce the travel
of the hydraulic unit in high rpm situations thereby eliminating
potential damage to the engine due to high RPM valve float.
Fits 2003-up.
VT No. 10-8532
11-9703
11-0821
11-0818