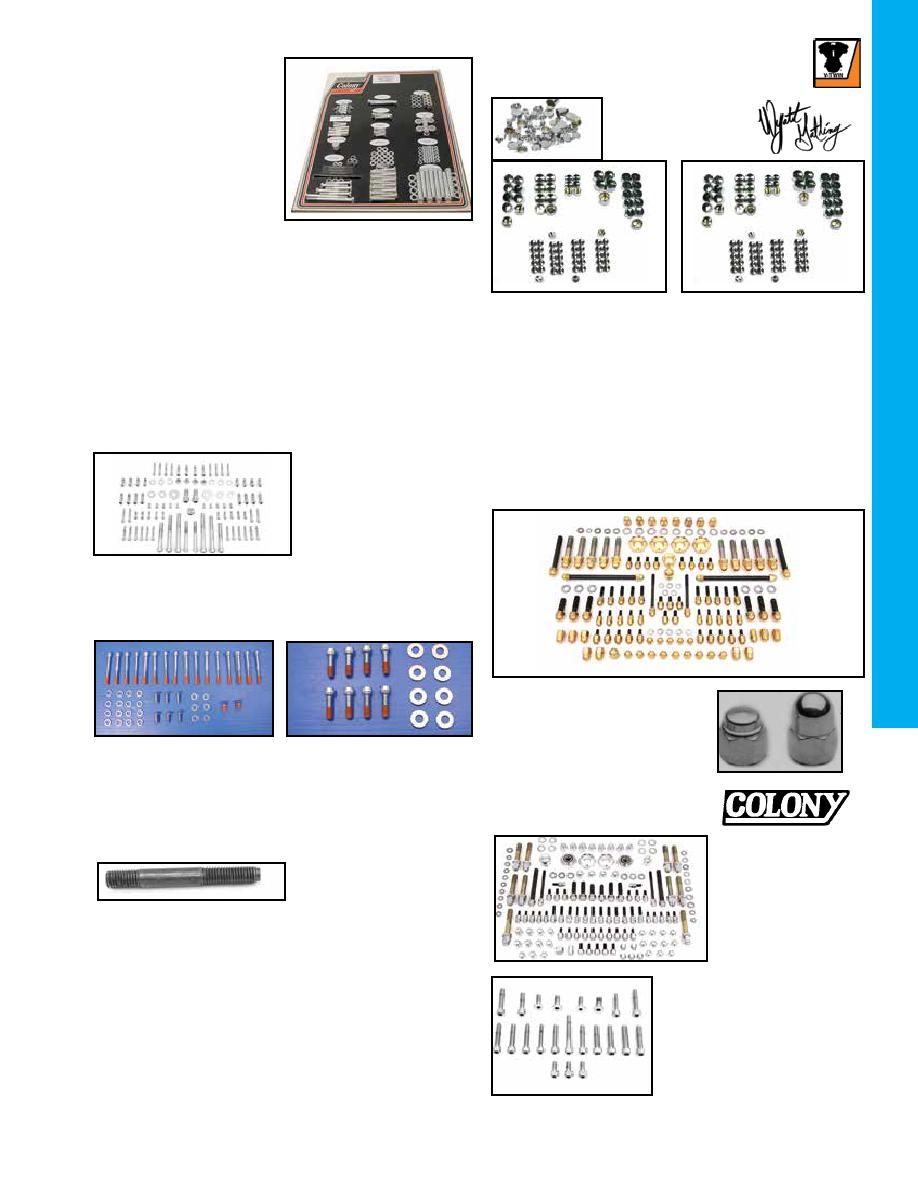 837
XL
Show Kits.
VT No. Year
7900-G 1957-64 Gold
1014-P
Hardware Kit
Caps Show Bike Kits in
chrome finish.
VT No. Fits
8517
8518 1985-86

Chrome Allen Screw Sets fit 2004-up XL's.
VT No.
Fits
37-1201 Primary-Derby
37-1202
2226-4
37-1204
37-1205
Cam and Primary Chrome Screw
Sets include inspection and sprocket
screws. By Gardner Wescott.
VT No.
Year
37-8508 1991-up
37-8509 1986-90
37-8510 1977-85
37-8511 1971-76
Stock Style Hardware Kit contains all the stock engine nuts,
bolts, washers and studs for the engine in choice of chrome
or cadmium plating. Kit includes primary cover screws, lifter
base screws, timing plug, cam cover screws, cylinder base nuts
and washers, generator screws, head bolts and washers as
required for each application.
Chrome Cadmium Fits
—
8315 CAD
8316 CHR
8316 CAD
—
8317 CAD
—
8319 CAD
—
8320 CAD
8321 CHR
8321 CAD
Sportster Polished Chrome
Motor Sets include side cov-
ers, generator, rocker box,
top motor mount, lifter base
and point cover.
Gardner and Wescott Allen Sets
37-1205
Chrome Bolt Cap Cover Kit for Sportster
VT No. Model
Kit Quantity
37-9532 2004-up
37-9534 2004-up Engine
37-9545 2004-up
37-9533
These new bolt cover kits will make any bike look great and
are also for custom builders use. Easy to install these new
kits have beautifully designed pieces to cover the raw OE bolt
heads on engine, transmission, primary and more, each kit
includes detailed instruction for installation on each model as
listed, all covers in each kit are individually packed and num-
bers for identification. Installation has never been easier.
37-9532
37-9533
• Snap On
• Tight Fit
• Easy Installation
Factory Type Studs for stock applications.
VT No.
OEM
Fits
12-2117 24751-75 1975-85 XL Right Front Peg
12-0552 24752-75 1975-85 XL Left Front Foot Peg
12-2111 24811-59A 1965-72 Starter
12-1151 24817-52 1952-81 XL Right Case
8814-15 24819-52 1954-76 XL Oil Pump Set
12-1150 24825-82 1982-up XL Right Case
18-3123 37584-67 1952-70 XL Clutch Hub
12-1186 40018-77 1977-85 XL Adjuster Shoe, each
8813-4
45840-48 1949-76 Glide Leg, pair
8826-6
45998-73 1973 up Glide Leg, pair
12-2117
VT No. Fits
37-8092 1991-03 Evolution XL
37-2087 1986-90 Evolution XL
37-2089 1977-84¹⁄₂ Sportster
37-2090 1971-76 Sportster
8315 CAD
37-1201