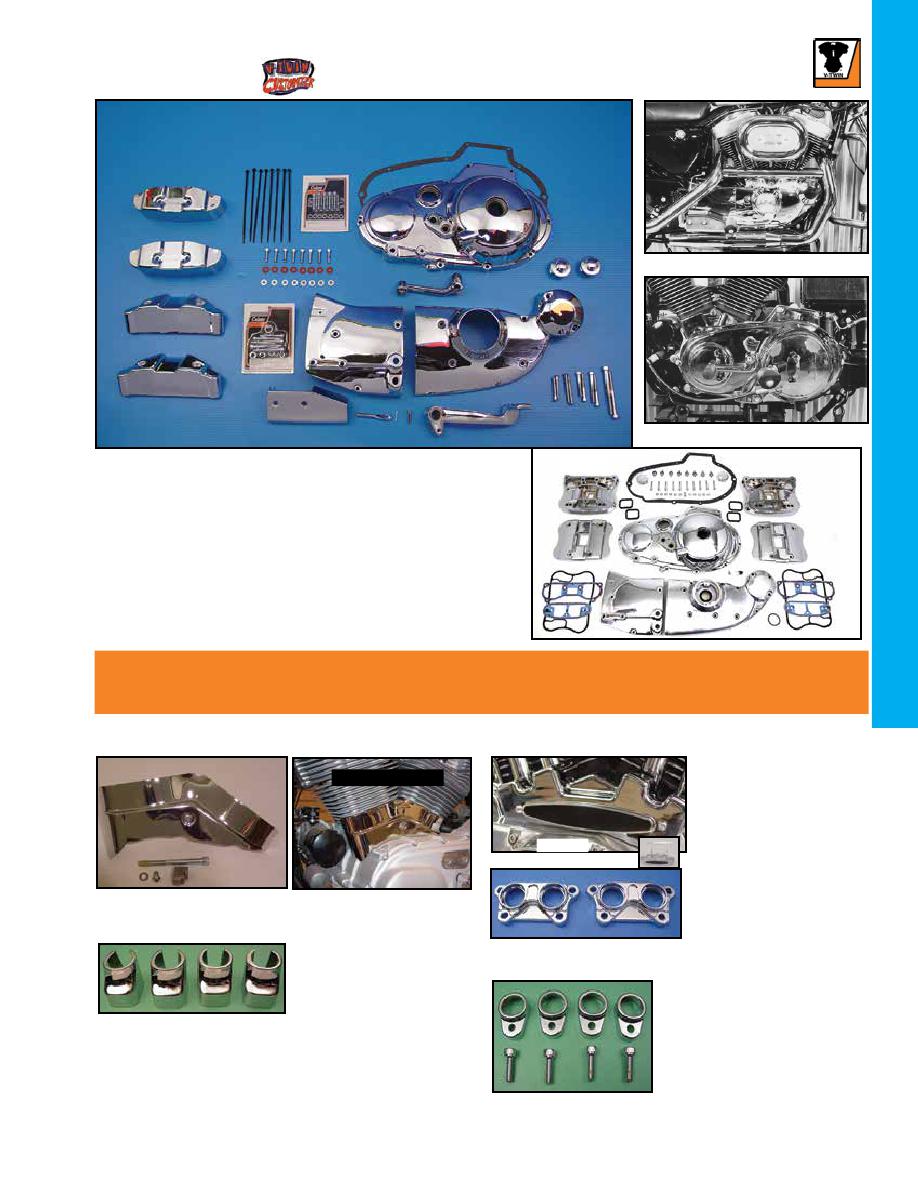 831
XL
V-Twin Chrome Dress Kits for 1986-90 XL models includes
chrome primary cover with inspection covers, cam, rocker box,
master cylinder and sprocket covers. Also included is chrome brake
pedal and chrome shift lever to add a finished touch. Hardware for
installation included.
VT No.
Type
43-0316
42-0847
Without brake/shifter pedal
42-8690
Right Side
Left Side
43-0316
Rocker Box
Cover Trim
Shift Lever
Primary
Cover
Cam Cover
Trim
Sprocket
Cover
Master Cylinder Cover
Brake Pedal
Die Cast Primary Covers are manufactured from a casting process. It is the nature of parts produced from this process to have small random subsurface imperfections
that can be uncovered during the polishing process. These may appear as very small cosmetic imperfections after chrome plating. We also do not polish in areas that
are not readily visible once assembled on the motorcycle or by polishing machines such as small depressions or tight corners. As these conditions are common in pol-
ished and chrome-plated castings, a reasonable standard of acceptability has been established to bring you the highest quality product at an affordable price. This part
meets Perma Chrome™ cosmetic standard. The aforementioned cosmetic conditions are considered reasonable for this part and are not considered warrantable.
Chrome Tappet Base Cover
is die cast one piece covering
the area from the pushrod
tube base to the cam cover.
Fits 1991-2003.
VT No. 42-0447
Chrome Tappet Bar Base
Cover. Fits 2004-up XL.
VT No. Item
10-0565 Base Set
2224-8 Screw Set
15-1273 Gasket and Pushrod

Tappet Base Cover
Chrome Tappet Block Cover Set
features contour for perfect fit over
existing stock style lifter blocks,
securely held in place by 4 chrome
allen screws supplied. Pushrods
must be removed for installation.
Original design by Motoy-Cycle
Accessories. 1957-85 XLH-XLCH.
VT No. 42-0115
1986-90 Dress Up Kit
Chrome Tappet Covers fit
1986-90, four piece. Presses
onto tappet block.
VT No. 42-0113
Chrome Cylinder Base Cover fits the area cylinder base on
left side of engine. Fits 2004-up.
VT No. 42-1171
42-1171
42-1171 Installed
42-0447
42-8690