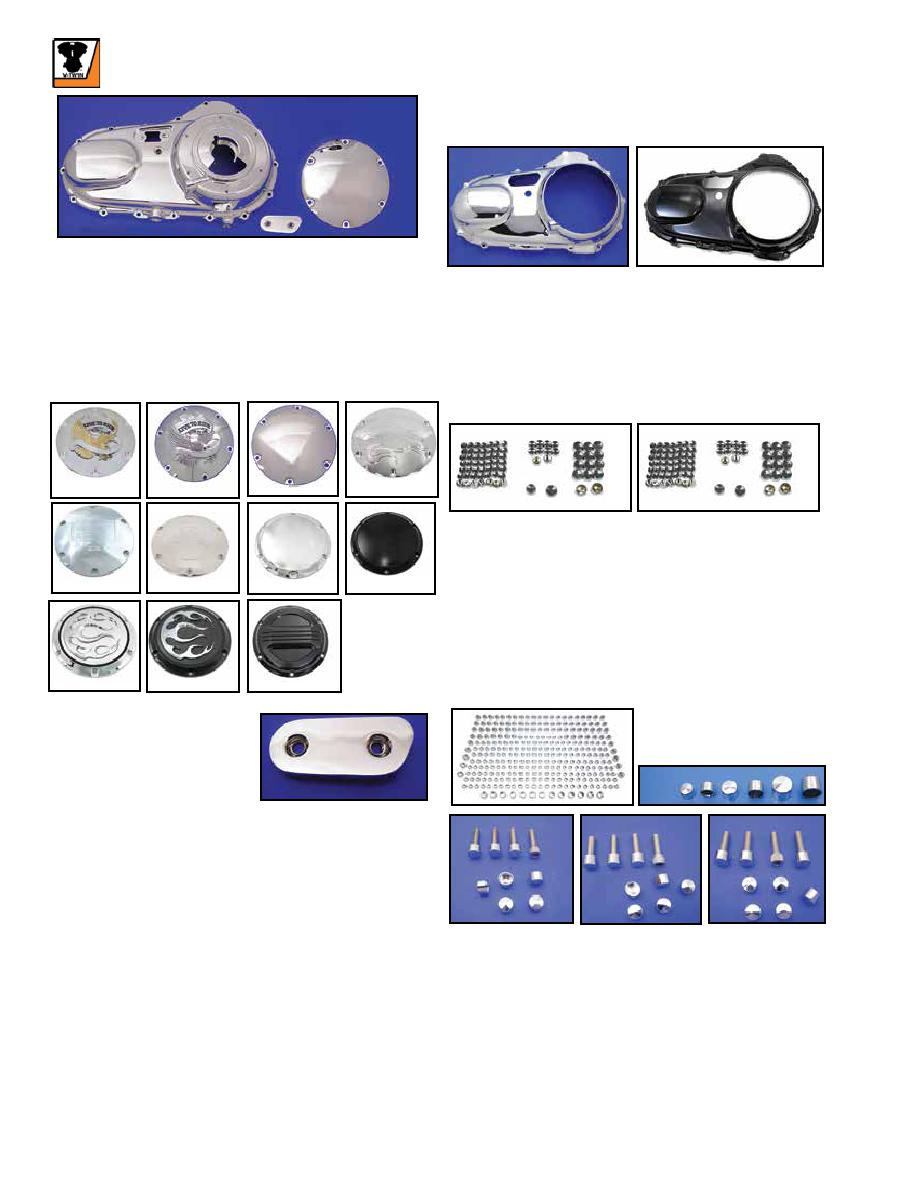 830
2004-up Derby Covers are chrome except 42-0713 which is
gold inlay.
VT No. Style
42-0713 Eagle Spirit, Gold
42-0728 Eagle Spirit, Chrome
42-0967 Smooth
42-1017 Flame
42-1045 USA
42-1266 Chrome skull
42-0192 Chrome, smooth
42-0193 Black, smooth
42-0468 Chrome with chrome flame
42-0469 Black with chrome flame
42-0968 Inspection Cover
42-1374 Chrome Air Flow
42-1378 Black Air Flow
42-0728
42-0713
Outer Primary Covers available as chrome cover only or kit
which includes chrome cover, chrome allen screw set, inspec-
tion covers and gasket.
**Note: Black Wrinkle Finish.
Chrome Cover Black Cover Kit
OEM
Year
43-0263
—
43-0275 25460-04 2004-05
43-0287* —
—
43-0462 43-0464**
—
43-0285*
—
43-0284 25539-06 2006-up
43-0372
—
*Note: Perma Chrome Brand
43-0275
42-0968
42-0967
2004-up Primary Cover
42-1017
37-1502
37-1503
37-1504
Form Fitting Chrome Steel Covers fit over stock primary
covers to mirror the contour for a skin tight fit. Covers are held in
place by existing hardware. Installation takes less than 10 minutes.
2004-up XL Trim bolts over existing stock primary cover. Order
inspection and derby cover separately. Clutch cable must be
removed and reinstalled for installation.
Chrome Black
Item
42-0939 42-0359 Cover
37-1201 —
Snap Cap
™
Easy to Install!
Chrome Caps snap on knurled allen screws for ease of instal-
lation. Packs of 100.
VT No.
Fits
37-1502
37-1503
37-1504
37-1505 Assortment
• Snap On
• Tight Fit
• Easy Installation
• Universal Use
300 Piece Assortment!
VT No. 37-1505
These bolt cover kits will make any bike look great and are also
for custom builders use. Easy to install these new kits have
beautifully designed pieces to cover the raw OE bolt heads
on engine, transmission, primary and more, each kit includes
detailed instruction for installation on each model as listed, all
covers in each kit are individually packed and numbers for iden-
tification. Installation has never been easier.
37-9532
37-9533
Chrome Bolt Cap Cover Kit for Sportster.
VT No. Model
Kit Quantity
37-9532 2004-up
37-9534 2004-up Engine
37-9533
42-1045
42-1266
42-0192
42-0193
42-0468
42-0469
37-1505
42-1378
42-0359
42-0939