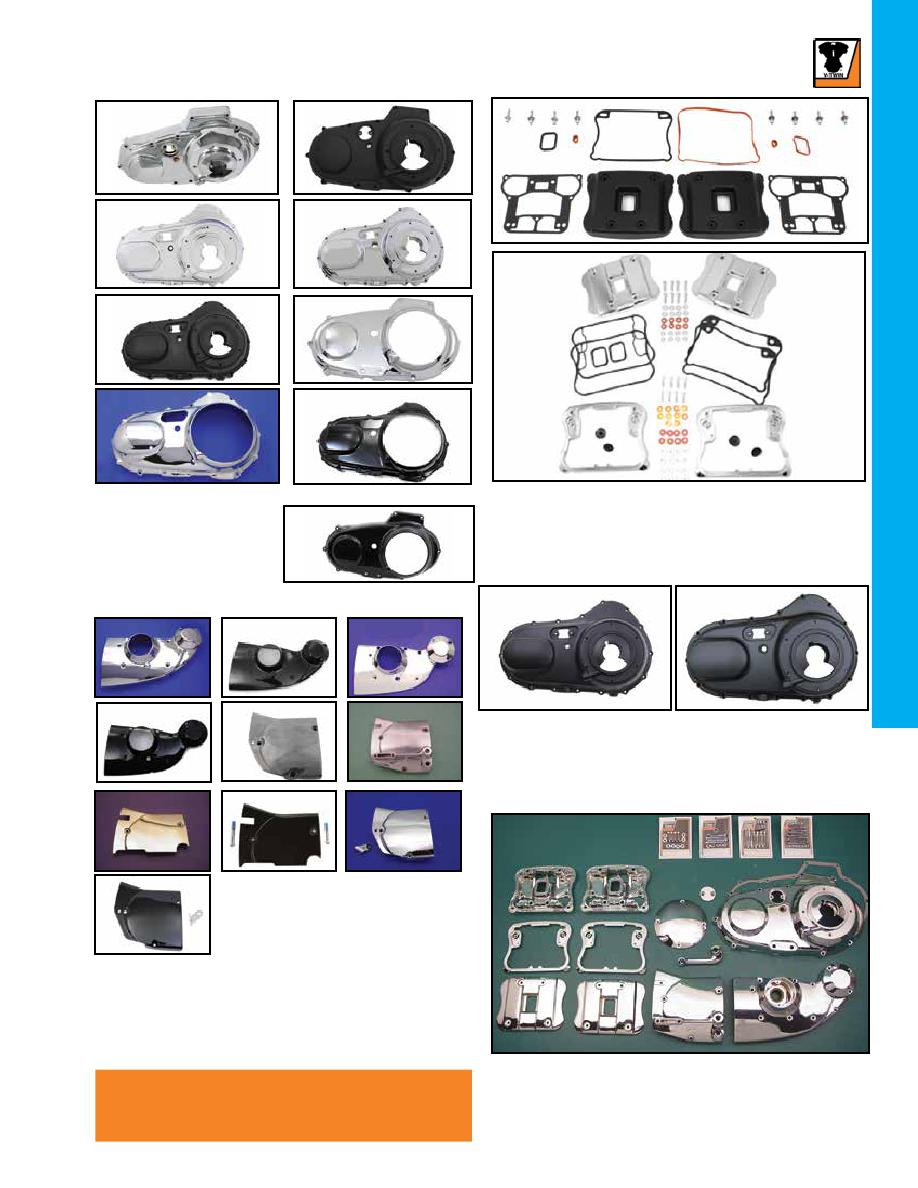 829
XL
Primary Covers
Engine Dress Kit
Dress Kits for XL's include all die cast replacement parts as
pictured.
VT No. Year
42-0690 1994-03
42-1055 1991-93
42-0690
Die Cast Primary Covers are manufactured from a casting process. It is the nature of parts produced from this
process to have small random subsurface imperfections that can be uncovered during the polishing process.
These may appear as very small cosmetic imperfections after chrome plating. We also do not polish in areas that
are not readily visible once assembled on the motorcycle or by polishing machines such as small depressions or
tight corners. As these conditions are common in polished and chrome-plated castings, a reasonable standard of
acceptability has been established to bring you the highest quality product at an affordable price. This part meets
Perma Chrome™ cosmetic standard. The aforementioned cosmetic conditions are considered reasonable for this
part and are not considered warrantable.
Outer Primary Cover for XL. Order hardware, derby cover and
gaskets separately.
Chrome Black Fits
43-0220 43-0375 1994-03
43-0287
43-0285 43-0372 2007-up
42-0996 42-0360 Primary Cover Trim, 1994-2003
42-0939 42-0359 Primary Cover Trim, 2004-up
43-0375
Rocker Box Top Cover includes D-ring kit.
Black Chrome Fits
Pieces
42-0362 42-0789
42-0363 42-0946
42-0352 42-1063 2004-2006 4
42-0353 42-0364 2007-2012 4
42-0353
42-0789
Chrome Black Item
42-0933 42-0357 Cam Cover Trim
42-9975 42-0358 Cam Cover Trim
43-0185 43-0329 Sprocket Cover
43-0149 43-0330 Sprocket Cover
42-0845 42-0383 Transmission Sprocket Cover Trim
42-0930 42-0384 Transmission Sprocket Cover
42-9975
43-0185
43-0149
42-0996
42-0845
42-0933
42-0930
Black Finish Outer Primary Cover
VT No. OEM
Fits
43-0463 2004-05
43-0464 25307-06
43-0464
42-0939
42-0359
42-0357
43-0287
43-0285
43-0372
42-0358
42-0383
42-0384
43-0220
43-0463
42-0360