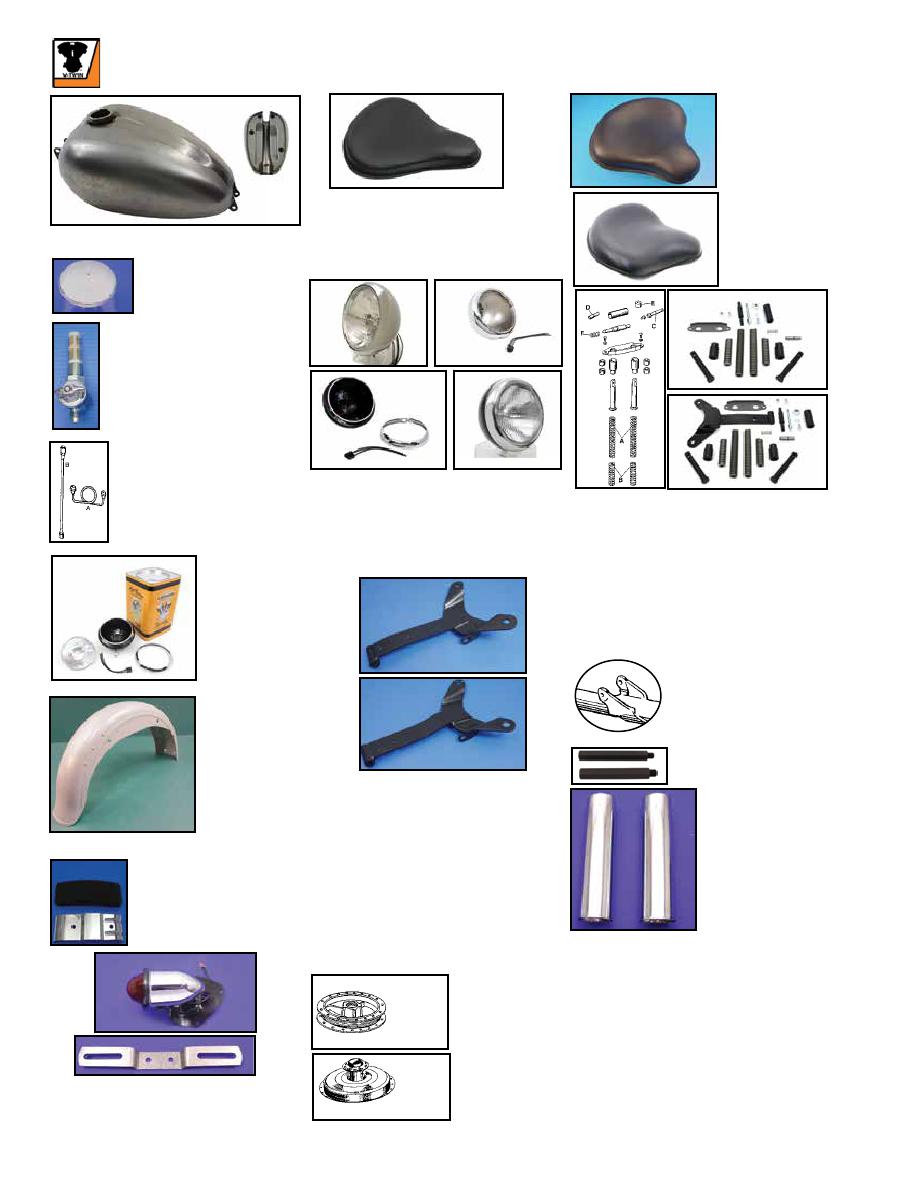 820
K and XL Parts
Seat Plunger Kit includes all parts pictured for 1954-
70 KH-XL-XLCH-XLH Sportster models, to spring
mount solo seat on stock frames. Some frames may
require honing to fit bushing housing.
VT No.
Item
31-4024
13-1952
13-9173
37-9114
10-2564
10-2563
31-4083
Seat Mount Tabs fit 1952-79 XL
may be welded on for custom
application, pair.
VT No. 51-0539
K-Model Type Seat "T". Precision stamped and
formed seat "T"for mounting our K-model or D series
saddles.
VT No.
OEM
Fits
31-0508 51901-52 47-0110 Seat
31-0512 51902-54 47-8716 Seat
1952-54 K-Petcock replaces 62125-50, die
cast with threaded end for line.
VT No. 35-0650
K-Model 1952-54 Steel Gas Lines.
VT No. # OEM
Line
Finish
40-1261 A 62355-52 Cross Cad
40-1264 A As Above Cross Chrome
40-1260 B 62357-52 Gas Cadmium
31-0237
1952-54 Early Tail Lamp and Parts. Note: Lenses
are made of glass.
VT No. OEM
Item
33-2151 K Tail Lamp Complete Kit w/chrome hood
31-0237 59991-52 K Model license plate bracket
Replica Leather WR Model Solo Seat is covered
with genuine leather on a stock formed steel ribbed
baseplate, constructed as original with rolled sewn
edge with riveted under strip, replaces 52000-40.
Available in black which bolts to any stock seat tee
as custom or stock replacement.
VT No. 47-0110
1952-78 Replica Style 3.5 Gallon Tank for XL's.
VT No. 38-0038
Leather XLCH Seat
measures 13.5" x
13.5" fits 31-0512
seat tee.
VT No. Color
47-0158 Black
47-0164 Brown
47-0021 Black
Chrome Rear Fender Bracket fits
1954-78, reduces vibration between
fender and frame, includes foam
pad, replaces 59795-52A.
VT No.
Item
50-0912
28-2246
50-0912
33-2151
Bayonet Large Cap replaces
61103-52. Fits 1952-70 XL.
VT No. 38-0329
7" K Headlight features oil/generator lamps and
sockets, replaces 67704-52. Unit includes chrome rim
and 6 volt sealed beam.
VT No.
Finish
33-2120
33-2120A Shell
33-2254
33-0072
Black 7" Headlamp with rim
31-0508
31-0512
1964-72
FX-XL
Alloy Drum
Front
Brake Hub
1952-63
K and XL
1/2 Drum
Front
Hub
Spoke Sets available for conventional or drop center rim type.
Chrome Chrome Stainless
Rim
V-Twin
Buchanan Buchanan Size
Type*
1964-72 XL-FX Front Drum
45-0658 19"
45-0622
45-0724
45-0657
45-0659 21"
1952-63 XL-K Front
45-0708 18"
45-0707 19"
Above Hubs are shown
for reference only
Rim and Spoke
Replica Steel Rear
Fender features full
length style with rear
flare, without taillight
cut. Mount for 1955-
72 type must be
cut in.
VT No. 50-1068
Chrome Shock Spring
Covers is replica type
for shocks which disas-
semble at lower eye. Fit
1957-70 XL, 10³⁄₄".
VT No. 54-0402
Coil Mount Studs replace
64611-55, 64612-55 models,
pairs. Fits 1955-67 XLH.
VT No. 37-9156
33-2120
33-2254
33-0072
31-4024
31-4083
33-2120A
7" K-model Head-
lamp features a black
shell with chrome rim,
a replica guide cycle 6
volt beam bulb and 2
indicator lamps.
VT No. 33-1509
47-0021